Welcome to The H. H. Franklin Club, Inc.
The H. H. Franklin Club is a non-profit membership organization devoted to the preservation and exploration of the H. H. Franklin Manufacturing Company history and its effects on the history of the automobile.
The H.H. Franklin Automobile Company of Syracuse, NY built America's most successful air-cooled automobile, with its first innovative air-cooled motorcar in 1902 and continued production until 1934. Of the 150,000 Franklins built between 1902 and 1934, it's estimated that about 3,700 have survived.
Franklin Forum
Get Answers to Technical Questions - Connect with Franklin enthusiast :
Have a question that needs answering? Have an item to sell? Check out the Franklin Forum hosted on the AACA website.
Read discussions | How to use the Franklin Forum (PDF)
Become a Member Today
Join TODAY and receive access to our Members Only section.
Factory Scanned Drawings
Franklin Serivce Station
Online Member Roster
61st Annual Franklin Trek Video
October 7,2014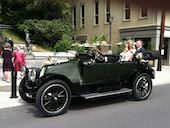 October 11, 2014

News: Fall AACA Meet in Hershey, PA. more...
August 30, 2014

Wanted: A pre-1908 Franklin. more...
August 29, 2014

News: Know anything about this car? more...
Wanted: Needed three (3) 24" Houk wire wheel lock rings. more...
For Sale: 1925 Franklin 11A Sport Sedan. more...
August 23, 2014
Pictures:
2014 Midwest Spring Meet in Hastings, MI
2014 Westrek in Gold Country Sonora, California
61st Annual Franklin Trek
Welcome New Club Members
Wayne Coffman
Tiffin, OH
Holly and Jim Bolinger
Canton, OH
Lynn Sheeley IV
Knoxville, TN
Cheryl and Tom Eisenhardt
Centreville, VA
Myron Vernis
Akron, OH
Franklin Vintage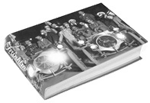 Franklin Vintage — An elegant photo book with text by Sinclair Powell. Buy the book.