Welcome to The H. H. Franklin Club
The H. H. Franklin Club is a non-profit membership organization devoted to the preservation and exploration of the H. H. Franklin Manufacturing Company history and its effects on the history of the automobile. Read more about The H. H. Franklin Club.
Franklin Forum
Get Answers to Technical Questions: Have a question that needs answering or an item to sell? Check out the Franklin Forum hosted on the AACA website.
Read discussions | How to use the Franklin Forum (PDF)
Search Club Drawings
Use this search tool to find PDF versions of the original Franklin drawings and Parts Manuals.
April 14, 2014

For sale: 1928 Series 12A Franklin sedan. more...
Check out the 2014 Franklin Trek Facebook page.
February 24, 2014

Mystery photo: Thank you to everyone who helped identify this car as a 1925-26 Chrysler.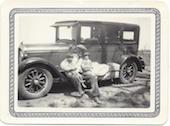 Club Reproduction Publications: Instruction Manuals, Advertising Materials, and more...
February 22, 2014

In memoriam: Al Kantner more...
February 20, 2014
Coming Soon: The Midwest Region Spring Meet in Hastings, Michigan — June 2014.
For Sale: 1925 Franklin Series 10-C demi-sedan more...
In memoriam: Garry Grethel more...
February 18, 2014
Read the notes from the latest board meeting on February 1, 2014.
February 14, 2014
In memoriam: Phyllis Kitchin more...
February 5, 2014
In memoriam: Dr. Norman Fizette more...
See what Club members are up to on Facebook