The Franklin Automobile Collection
The Franklin Automobile Collection is the permanent home of The H. H. Franklin Club's collection of automobiles, display engines, and artifacts that span the four-decade history of the H.H. Franklin Company. The Syracuse, NY firm built America's most successful air-cooled automobile, with its first innovative air-cooled motorcar in 1902 and continued production until 1934. Of the 150,000 Franklins built between 1902 and 1934, it's estimated that about 3,700 have survived.

Eleven of the Collection's cars have been donated by Bob and Patricia Kern of Waukesha, WI. In addition to the Kern cars, the collection has been given a fully restored 1932 Franklin V-12, four-door sedan from Mrs. Beth Marshall of St Louis, MO, in memory of her husband, the late Alex Marshall, a long time Franklin enthusiast and collector.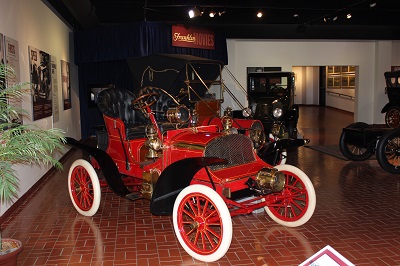 Other cars in the collection include a Franklin Model A runabout, the first four-cylinder car built in America. A similar Franklin made the trip from San Francisco to New York City in 1904, cutting in half the cross-country record set the previous year. Also featured are Franklin's answer to luxury sedans built by Packard, Pierce and Cadillac, like the 1932 Model 17 sedan, the one and only American car powered by a 12-cylinder air-cooled engine. And, there's a 1928 sedan that closely resembles the Franklins in which "Cannonball" Baker set so many "jazz era" cross-country and hill climb records.
The Collection building is a faithful replica of a Los Angeles dealership once owned by Ralph Hamlin, the former bicycle racer who became Franklin's west coast distributor and the firm's largest and most successful dealer.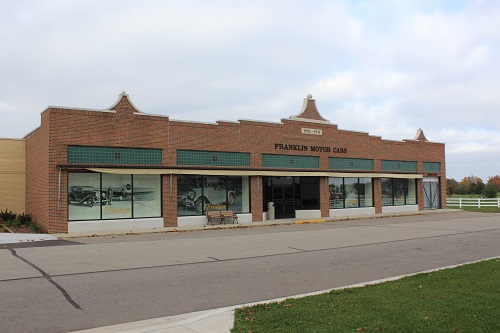 Visit The Franklin Automobile Collection at the Gilmore Car Museum.
The Latest Permanent Addition to the Collection
Keith and Elaine Knowlton's 1928 Merrimac bodied Sport Touring will add a new look to the collection.
---
The Latest Loan Addition to the Collection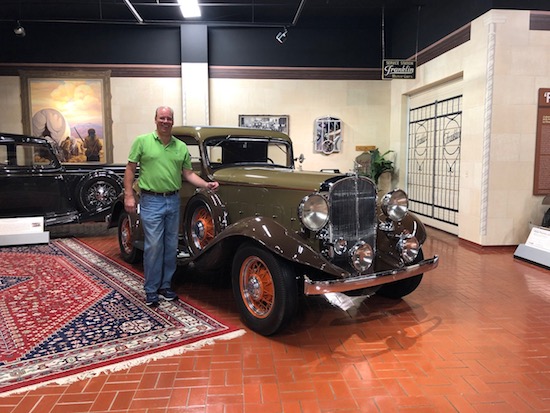 Dan and Anne Russell's 1933 Olympic Coupe is now on loan to the collection.