News of the Club
Member Update
December 27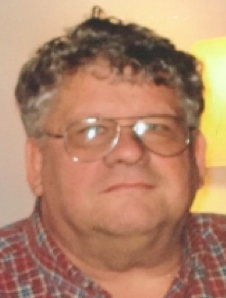 Philip Lawrence Myers (age 82), of Lehighton, PA, passed away on December 23rd. Phil was born in Bethlehem, PA, on August 20, 1940, to Robert and Jean Myers. He spent his childhood in Coopersburg, PA, graduated from Southern Lehigh High School, and spent four years in the Air Force. Phil was a Master Mason of the Lehighton Lodge.
In 1961, Phil met the love of his life, Carol, at a high school science fair. As he would tell her, he knew immediately that she was the one. The two were engaged on Christmas Eve 1962, moved from Coopersburg to Allentown to Lehighton, and spent 59 wonderful years by each other's side.
Phil started Blue Mountain Machine in the garage of the family's first home in Meadowcrest. Phil had always loved tinkering and inventing, and he brought that same devotion to his business every day. He retired in 2020, but could never stay away from the business he ran for 48 years, always popping in with one other idea.
An antique automobile afficionado, Phil was known for his mechanical expertise and restoration artistry. He spent much of his free time working on his cars and making friends over paint jobs, repairing engines, and long drives across the country where he and Carol would meet other enthusiasts for car shows. Along with his antique cars, Phil collected model trains and built layouts.
More than anything else, Phil collected experiences. He and his wife traveled the globe, making friends the world over. He will be missed for his memorable laugh, his way with words, his knife-sharp wit, and the way he filled a room.
Phil is survived by his wife Carol; his children Pamela, Heather, and Phil Jr.; his grandchildren Drake, Ethan, Noah, Annie, Falyn, and Joshua; and his 6 great-grandchildren.
A visitation will be held on Friday, December 30th from 10-12 pm at Schaeffer Funeral Home 3rd and Alum Streets Lehighton, with a Masonic Service to follow at 12 PM, conducted by the Lehighton Lodge 621 F. and A.M. In lieu of flowers contributions may be made to the Franklin Township Fire Company 2440 Fairyland Road Lehighton, PA 18235
November 10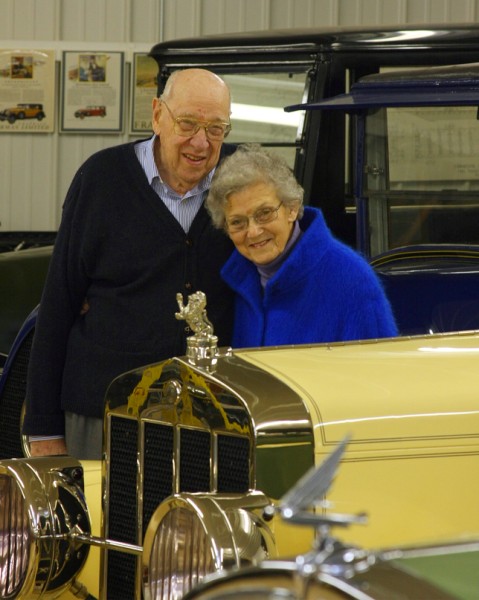 We sadly note the passing of Robert D. Kern, who passed away on Tuesday, November 8. Kern was 96.
Kern started Generac with five employees in a garage in Wales, Wis. An engineer by trade, he grew Generac into an industry leader by developing new products and innovating in the generator and engine markets.

After nearly five decades of incredible growth and leadership, Kern sold his company in 2006 to focus on philanthropy. Generac subsequently became a public company in 2010 and today is one of the world's leading companies focused on energy technology-related products and solutions. 

In addition to providing opportunities for thousands of employees and their families through his leadership at Generac, Kern was also a strong believer in giving back and making a difference in the community. He and his late wife, Patricia, established the Kern Family Foundation in 1998 with a mission dedicated to enhancing lives by promoting the value of work, developing the formation of good character, increasing educational achievement, and instilling an entrepreneurial mindset. The Kern Family Foundation has donated generously to numerous local organizations in the Milwaukee area, including transformational gifts to the Milwaukee School of Engineering, the Medical College of Wisconsin, and Marquette University's College of Engineering. In addition to local area giving, the Foundation has been active in supporting many nationwide programs, causes, and organizations focused on initiatives that have long-term, systemic impact. These include generous gifts to create the Mayo Clinic Robert D. and Patricia E. Kern Center for the Science of Health Care Delivery to help improve patient's health care experiences, as well as the creation of the Kern Entrepreneurial Engineering Network and important education-related funding for programs such as Project Lead the Way. 

Bob Kern is responsible for providing the initial funds for the Franklin Museum located on the grounds of the Gilmore Museum in Hickory Corners, Michigan. Bob also donated his personal collection of Franklin automobiles to the Franklin Museum.

Bob Kern is survived by his three daughters, as well as many grandchildren and great-grandchildren. 
August 17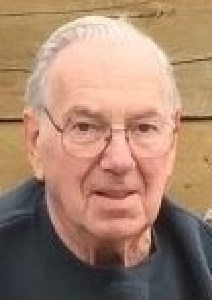 We sadly note the passing of Glenn B. Snyder, 84, of Nazareth, PA, who passed away peacefully on Saturday, August 13, 2022, at Kirkland Village of Bethlehem.

He was the loving husband of Nancy D. (Quier) Snyder for 62 wonderful years. Glenn was born on June 13, 1938, in Bethlehem. Glenn was the owner and operator of Snyders Wood Craft Shop of Nazareth. He was a true wood Craftsman! He made MANY antique automobile steering wheels for ALL types of vehicles for people across the country AND around the world. He was a pioneer in manufacturing and bending wood antique auto parts, all made with his own 2 hands and simple machinery! If it could be built, he would figure out a way to do it. Glenn also worked in maintenance at Bethlehem Steel for over 30 years.

He loved driving around in his 1929 Franklin antique car and admiring all that this Earth has to offer as well as going to Macungie, Hershey and Carlisle antique car shows. And no matter how busy he was, he would help anyone who asked and try to instill some knowledge and wisdom with anyone who would listen.

He was a member of St. Johns Evangelical Lutheran Church of Nazareth. Family and friends of Glenn are invited to a visitation on Saturday, August 20, 2022, from 9:00-11:00 AM at the Joseph F. Reichel Funeral Home Inc., 220 Washington Park, Nazareth, PA 18064. Followed by a Prayer Service at 11:00 AM at the funeral home. Burial will be held at United Methodist Cemetery of Bushkill Twp. In lieu of flowers, donations may be made in Glenns memory to the HH Franklin Club Inc (his 1929 Franklin seven passenger sedan was his baby) and mail to C/O Mark Chaplin-Treasurer at 50 Barrington St., Rochester, NY 14607.
August 10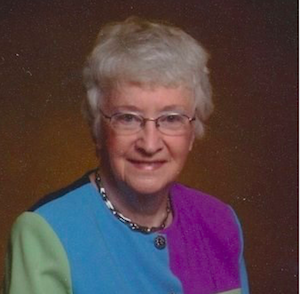 We sadly note the passing of Lynda Johnson, wife of Charles "Chuck" Johnson, long time member and past club president.
Click here to view Lynda's Obituary. A memorial service will be held at 11 a.m. on Saturday, September 10, 2022, at Brandermill Woods Retirement Center, 2100 Brandermill Pkwy, Midlothian, VA 23112.
February 23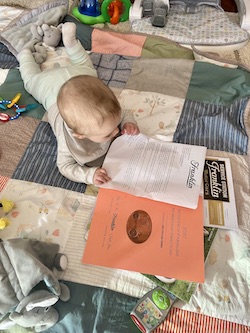 This is Quinn Best, six month old grandson of Debbie and Bob Cornman, looking over his Franklin Club membership welcome package. He has not yet gone Franklin shopping in grandpa's garage; however, that time may come quickly. He seems to be interested in open cars and likes red cars with whitewalls. Quinn is looking forward to attending his first Trek with grandpa.
February 18
Member News: Dave Phillips had successful triple bypass on the 16th. He'd love to hear from the membership. If you'd like to send him a card or note, you can get his address from the club roster, or his email from the "Members Only" section of the website.
---
February 18


Click here to see Jim Eby turn a 23 second 1/4 mile in his 1925 Series 11A Hot Rod Coupe.