Cars of The Franklin Automobile Collection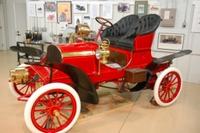 1905 Type A Runabout – The first Franklins featured a relatively small, high revving 4-cylinder engines in a light weight chassis with tubular axles & wooden frame rails. These speedy, agile Franklin "Cross-Engine" models offered distinct advantages in performance and efficiency over the large bore one and two cylinder cars in a similar size and price class. Rugged and reliable, these early Franklins set very high standards for the day.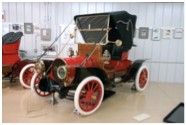 1907 Franklin Type D – The distinctive one-piece aluminum 'Barrel Hood' was a natural evolution of designer John Wilkinson's firm belief in "Scientific Light Weight". Three models were offered: the small 4-cylinder G, the larger 4-cylinder D and the 6-cylinder H – all designed with a flexible 3-ply ash wood frame, aluminum engine crankcase, transmission, hood & body. Franklins were famous for their ride & tire mileage. So much so that Franklins of the period carried no spare tire.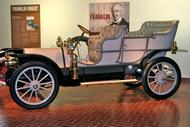 1909 Model D Touring – The 28 hp Model D combined the agility of a small car with the speed and comfort of a large touring car. At just over 2,000 lbs, the power to weigh ratio also allowed for excellent hill climbing ability. While faster cars were sold by competitors, few, if any, could match the Franklin D in speed over the typical roads of the day, all the while turning in impressive fuel economy. Cars came fully equipped with lamps and tools, but as was common to all manufacturers, tops and windshields were an extra charge and many cars were sold without either.
1914 Series 5 6-30 Touring – These '6-30' cars of 1912-1916 (six cylinder-30 horsepower) refined Franklin's reputation as a builder of lightweight, efficient cars that were easy to handle, easy on tires and capable in any real-world situation at high or slow speeds. The "Best Riding Car in the World" was made with prodigious use of aluminum throughout in the body, engine, transmission and hood, resulting in the H. H. Franklin Manufacturing company being named the World's largest Consumer of Aluminum in 1913. Loaned to the Collection by Tom and Carol Kidd, Zionsville, PA. No longer on display.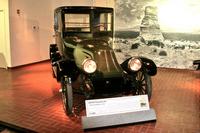 1919 Series 9B Brougham – Franklin pioneered the production closed car with catalog Sedans, Coupes, Broughams and Berlines as early as 1912. The desire for comfort in all weather conditions was growing and designer Wilkinson's V-Windshield cars of 1916 through 1922 delivered. Luxury appointments included felted wool upholstery, Pewter finished trimmings, coat hooks, hat rack and parcel net, plus engine-driven air compressor for tire filling. Franklin's biggest-selling model, the series 9 featured a smaller, but highly refined 6-cylinder engine and chassis, giving owners even more 'ability' in difficult conditions as well as economy and reliability. This brougham is largely unrestored with original interior and less than 6,000 miles on the odometer.
1925 Series 11 Sport Runabout – This convertible is commonly referred to as a "Boattail" due to the tapered rear deck, Parisian designer J. Frank deCausse was hired by Franklin to design the entire offering for the new Series 11. The results were groundbreaking with designs so far ahead of their time, they remained virtually unchanged for 4 model years. While the new deCausse styling added a powerful look, the Series 11 Franklins retain the Wilkinson feel – light & agile. Franklin steering and front axle mechanisms were sought after by race car builders of the 1940's for their precision and light weight.
The 1927-28 Series 12A "Airman" Franklins offered buyers significant improvements from the adoption of four-wheel hydraulic brakes, increased piston stroke and larger valves resulting in increased horsepower and a top speed of over 60 mph. The cars exhibited the distinctive deCausse body styling of previous years. However, in July 1928, an "Airman Limited" Series 12B was introduced which incorporated several exterior and interior styling changes suggested by custom body designer Raymond A. Dietrich. Main body, doors, crankcase, transmission and differential case are aluminum on this car.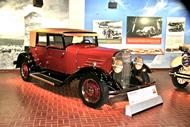 1930 Speedster by Dietrich – Making its debut in the summer of 1929, the Franklin Speedster was designed by Raymond H. Dietrich. Early models were equipped with a 3.92 rear axle to help it live up to its name. A Convertible Speedster was also offered for the 1930 and 1931 model years. The low profile, 'Torpedo' style bodies provided intimate accommodation for four. A 1930 Speedster was famously driven by Colonel Lindbergh and a 1931 by Captain Frank Hawks, whose transcontinental speed record of 12 hours 25 minutes 3 seconds broke the prior record set by Col. and Anne Morrow Lindbergh.
No longer on display: Franklin Racer loaned to the Collection by Ted Davis, Oklahoma City, OK.
Franklin Dealer Ralph Hamlin entered the famed Los Angeles to Phoenix Desert Race in 1910, 1911 and 1912, eager to prove Franklin's advantages over competitors on severe terrain – the desert trails of the wide open West. In a classic case of "ability in rough conditions over raw power" Hamlin raced this "Franklin Special" in 1911, beating many far more powerful entries. Howard Bonebrake, Oklahoma Franklin Dealer bought the racer from the Franklin factory and tucked it away. Thanks to owners Bonebrake, Don Boulton and Ted Davis the car was preserved in Oklahoma where it resides to this day carrying all original finishes & battle scars. Hamlin won the race in 1912 in another "Franklin Special" – a 38 HP speedster...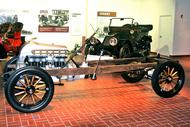 Series 10 B Chassis – By moving the cooling fan from the back of the engine to the front, Franklin boosted cooling efficiency, allowing for more power output. The Series 10, built from 1922-1925 would be the last pure design of John Wilkinson – chief designer since the beginning. Note the lack of radius rods or torque arms on the suspension, allowing for complete flexibility of the axles and springs. The wooden frame is also unencumbered by cross bracing, allowing for the flexibility that resulted in the "Franklin Ride". Franklin produced nearly all components in-house, including transmission, carburetor & steering gear.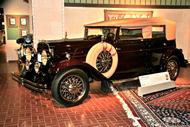 1930 Series 147 Pirate Touring – Following the sudden death of Franklin chief stylist J. Frank deCausse, Raymond Dietrich was hired to continue Franklin's tradition of innovative features. The PIRATE body styles featured an extremely rigid body substructure and concealed running boards that were intended to keep running boards clear of road dirt, thus making entry into the discerning owner's fine Franklin more civilized. The Pirate's fixed 2nd windshield helped give 2 cozy, weather tight compartments in a true convertible touring car. Dietrich intended that the entire line for 1930 would feature the flared door design, yet Franklin chose to bet on two models only – this 5 passenger touring and a 7 passenger phaeton. The hood ornament is a factory accessory – Lindbergh's Spirit of St. Louis – a tie to Franklin's aircraft connections.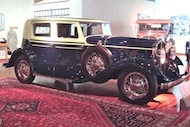 The 1931 Franklin Series Deluxe 153 one-off custom model was built by the Walker Body Co. of Amesbury, MA for display in their booth at the 1931 New York Automobile Salon. It is the last custom bodied vehicle built by Walker before the Great Depression led them to discontinue their body-building business. Its innovative design influenced the stream-lined trend in American car design that began in the early 1930s. After a series of owners "The Walker" found its way to the collection of Bill Harrah, gambling impresario and Franklin enthusiast, whose shop performed a full restoration. That restoration has recently been freshened by the current owners, Tom and Carol Kidd of Zionsville, PA who have generously loaned it to the Collection.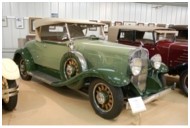 The Series 153 DeLuxe bodies were originally designed by Ray Dietrich for the new V/12 line. With the new V/12 redesign ordered by the new Bank-appointed management, these handsome designs were mounted on a 132" chassis with standard 6-cylinder 100hp engine. A DeLuxe Roadster was never produced, but Franklin factory blueprints survived for the proposed body, perhaps intended by Dietrich for the V/12 line. Created by Franklin Club member Frank Gardner, the project consumed some eight years with the body having been custom made for Mr. Gardner in England from the Franklin blueprints.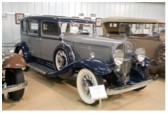 1932 Series 16 Sedan – For the 1932 model year, Franklin utilized the slightly beefier chassis initially designed for the new V/12 project. Extensive use of sound deadening, new 'supercharged' forced air induction (utilizing air bleed from the cooling fan), interior trim in walnut & bookmatched wainscot and a new Synchromesh transmission with free-wheeling and adjustable 'Ride Control' resulted in Franklin's finest offering to date. Quiet, smooth, powerful, with Dietrich designs, Franklin's Series 16 is considered by many to be one of the best driving Classics of the era. While the company was in the throes of the depression and production had plummeted, survival rates are high for the "Airman" models from 1932.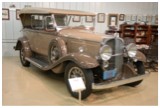 Another Frank Gardner creation, this example is the result of forced marriage between a 1932 Franklin Club Sedan and a 1929 Packard 633 Touring. It took several years to find and fashion parts and trim enough for Mr. Gardner to feel that his creation might well have been originally built in Syracuse. The 100hp 'Supercharged' engine gave the Series 16 performance to match many of the best cars of the period. The only 'open ' models available were the Convertible coupe and the Convertible Speedster by Dietrich. Also available in 1932 was the 150hp Series 17 with the V/12 engine.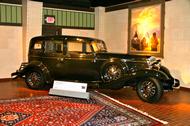 1932 Series 17 Twelve Cylinder Sedan – With the multi-cylinder horsepower/luxury race in full swing, Franklin was not about miss an opportunity to show what air-cooling could do. The result was the astonishing 150 horsepower, forced induction, 12-cylinder air cooled automobile engine. Intended for Franklin's flexible, lightweight chassis, bank-appointed management instead built an entirely new car with ultimate luxury in mind. African Mahogany interior trim, Aircraft style gauges, dash operated adjustable shock absorbers and 90+mph performance with factory equipped two-speed differential were not enough to sell the $5,000 luxury car during the 'Great Depression'. With less than 200 hand-built V/12's sold over 3 years, they are highly sought-after today.