In This Section: Cars | Parts | Merchandise | Services & Vendors
The H. H. Franklin Club publishes the information listed below solely as a convenience to its members. No endorsement is made by the Club or Region, no claim or warranty is made as to the accuracy of any of this information. No responsibility is assumed for any transactions resulting from this information.
Franklins Cars and Parts Wanted
May 18, 2017
Wanted parts for 1923 Franklin 10B Sedan

1 cast aluminum upper engine cooling shroud #R2730
2 thumb screws #r2739
1 parking brake handle assembly with mounting parts #r1858
1 transmission brake band and attaching parts #1837
Please contact Bruce Strobel 716-392-0991(cell) or
email
kestrelbs@roadrunner.com
---
December 14, 2016

Series 14 parts needed:

Series 14 headlight lens. 11 1/2" diameter for Twilight head lamp.
Contact Ed Wager at phone # 804-883-7806 or email cewager@aol.com .

---
March 19, 2016

1928 Franklin 12B Sedan parts needed:

Window crank handles for 1928 12B sedan. Need all 4 plus back 2 "t" handles for last glass.
Would also like information on copies made by anyone, stainless, etc.

Mark Cates, McAlester, OK 918-429-3969 email me at mcates@ktc.edu or catesmc2@gmail.com
---
March 7, 2016

1926 Franklin 11B runabout parts needed:

1 front bumper bar
2 rear bumper brackets
2 horn buttons
Seat riser with metal u shaped moulding retainer
Gas cap
Stop and tail light lenses

Matthew Hinson 347-701-5020
---
February 1, 2016
Wanted for 1933 Olympic 18B - Front Shell Complete. Have hood, need complete shell with rods connecting shell to firewall. Need all hardware to connect shell. Also, need "Olympic Badge" at bottom of shell.
Also, looking for 1929 or 1930 Coupe for project restoration.
Frank Castillo (909) 296-0980 Southern California
---
January 4, 2016
Rose Pattern Window Crank Handle - used on Briggs Body cars.  Please see photo and call Cliff Lewis 508-641-0171.  I could use one or two or these that were used on some Franklin cars from the late 1920's.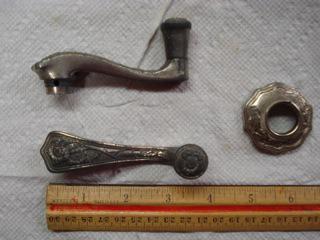 Franklins For Sale
The H.H. Franklin Club provides 'For Sale' listings as a service to its members and others. There is no warranty expressed or implied by the club.
---
For Sale: Franklin Collection's 1922 Series 10-A V-Windshield 2 Door Sedan.
After six years as part of the Franklin Collection at the Gilmore, "Sparky" an early series 10-A V-Windshield 2 Door Sedan will be sold by sealed bid to benefit the Franklin Museum. The car was a donated to the museum by member William Cardoza, and has less the 1000 miles since restoration. It starts and runs well, VIN 130563-4, Engine E79067.

All bids must be in writing and accepted by email or regular mail. Bidding starts at $14,000. Bids will be accepted until 2PM June 17, 2017. The car will be on display this Spring at the Franklin Museum and can be driven during the HHFC Midwest Meet, at the Gilmore, the weekend of June 17,2017. The winning bidder will be announced at the meet but need not be present to win, the car will be available immediately.

For more information and bidding, contact Phil Weisenbarger at philweis@wcoil.com or call: H- 419-358-4651 Cell 419-722-3861

---
For Sale: Early 30's Franklin Project Car
Early 30's Franklin Project Car. The car was originally purchased to be used as a parts car for my fathers other Franklin and was left mostly untouched. Drive train is intact however the car has not run since it's purchase approximately 15 years ago. Garage kept. Some surface rust on the body and is missing the dash, interior panels and running boards. Happy to provide additional images for anyone interested (could even Facetime/Skype a video tour of the car to give a better view). There are additional parts not included in the pictures such as wheels and fenders however I am unsure if they are off this model as my father has additional parts throughout the garage. If any additional parts are identified to match this model they would be included in the purchase.

Seeking fair offers. Please contact me and I can provide any additional information available.

Joe Dunne
Cell - (516)807-2573
Email - Dunnej014@gmail.com Located in Eastern New York (Long Island)

---
For Sale: 1929 Franklin 2 door Sedan

1929 Franklin 2 door sedan. Completely restored.
Burgundy over Black with Imron paint, $ 25,600.00.
Contact Dave Bunch, ph# 715-273-5099. Email: twinvaly@redwing.net


---
For Sale: 1923 Model 10B Sedan

1923 Model 10B Franklin Sedan. Previously stored in a private Automotive Museum in the Cleveland/Helen, Georgia area. The car was driven by the current owner for about 60 miles until parked about 10 years ago. Just over 66,000 original miles. Has an updated carburetor but it may be correct. Interior is probably Mohair and not original but is well done. The paint has one chip just above the left hood and two cracks in it around the grill. Overall, the car presents itself nicely. Would probably need a new battery and the fuel system cleaned in order to run again. I am assisting an older man in finding good homes for his cars. Offering at $26,000.00.
Contact John Roy at jpernoroy@gmail.com or phone (706)829-5276.

---
For Sale: 1929 Franklin 130 4-door Sedan

1929 Franklin model 130 4 door sedan.

Body: Car was repainted once in 1969 with laquer paint. Could use new paint on the fenders otherwise not bad. There is some cracking in spots, but it is not a rust bucket.

Engine: has never been totally apart and the car runs very good. The oil has been changed often. A complete tune up has been done. Rebuilt fuel pump, rebuilt carb.

Trans: Has common 1st gear growl other than that transmission is fine.

Chrome: All the chrome was done in 1969. There is some minor flaking on top of the grille shell by the cap, other than that it is very nice.

Wheels and tires: Wood wheels are in good condition with 650x19 tires that were new in 1969. Plenty of tread left but you be the judge.

Brakes: Four new wheel cylinders, and master is in good shape. All lines have been cleaned and system has new fluid. The brakes work well.

Interior: New in 1969 and still in very good shape. Speedometer does not work. Other guages work. All the lights work, including interior. Turn signals have been added. Clock has been rebuilt.

Top: Could use some woodwork and a new top.

The car is complete and in good shape. I use it just about every weekend in the summer. I have tons of original paperwork including pictures of the original owners, original owners manual etc. All receipts from restoration in 1969. Some spare parts.

This car has been garage kept its entire life. I am the third owner. The first owner was Harry Miller from Pa. then Jere Verdone from Pa.

Asking $16,000. Call Jim Bockin at (609) 698-4499 (New Jersey) or email at jbockinjr@comcast.net
---
April 29, 2016
Click here to view sale flyer of 1928 Franklin Sedan for sale.
---
April 10, 2016
For Sale: 1907 FRANKLIN Model 'D' 5-passenger Touring Car.

This car is one of only 3 known to exist and the only one running with it's original authentic running gear. The car came out of long time storage from a private collection some years ago. It has never been to a Trek so the new owner can be the first to have that honor as well.

The car retains it's original body and upholstery with the exception of the seat bottom cushions and carpeting. It is equipped with a complete authentic set of Solar lamps, including the rare Solar 'Projector' type headlamps, Solar carbide generator, horn, speedometer and many of the original tools. It appears to have never has a top installed, but we have fabricated a correct set of top bows and latching irons, and all that would be required to complete the top would be the sockets. The running boards have been rebuilt and covered with the correct white diamond rubber and brass trim. New wiring has been installed.

Since being taken out of storage the car has been serviced and participated in a Glidden Tour and the AACA 75th Anniversary Tour, completing both. It has also received 2nd and 3rd place awards at AACA National Meets. This large 4-cylinder Franklin is a strikingly beautiful brass-era car and is a delight to tour with. It is eligible for the Glidden and Reliability AACA tours, HCCA tours and one of the few 4-cylinder cars eligible for the New London to New Brighton tour. There is a collection of nice original literature that could be included as well. Asking $97,500 and would consider a trade for an early 4-cylinder Dodge Brothers and cash. PH (717) 645-0334 for more information. All calls returned. Located in So. Central PA. Additional photos available upon request.