In This Section: Cars | Parts | Merchandise | Services & Vendors
The H. H. Franklin Club publishes the information listed below solely as a convenience to its members. No endorsement is made by the Club or Region, no claim or warranty is made as to the accuracy of any of this information. No responsibility is assumed for any transactions resulting from this information.
Franklins Cars & Parts Wanted
February 1, 2017
Wanted for 1933 Olympic 18B - Front Shell Complete. Have hood, need complete shell with rods connecting shell to firewall. Need all hardware to connect shell. Also, need "Olympic Badge" at bottom of shell.
Also, looking for 1929 or 1930 Coupe for project restoration.
Frank Castillo (909) 296-0980 Southern California
January 4, 2016
Rose Pattern Window Crank Handle - used on Briggs Body cars.  Please see photo and call Cliff Lewis 508-641-0171.  I could use one or two or these that were used on some Franklin cars from the late 1920's.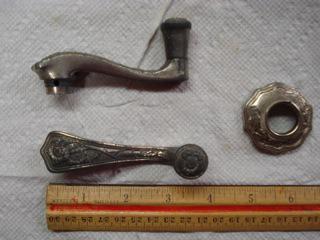 Franklins For Sale
May 23, 2015
FOR SALE: 1929 FRANKLIN MODEL 130 4 DOOR SEDAN: NEW PRICE ASKING $7,900. USD
Dry stored for many years, Local Pacific North West History, Believed last road driven in 1952. Odometer shows 32,273. Last started and driven in our driveway in 1992. Almost complete, with many extra parts, wood wheels on the car, wire wheels (some with rust) and extra drums and hubs, chromed wire wheel tire locking rims, re-chromed bumpers front and back, Huge headlights with glass lenses, fender lights, have front shutters, bumper brackets. First year of steel frame, have additional photo's if requested. Car is located in Surrey, B.C. about 125 miles north of Seattle, Washington. Vehicle is Washington Titled.
If interested please email: Barry Porter at bporterx3@shaw.ca or call for information 1-604-538-0415
May 23, 2015
For Sale: 1924 SERIES 10B SEDAN: Asking (New Price) $15,000. USD
This 1924 Series 10 Sedan was my grandfather's car, Alonzo Shinn, who was a surveyor and real estate appraiser in New Jersey. It was restored in the 1940's by one of his neighbors, who then drove it around in Franklin events and parades for a couple of decades. The car last drove around Princeton, NJ in 2004 but has been cared for including sitting on jacks in a dry storage garage. I'd very much like to keep it in the Franklin Club..
If interested please email: James Shinn at jjshinn@gmail.com or jshinn@princeton.edu