In This Section: Cars | Parts | Merchandise | Services & Vendors
The H. H. Franklin Club publishes the information listed below solely as a convenience to its members. No endorsement is made by the Club or Region, no claim or warranty is made as to the accuracy of any of this information. No responsibility is assumed for any transactions resulting from this information.
Franklins Cars and Parts Wanted
March 19, 2016

1928 Franklin 12B Sedan parts needed:

Window crank handles for 1928 12B sedan. Need all 4 plus back 2 "t" handles for last glass.
Would also like information on copies made by anyone, stainless, etc.

Mark Cates, McAlester, OK 918-429-3969 email me at mcates@ktc.edu or catesmc2@gmail.com
March 7, 2016

1926 Franklin 11B runabout parts needed:

1 front bumper bar
2 rear bumper brackets
2 horn buttons
Seat riser with metal u shaped moulding retainer
Gas cap
Stop and tail light lenses

Matthew Hinson 347-701-5020
February 1, 2016
Wanted for 1933 Olympic 18B - Front Shell Complete. Have hood, need complete shell with rods connecting shell to firewall. Need all hardware to connect shell. Also, need "Olympic Badge" at bottom of shell.
Also, looking for 1929 or 1930 Coupe for project restoration.
Frank Castillo (909) 296-0980 Southern California
January 4, 2016
Rose Pattern Window Crank Handle - used on Briggs Body cars.  Please see photo and call Cliff Lewis 508-641-0171.  I could use one or two or these that were used on some Franklin cars from the late 1920's.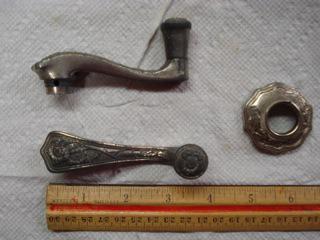 Franklins For Sale
June 17, 2016
For Sale: 1930 FRANKLIN 145

1930 145 convertible coupe. $40,000
Contact John at 7655734032sanmanjon@yahoo.com


June 9, 2016
For Sale: 1929 FRANKLIN 135.

I have a 1929 135 sedan serial # 184091L11, eng. # 365-132235 for sale. Car is in restoration. I also have a spare engine #35-137093. Frame, springs hubs etc. have been completed. Rear end has had seal upgrades and a vent added. Brake master cylinder has been sleeved and rebuilt. Car was put up on blocks in 1947 due to cracked cylinder(s). I have 8 cylinders for original engine. Engine apart. I have many other pictures available. This is a no-rust , no-wood rot car from San Diego area. Car is black with green pin stripping and green wire wheels. I have too many projects going and need the real estate back in my shop.

I can be reached by phone at 505-716-7100. I want $8,500.00 for car with second engine and two extra doors negotiable. Only thing missing that I know of is the speedometer and a hubcap or two.
Richard Fassler, Farmington, New Mexico.


June 3, 2016
For Sale: 1916 FRANKLIN Series 9A Touring.

1916 9A Touring Franklin - fenders and other miscellaneous parts included. $8,750
Contact Tom Garnier - email tgarnier@ssiworld.com or call (503) 682-3633


April 29, 2016
Click here to view sale flyer of 1928 Franklin Sedan for sale.
April 29, 2016 (Updated photos June 3, 2016)
The Franklin Automobile Collection at Hickory Corners is selling a 1930 DeLuxe Sedan
The Franklin Automobile Collection at Hickory Corners is selling this handsome 1930 DeLuxe Sedan in a sealed-bid auction for the benefit of the museum. The auction is open to all club members and has been advertised to the public. Bids will be opened and the winner announced at the Trek banquet. This is an older restoration but nicely done and the car runs well and driving it is a pleasure. If the bids do not meet the modest reserve, it will be sold at the Hershey auction. The car was donated to the FACHC by Keith and Elain Knowlton from Connecticut, it can be seen presently on display at the Gilmore Museum in Hickory Corners, MI.
For Sale 1930 145 DeLuxe Sedan
Vin 45-201689L32
Engine # 149794
For bidding and information contact Phil Weisenbarger 550 S Main St. Bluffton, OH 45817 419-358-4651 or philweis@wcoil.com
April 10, 2016
For Sale: 1907 FRANKLIN Model 'D' 5-passenger Touring Car.

This car is one of only 3 known to exist and the only one running with it's original authentic running gear. The car came out of long time storage from a private collection some years ago. It has never been to a Trek so the new owner can be the first to have that honor as well.

The car retains it's original body and upholstery with the exception of the seat bottom cushions and carpeting. It is equipped with a complete authentic set of Solar lamps, including the rare Solar 'Projector' type headlamps, Solar carbide generator, horn, speedometer and many of the original tools. It appears to have never has a top installed, but we have fabricated a correct set of top bows and latching irons, and all that would be required to complete the top would be the sockets. The running boards have been rebuilt and covered with the correct white diamond rubber and brass trim. New wiring has been installed.

Since being taken out of storage the car has been serviced and participated in a Glidden Tour and the AACA 75th Anniversary Tour, completing both. It has also received 2nd and 3rd place awards at AACA National Meets. This large 4-cylinder Franklin is a strikingly beautiful brass-era car and is a delight to tour with. It is eligible for the Glidden and Reliability AACA tours, HCCA tours and one of the few 4-cylinder cars eligible for the New London to New Brighton tour. There is a collection of nice original literature that could be included as well. Asking $97,500 and would consider a trade for an early 4-cylinder Dodge Brothers and cash. PH (717) 645-0334 for more information. All calls returned. Located in So. Central PA. Additional photos available upon request.
April 2, 2016
For Sale: 1932 Franklin 16A (163) sedan. Very nice, classic automobile.

Running condition. Wire wheel hubs, wide white-wall tires. Twin side-mount spares. Rear luggage rack. Very spacious interior. Restored approximately 30 years ago. Purchased from Washington state, now located in South Dakota. Chassis No. 208586 (8586L11). Motor No. I56567. Body Tag: 15-5 SED W.B.Co. (Walker Body Company) No. 1788. Many extra parts.

Bound owners manual. Collection of H. H. Franklin Club Air Cooled News magazines and Franklin Service Station newsletters.
Asking $29,000.00 or best offer.
For more information email Kevin at pamj@triotel.net or call (605) 449-4469 [leave message].
March 2, 2016
FOR SALE:1929 Franklin 4-door
Model 135, Series 13
Chassis # 35-191307L11
Engine # 139402
Body Builder's Plate #1352867

Beautiful touring car is ready for your next club trip!

1929 Franklin 135 4-door sedan finished in green and black with new beige cloth traditional-looking interior. The engine has been completely rebuild (500 miles ago), along with new brakes, brake lines and master cylinder. The wooden wheels were totally rebuilt and new tires fitted. This will be a great Sunday driver to shows and local concourse events. $20,000.
For more information contact John Davis, john@tmfcinc.com