In This Section: Cars | Parts | Merchandise | Services & Vendors
The H. H. Franklin Club publishes the information listed below solely as a convenience to its members. No endorsement is made by the Club or Region, no claim or warranty is made as to the accuracy of any of this information. No responsibility is assumed for any transactions resulting from this information.
Franklins Cars and Parts Wanted
March 19, 2016

1928 Franklin 12B Sedan parts needed:

Window crank handles for 1928 12B sedan. Need all 4 plus back 2 "t" handles for last glass.
Would also like information on copies made by anyone, stainless, etc.

Mark Cates, McAlester, OK 918-429-3969 email me at mcates@ktc.edu or catesmc2@gmail.com
March 7, 2016

1926 Franklin 11B runabout parts needed:

1 front bumper bar
2 rear bumper brackets
2 horn buttons
Seat riser with metal u shaped moulding retainer
Gas cap
Stop and tail light lenses

Matthew Hinson 347-701-5020
February 1, 2016
Wanted for 1933 Olympic 18B - Front Shell Complete. Have hood, need complete shell with rods connecting shell to firewall. Need all hardware to connect shell. Also, need "Olympic Badge" at bottom of shell.
Also, looking for 1929 or 1930 Coupe for project restoration.
Frank Castillo (909) 296-0980 Southern California
January 4, 2016
Rose Pattern Window Crank Handle - used on Briggs Body cars.  Please see photo and call Cliff Lewis 508-641-0171.  I could use one or two or these that were used on some Franklin cars from the late 1920's.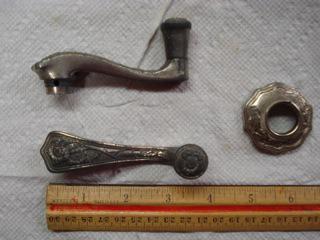 Franklins For Sale
For Sale: 1927 Franklin Touring

For Sale at auction. 1 P.M. Thursday Oct. 20, 2016. Location: 4635 Maple Street, Schnecksville PA.
1927 Franklin Touring Sedan – Six Wheel, Straight Six, Air Cooled Engine, 3 Speed – Great Vehicle with good title and many extras. Franklin is in running condition and has been maintained and stored properly. It is an excellent candidate for weekend drives or full restorations.

Click Here to see the auction flyer.
Email questions to Jason Houser at: doogie51@yahoo.com or call 484-550-8593.

Note from Webmaster: Based on the serial number for this vehicle provided by the auctioneer, it appears that this Franklin may well be a 1928 Series 12B, long wheelbase 7-Passenger Sedan that was modified at some point to a Touring style body.


For Sale: 1929 Franklin 135 sedan

1929 Franklin 135 sedan, near original condition. The body and all glass look to be original as does the interior except for the front seat, it has an ugly covering on it. The top has severe cracking from age and will need covering at some point. This car has sat in a garage for several years so it will need some tending to. It was running just before being parked. Price is $12,000 firm including parts. Please email any questions you may have.

Email: human4u@gmail.com


For Sale: 1931 Franklin series 153 Club Sedan

1931 Franklin model 15 series 153 dual-sidemount Club Sedan. Shows 62,000 miles on original speedometer. This scarce model has often been viewed as Dietrich's best work on a sport sedan. Restoration begun, but unfinished. Car is disassembled but complete, car and parts carefully stored in dry garage. Includes correct, replated headlights and lenses (very difficult to find) and 4 new whitewall tires. Engine was overhauled by Jeff Hasslen before I began body restoration. It has new poured babbit mains, with rods converted to inserts and new pistons. Test driven for 3 - 4 hours before it went into my garage. All fenders and doors repaired and in primer ready for paint. Hood front and bumpers complete and re-plated. 4 good original hubcaps plus 4 brand new repro caps. 2 bumper-mount Trippe driving lights, replated. Spring bolts plated in hard chrome and reground to fit spring eyes/shackles. Car comes with three spare cylinders, heads, and valve gear – will not sell parts separately.

$15,900. Contact Eugene Pelton, 571-449-0973, Purcellville, VA (25 miles outside Washington D.C.)


June 9, 2016
For Sale: 1929 FRANKLIN 135.

I have a 1929 135 sedan serial # 184091L11, eng. # 365-132235 for sale. Car is in restoration. I also have a spare engine #35-137093. Frame, springs hubs etc. have been completed. Rear end has had seal upgrades and a vent added. Brake master cylinder has been sleeved and rebuilt. Car was put up on blocks in 1947 due to cracked cylinder(s). I have 8 cylinders for original engine. Engine apart. I have many other pictures available. This is a no-rust , no-wood rot car from San Diego area. Car is black with green pin stripping and green wire wheels. I have too many projects going and need the real estate back in my shop.

I can be reached by phone at 505-716-7100. I want $8,500.00 for car with second engine and two extra doors negotiable. Only thing missing that I know of is the speedometer and a hubcap or two.
Richard Fassler, Farmington, New Mexico.


June 3, 2016
For Sale: 1916 FRANKLIN Series 9A Touring.

1916 9A Touring Franklin - fenders and other miscellaneous parts included. $8,750
Contact Tom Garnier - email tgarnier@ssiworld.com or call (503) 682-3633


April 29, 2016
Click here to view sale flyer of 1928 Franklin Sedan for sale.
April 10, 2016
For Sale: 1907 FRANKLIN Model 'D' 5-passenger Touring Car.

This car is one of only 3 known to exist and the only one running with it's original authentic running gear. The car came out of long time storage from a private collection some years ago. It has never been to a Trek so the new owner can be the first to have that honor as well.

The car retains it's original body and upholstery with the exception of the seat bottom cushions and carpeting. It is equipped with a complete authentic set of Solar lamps, including the rare Solar 'Projector' type headlamps, Solar carbide generator, horn, speedometer and many of the original tools. It appears to have never has a top installed, but we have fabricated a correct set of top bows and latching irons, and all that would be required to complete the top would be the sockets. The running boards have been rebuilt and covered with the correct white diamond rubber and brass trim. New wiring has been installed.

Since being taken out of storage the car has been serviced and participated in a Glidden Tour and the AACA 75th Anniversary Tour, completing both. It has also received 2nd and 3rd place awards at AACA National Meets. This large 4-cylinder Franklin is a strikingly beautiful brass-era car and is a delight to tour with. It is eligible for the Glidden and Reliability AACA tours, HCCA tours and one of the few 4-cylinder cars eligible for the New London to New Brighton tour. There is a collection of nice original literature that could be included as well. Asking $97,500 and would consider a trade for an early 4-cylinder Dodge Brothers and cash. PH (717) 645-0334 for more information. All calls returned. Located in So. Central PA. Additional photos available upon request.