1952 Franklin Club Meeting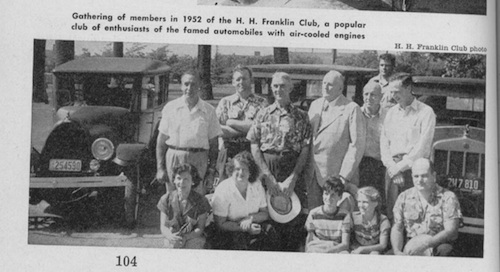 Rear: Jack Ortman
Middle: Ed Paris, Bill Hamlin, Curtis Ortman, Tom Hubbard, Tony Giamino, Pat Fogel (?)
Front: Ed Paris' wife (?), Doris Hamlin, #3, Kathy Ortman, Bob Berry
Who are they?
Jack Ortman, a good friend of Joe Hafner's, is the pop up head in the back ground. Jack had a 25 Boatail in High School and in the 60s he restored it and drove it on several Westreks.
It looks like Tony Giamino is the short bald man next to Tom, under Jacks head.
The man in the lower right in the print shirt is Bob Berry. Bob's 1925 Sedan is in the background. Bob lived in Van Nuys, CA and loved T's and was in the MTFCA with me.
One of the other men has to be Pat Fogel (next to Tony?) and this picture was taken at his ranch in Fontana, CA in 1952.
Also looks like Tony Giamino next to Tom, perhaps his son behind him [Ed. This is Jack Ortman]. Second from left is Bill Hamlin, probably his wife kneeling in front of him.
More information March 23, 2004 - I'm responding to the picture of one of the first meeting of the Franklin club in 1952. That is definitely Jack Ortman in the back.
The third man in the back row is Jack's father Curtis Ortman and maybe his wife Iva sitting in the white shirt.
It looks like too many trees to be a Pat's house and there is a house in the background, there was nothing for miles from Pat's home in '52.
Kathy Ortman daughter of Jack Ortman.
Still more information from Ron Hurt, top row left Ed Paris and below him is his wife. Top row 2nd man is Bill Hamlin and below him is his wife Doris. Top row 3rd man is Curtis Ortman.