News of the Club
June 28
If you enjoyed Jim Eby's article in the Spring 2019 Air Cooled News about his 9,000+ mile drive in his 1919 9B Touring car, you might enjoy reading a more comprehensive version of that article. This includes more photos, more descriptions, and supplemental information about the history of the car and its original owner(s). Click here to read the article.
Member Update
November 19
Walter "Wally" E. Miller, 66, died late Friday, November 15, at Francis House as a result of Pancreatic Cancer. He had been a life resident of Syracuse. He was known by car enthusiasts around the world for his massive collection of original automobile literature. His family includes his wife Jane Verostek, their daughters Minerva and Octavia, his mother Susan, and his sister Amy. Funeral services and burial will be private for the immediate family only. Walter will be buried beside his father in the Temple Concord section of Woodlawn Cemetery.
August 24
Philip J. LoPresti, Sr., 88, of Bethel, beloved husband of Jean (Grammatico) LoPresti, died peacefully at his home on Saturday, August 24. He was born in Georgetown on January 11, 1931, son of the late Pasquale and Sarah (Scrofani) LoPresti.

Phil was a veteran of the Korean War, proudly serving with the United States Army. Upon returning from the Army, Phil worked as a foreman for Castro Convertible, and went on to own and operate Danbury Carting for 38 years. He was a member of the VFW and the NRA.

In his younger years, Phil was a professional boxer under trainer, Cus D'Amato. Phil was a member of the antique auto club of America and the Franklin club. He enjoyed playing the guitar, and listening to music. He was happiest when surrounded by his loved ones, and traveling to Italy, especially Sicily to visit family.
August 8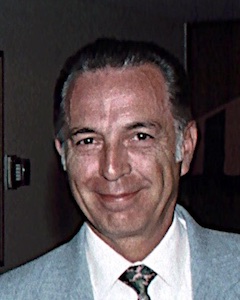 We sadly note the passing, on July 31, of Franklyn (Frank) B. Hantak who was reunited with his wife, best friend, partner and angel Garnet in heaven. Frank was born November 22, 1938 in Cleveland, OH to Frank and Angela Hantak.

Frank entered the Army National Guard in May of 1961 to serve the country he loved. After leaving the National Guard he moved to Elk Grove, IL where he went on to proudly raise his family before retiring to AZ in 2000. Frank had a passion for antique cars, especially Franklin Automobiles. He immensely enjoyed restoring and showing his collection over the years. His children have many memories of time spent with their dad attending car shows, cleaning and polishing the cars. Frank and Garnet were active members in the Franklin Automobile Club and considered fellow members some of their best friends.

Frank will be remembered by his children, Phil (Karen) of IL, Greg (Denise) of TX, Sandy (Steve) Tengler of IL. brothers, Tom Hantak of WV, Les (Carol) Hantak of OH, Sister In-Law-Ruby Lane of WV, brother-in-laws Pete Teel of OK and Norman Teel of MI. Frank leaves behind 10 precious grandchildren, Roger L. Harte Jr. ( Amy Parkey) of MI, Sherie (Daniel) Smith of MI, Rick Harte (Kira Timmins) of MI, Raelene (Brian) Lorenz of PA, Jessica Hantak (Jon Lindsay) of TX, Jordan Hantak of IL, Brandon Tengler of IL, Ryan Hantak of CO, Brittni Tengler of IL, Sarah Hantak of TX, along with 11 great grandchildren, Brittney, Dakota, Brianna, Jacob, Dillon, Elleonna, Mason, Keith, Noah, Savana and Luke of MI, and great, great grandson Caleb of MI.

He was preceded in death by his wife, Garnet, parents Frank and Angela Hantak, daughter Donna J. Harte, son-in-law Roger L. Harte Sr. and great granddaughter Destiny Smith.

The family wishes to extend a special thank you to the Golder Ranch Fire Department, Pima Heart, Senior Home Care and Casa de la Luz Hospice for the care and compassion shown to Frank and his family over the past several months.

In honor of Frank's wishes, no services will take place. In lieu of flowers, donations may be made in memory of Frank to the Automotive Restoration Technology program at McPherson College in McPherson, Kansas.
July 18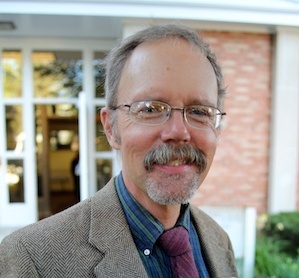 We sadly note the passing of Scott R. Dwyer, Ph.D., 58, who died on July 15. Scott died in an accident at his home.

His funeral will on Monday, July 22, at the Chapel + Cultural Center, 2125 Burdett Ave, Troy, NY, (518) 274-7793]. His body will be received at 9:30 AM, with visitation until 10:45 AM. The Liturgy of Christian Burial will follow at 11:00 AM. Internment to follow at a place and on a date to be determined.

Immediately following the liturgy there will be a "pot-luck" reception at the Chapel. Those wishing to assist in the reception should contact Fran Hyde at 518-271-7030 or lighthousetroy1@aol.com
July 13
Eddy Ward Whitcomb, 91, of Brookline, died on July 13, 2019, in his home. Born in Nashua on March 12, 1928, he was the son of Harlan and Sarah Jane (Ward) Whitcomb. He lived on his family's homestead throughout his life. Eddy graduated from Milford High School.
At a young age, he operated the family's grocery store and eventually built and operated Whitcomb's Ice Cream for 23 years. Eddy was always an entrepreneur. After he sold the restaurant, he became a real estate broker. He earned the Realtor of the Year award for his hard work. He owned and operated several local businesses.
Eddy served his community for many years. He was a member of the board of selectmen, school board, and planning board. He was a volunteer firefighter for the Brookline Fire Department for 26 years. Eddy donated the Vietnam and Korean War monument to the town in 1990. He was proud that he was named Brookline's Citizen of the Year.
Eddy was a member of the Benevolent Masonic Temple for more than 50 years and a 32-degree York Rite Freemason. He was a director and the national representative for the Royal Order of the Jesters of New Hampshire. He served as the Potentate for the Bektash Shriners in 2010. He was the recipient of the John Sullivan Medal. Eddy's passion was volunteering every Tuesday at the Shriners Hospitals for Children in Boston, up until his death. His wife and he volunteered for more than 29 years. He was a member of the board of governors for the Shriners Hospital and Shrine Maple Sugar Bowl football game.
June 14
We sadly note the passing of Jill Ann Larrick who died peacefully in her sleep early in the morning of May 15. She and her husband, Rick, have been residents of Fairbanks, Alaska, for the past dozen years and frequent visitors for many more. Jill is survived by her husband of nearly 49 years, Carl Richard (Rick) Larrick; son, Carl Andrew Plumb-Larrick, of Cleveland, Ohio, and his wife, Abigail, and children Levi (12) and Rosie (7); and by Christopher Richard Larrick and his wife, Heather Krawiec, and their son, Quetzal (20), of Fairbanks. Jill is also survived by brothers Jan Sprinkel in Annapolis, Maryland, and Jay Sprinkel in Sarasota, Florida.

Jill was born Sept. 3, 1947, to Melvin P. Sprinkel and Grace I. Sprinkel (Arthur), and grew up in New Bremen, Ohio, until attending Miami University in Oxford, Ohio, where she earned a Bachelor of Science in education 50 years ago this spring. She held a teaching certificate in special education. Jill and Rick met at Miami and were married Aug. 15, 1970, in New Bremen by Jill's grandfather, Rev. E. J. Arthur. Jill was devoted to her husband, her two sons, and later to her grandchildren.

Jill's warm, welcoming, curious and giving personality and intelligence was a blessing to her friends and family. She was always accepting, always loving - and always game for new adventure even when held back by physical limitations. Generations of family and friends were warmed by her gifts of hand-knit sweaters and baby blankets. A generous and thoughtful friend to adults, Jill was also magical with children and was deeply cherished - as a parent, grandparent, teacher or friend - to those lucky enough to know her.

Before Jill and Rick retired to Fairbanks, Rick's career in the paper industry took them to St. Cloud, Minnesota; Escanaba, Michigan; Park Falls, Wisconsin; Hawkinsville, Georgia; Kalamazoo, Michigan; Atlanta; and Astoria, Oregon. Everywhere she lived, Jill became active in the community and church, often through teaching or child care roles. She was a warm and supportive friend to everyone with whom she became close, and always there to help in every group or organization she supported. Here in Fairbanks, Jill and Rick were active members of the Vernon Nash Car Club, participating in most local and long-distance tour events in their antique automobiles - most often their distinctive blue-and-white 1955 Buick.

Jill was interred at Northern Lights Cemetery, where a private ceremony for family was held.
June 11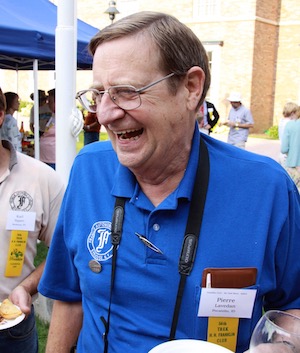 Pierre Flamier Lavedan, 84, of Pocatello, Idaho, died peacefully, surrounded by his family, on Tuesday June 4, 2019 at University of Utah Hospital in Salt Lake City.

Pierre was born July 19, 1934 in New York City to Pierre and Catharine (Downey) Lavedan. He met Susan Faust in Houston and they married in November 1975, blending their families and spending 43 wonderful years together.

Pierre was a 1952 graduate of Portsmouth Abbey (high school), Portsmouth, RI. He went on to graduate from Harvard University in 1958 (class of '56) with a degree in Economics. During the Korean War, Pierre interrupted his studies to join the Army in September 1953, serving in Japan in the American Graves Registration Group. Upon graduation, Pierre worked in sales for the M.W. Kellogg Company, Brown and Root and Bechtel, his career taking him around the globe. His "sunset" assignment took him and Susan to Italy for four years where he oversaw the construction of a power plant built on the island of Sardinia. Upon retirement almost 20 years ago, Pierre and Susan retired to Pocatello to be near family.

Pierre enjoyed music, everything from classical to country, which filled their home every day. He was an avid reader and a great storyteller. His favorite hobby involved his two antique automobiles. He acquired his first Franklin while in college. From that time forward he was hooked. He joined the H. H. Franklin Club in the 1960's and later the Classy Car Club in Pocatello.

Pierre is survived by his beloved wife Susan; his three children, Pierre J. Lavedan (Anna), Charlotte Williams (Larry), and John Lavedan (Michelle); ten grandchildren and three great grandchildren; his sister Genevieve Ubel and many nieces and nephews.

He was preceded in death by his parents and his sister Denise.

The funeral Mass will be held at 10:00 a.m.on June 18 at Holy Trinity Church in West Harwich, Massachusetts with the Rev. John Ubel officiating. Burial with military honors will immediately follow at Island Pond Cemetery, Harwich, Massachusetts.

The Lavedan family wishes to extend their gratitude to all physicians and hospital staff at Portneuf Medical Center and the University of Utah Medical Center for their care. Donations in Pierre's name can be made to the American Cancer Society.
April 10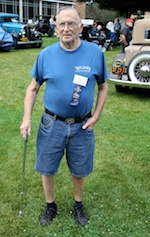 We sadly note the passing of Bruce J. Lehr of Southold, NY who passed away peacefully at his home April 8, 2019. He was 81. He was born January 23, 1938, to Margaret (Smith) and David Lehr.

Bruce served in the military for two years, then became a mechanic for Tryac Truck and Equipment and later at Southold Town Highway Department. He was a 56-year member of Southold Fire Department and a longtime member of the H.H. Franklin Car Club. He enjoyed restoring, driving and showing his antique car collection.

Bruce was predeceased by his brother, Barry, in 2016. He is survived by his sister-in-law, Beverly; his niece, Jean Walters (Louis); his great-nephew, David Kramkowski (Carolyn); his great-niece, Kristin Witczak (Christopher); and his great-great-nieces and -nephews, Kaitlin, Blake, Natalie, Madison and Lukas.

Services will be held in the summer of 2019.

Memorial donations may be made to Southold Fire Department.
February 4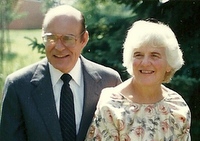 We sadly note the passing of Joan Doman. Joan was the wife of Dave Doman and was a long-time friend of the HH Franklin Club, which seems to have been the one exception to her rule at home, "No car talk allowed." (Except, apparently, for Franklins and the Franklin Club.) She had many friends in the club and attended many Treks with Dave and continued those friendships long after his death in 1987.

Joan was born in East Syracuse, NY, on April 3, 1925. Her love of the outdoors began at a young age when her father took the family on many outings for swimming in nearby Green Lake. Her love of music began as her mother taught her piano, which she played the remainder of her life. Joan became a nurse after studying at Syracuse University and she worked at the Mayo Clinic in Rochester, MN. She left that much loved position in order to take advantage of an opportunity to visit her sisters, who were working in Berlin after World War Two. On her return to New York, she met and married David Doman, to whom she was married for 37 years. They moved to Ann Arbor, MI in 1956 where they raised their four children.

Joan played tennis into her 80s and piano into her 90s. She loved to garden and enjoy the natural world. Joan had a love of adventures large and small, including the opportunity for the family to live in Australia for three years. She was often found volunteering at the Matthaei Botanical Gardens, teaching school children about the natural world around them, or taking Project Transition residents on outings. She influenced the lives of those around her through her quiet example of generosity and good. Most of all she loved being with her grandchildren and great-grandchildren.

Joan was preceded in death by her husband, David Doman, and is survived by her four children, Mark (Jane Allen), Brad (Fran Doman), Sara (Frank Wesser), all of Ann Arbor, and Shelley (Dave Herrington) of Port Austin, MI; her sister Vanne (Bob Cowie); nine grandchildren and 4 great-grandchildren. A celebration of her life is planned for April 27, 2019 at the Ann Arbor Unitarian Universalist Church. Donations in her memory may be made to Legacy Land Conservancy (legacylandconservancy.org) or Packard Health (packardhealth.org).


January 26
We sadly note the passing of Ed English. Wallace Edward English, known to all as Ed, passed away in his sleep in San Luis Obispo on December 4, 2018 after a short cardiac illness. He was 93. Ed was born in Westwood California in 1925. Ed served in the Royal Canadian Air Force starting in 1942 as a Wireless Aerial Gunner flying combat missions in Avro Lancasters. He then joined the United States Air Force as a Staff Sergeant in 1948, one of a few having the right to wear Canadian Wings on his USAF uniform. He completed USAF Officer Candidate School 49B in 1949 earning the rank of 2nd Lieutenant. He Retired in 1968 from USAF Strategic Air Command as Lieutenant Colonel after 21 years.

Ed attended California Polytechnic State University San Luis Obispo receiving a BS in Industrial Technology and an MS in Education. Ed taught IT at Cal Poly for five years. He was then Division Chairman for the Cuesta College San Luis Obispo Engineering and Technology Division for 23 years. Most of that time he was an electronics teacher, the position he cherished the most. He retired from Cuesta in 1995 though he continued part time as Faculty Emeritus.

Ed was preceded in death by his wife of 48 years, Audrey June English (McKenzie). He is survived by daughter Patricia Reimann, son Gary English, grandsons Edward English and Andrew English.

Ed was very active with many interests and many collaborations and many friends. He was deeply involved in genealogical research. Ed was an Amateur Radio Operator with the call sign W6WYQ. He started with a keen interest in Crystal radios at about age 10 and joined the Amateur Radio Relay League in 1947. He was a frequent operator using Morse Code on the High Frequency bands. He performed antenna research and development including pioneering work with the Directional Discontinuity Ring Radiator with papers published in both QST and 73 Magazine. He was a close friend with Clifford Buttschard and the two helped found the Cal Poly CubeSat program and helped establish the satellite laboratory there. He was an avid automobile historian and collector of a variety of antique automobiles. Ed was a member of many organizations including The American Legion, the Native Sons of the Golden West and the 902 Wing Royal Canadian Association. He was keen with photography, astronomy, gardening, hiking and very much with fishing. He was generous donor to many causes, especially those benefiting youth.
January 16
We sadly note the passing of Garnet Hantak. On Sunday, January 13, 2019, Garnet T. Hantak, wife, mother, grandmother and sister, passed away peacefully at home in Saddlebrooke AZ at the age of 86 years. Garnet will be forever remembered by her husband and best friend of 46 years, Frank B. Hantak, and their precious children.

Garnet was born in Keeneys Creek, West Virginia on May 2, 1932 to Pete and Lora Pearl (Hunt) Teel. At the young age of 18 she and her oldest daughter Donna moved to Cleveland OH where she worked at General Electric for many years before leaving in early June, 1973, after meeting her sweetheart. Garnet moved to Elk Grove IL and married her best friend on July 7, 1973 where they spent 30 wonderful years with their children, before moving to Tucson AZ.

Merchandise manager for the Franklin club for 20 plus years, she spent many years traveling to Las Vegas, Hershey, Pennsylvania, Iowa, Cazenovia, New York, and made many dear friends along the way.

No services will take place, honoring Garnet's last wishes.