61st Annual Franklin Trek Video
October 7,2014
October 11, 2014
Update Franklin kids enjoying hot dogs at Hershey on Friday, Oct 10,2014
Fall AACA Meet in Hershey, PA
Hershey is right around the corner. The dates are Wednesday, October 8 thru Saturday, October 11. The Official Franklin Club space is RNE 10. Please stop by to say HI, chat about the progress you have made on your Franklin (or not, dont be embarrassed), see WANTED items posted and to sign the I Was Here board so you can see who else is at Hershey!
On Friday, we will have our second annual Franklin Frankfurter Fry just for the Franklin Kids! All Franklin Kids are welcome to join us for hot dogs or peanut butter and jelly, chips, drinks and dessert.
See you at Hershey!
Susan Roberts AirCooledSusan@aol.com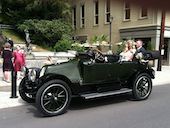 August 29, 2014
The Nancy and Dale Westermeyer car, now owned by Lucy and Charlie Hanson. Back on the road and making people smile. Does anybody know of this car's history prior to the Westermeyers ownership that started around 1976? Any information would be greatly appreciated.
Contact Charlie Hanson at salmonrun@olypen.com
August 18, 2014
In Memoriam: Daisy Straitz
Daisy Straitz, mother of club member Mark Straitz, passed away August 10th. Daisy attended the 2012 Trek but Alzheimer's disease prevented her attending functions after 2012. Online obituary.
July 20, 2014
In Memoriam: Milt Smazik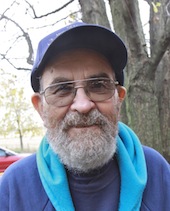 We are saddened to share the news that Milton Smazik, age 85, of Homer Glen, Illinois, passed away on Tuesday, July 15, 2014. Milt was the beloved husband of Laverne, caring father of two and a special grandfather. Over the years, Milt and Laverne attended many Franklin Treks, were well-known and well-loved members of the Midwest Region and hosted many Region Meets in their area.
Milt had boundless energy for all things mechanical and had the talent to put that enthusiasm into action. He restored all his own cars and trucks including his two Franklins, a 1948 Chrysler Woody Sedan, a 1939 Diamond T Milk Truck and others. And Milt thoroughly enjoyed showing his visitors "Big Wally", a 1929 Walter wrecker/snowplow that played a "smashing" role in the 1987 movie "The Untouchables". Milt kept all his vehicles in running order and, if asked, would enthusiastically tell you about his many restoration projects. Because of his dedication to the Franklin Club, Milt and Laverne attended the Grand Opening of the Franklin Collection and put extra effort into bringing their 1929, 7 passenger Franklin, "Big Red", and their "sportster racer" which Milt built himself.
We will dearly miss Milt and his generous, enthusiastic, "can do" nature. He truly had the Franklin spirit. We send our love and sincerest sympathy to our dear friend, Laverne, and the entire Smazik family.
From Joan Hasslen and Lee Nelson
July 8, 2014
In Memoriam: Mae Powers
From Walter Gosden and Mary (Powers) Gosden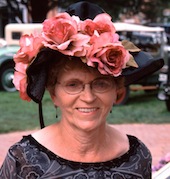 My mother-in-law Mae Powers passed away early this morning. She was married to Roy for 60 years (would have been 61 years on July 18th).
Mae and Roy had their 1923 series 10 coupe at many Franklin treks and were active in the Willys Overland Knight Club and Hudson Essex Terraplane Club as well as the Franklin Club. They attended the AACA annual Fall meet every year for the past 50+ years and had flea market spaces there where they enjoyed seeing close friends. Mae was also very active in her church.
Mae is survived by her husband Roy, 5 children, 8 grandchildren, and 2 great grand children.
May 3, 2014
In Memoriam: Don Kitchen
From Mark Sullivan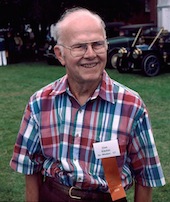 April 21, 2014 was a very sad day in the Franklin Club for we have lost a wonderful friend with the death of Don Kitchin. His quite yet determined demeanor accompanied by an encyclopedic knowledge of Franklin mechanics, a willingness to share that with everyone was all wrapped into one of the most generous people I have had the privilege of knowing. Don was a gentleman, always offering a kind word and a helping hand.
In many issues of Air Cooled News, beginning in the 1950s, article after article has Don as an integral part of the story. Often it was on a mechanical point where he found a solution to a problem or a new way of keeping Franklins running in top order while at other times we read about his personal memories. The latter included the neighbor who allowed 12 year-old Don to do chores in exchange for driving a series 9 up and down the driveway or how thrilled he was that his grandfather purchased a new 135.
Beginning in the late 1940s Don began looking for a Franklin, needless to say a 135, of his own that was both in good shape and affordable. As a new father, there were financial and family considerations that made this even more challenging. Finally in the early 50s he learned that Dr. Boyer had several potential candidates so he was off to Allentown to see what was available. After several cars were evaluated Don was presented the opportunity of trading machine work Doc needed on his '04 in exchange for a 135 sedan; the deal was quickly closed. When Don picked up the car he found a full tank of gas and the car vacuumed, washed and polished...Doc Boyer felt it up would "help with Phyllis." Although Don never said I directly, it was clear that originally she did not possess the same enthusiasm for the purchase of a Franklin, but following its arrival she unabashedly enjoyed riding to the Trek in the back seat and I can attest she enthusiastically looked forward to the drive to upstate New York.
His three year mechanical rebuild and updating of the engine and electrical system included insert bearings, a dashboard control for generator output ("so I don't burn the battery up on a long trip"), a special oil temp gauge ("to settle those questions surrounding what the operating temp really was under actual conditions") and more oil pressure than anyone thought possible. Yes, there is an article in ACN that describes in detail how he accomplished that.
Don and I were introduced in the summer of 1979 as I searched for my own Franklin and we quickly became friends. Without his encouragement, help and advice I know that my 137 would have never provided so many pleasurable miles in the ensuing years. Don enjoyed sharing his 135 and consistently offered young people the opportunity to ride and drive the automobile. Many brides went to the church in the 135 but more often he was giving young people the opportunity to feel the excitement of driving a true classic on the roads surrounding Cazenovia or his home in Connecticut. He told with great relish how a distant member of the Franklin family, when offered the opportunity to drive the 135, enthusiastically jumped in behind the wheel and quickly tossed her hat in the back seat eager to get the ride underway. His quiet demeanor and confidence combined with the traits of a true gentleman served him well as a Navy pilot, engineer for GE then Pratt & Whitney and unquestioned Franklin expert. His enthusiasm for the club and all who needed assistance marked him as a very special friend to us all. We shall miss him.
May 3, 2014
Magazine: Read about Ralph Hamlin and the Franklin Model H six-cylinder touring car in The Old Motor. more...
May 3, 2014
Franklinites Played Prominent Role at the 2014 Society of Engineers World Congress, Held in Detroit, Michigan, April 8-10, 2014
Automotive historian and longtime H.H. Franklin Club member, Sinclair Powell, made a presentation to the Mobility History Division of the Society of Automotive Engineers at the Society's World Congress held at Cobo Hall in Detroit on April 8, 2014. The title of Powell's talk was "The Road Less Traveled: the History of the Air-Cooled Vehicle in America from 1890-1940".
After mentioning the persons who aided in the development of the air-cooled engine -- including, of course John Wilkinson of the Franklin firm -- Powell outlined the companies which throughout the period covered built air-cooled vehicles. He noted that Franklin, which produced over 150,000 cars, was by far the key manufacturer of air-cooled vehicles. Powell also observed that John Wilkinson was a founding member, in 1905, of the Society of Automotive Engineers, and an initial vice president of the organization.
As an adjunct to Powell's talk the 1909 Franklin Series G Touring car owned by Christine Gray of Rochester Hills, Michigan, was displayed on the floor of Cobo Hall. This very attractive vehicle, recently restored, attracted a great deal of attention on the part of those attending the Congress. In his talk Powell expressed thanks to Christine Gray for making this fine example of an air-cooled car available for viewing. Also, he expressed thanks to Glen Gray, Christine's son, for delivering the car to the Congress.
April 24, 2014
Help find a Franklin owner
A member of my HCCA Region has photos of a Series 11 Runabout that was sold in Florida (about 10-15 yrs ago?) and overturned while in transit to its new owner up North somewhere. He has photos of the car as found many years ago in FL and would like to give them to the owner. He thinks the man's name was Mr. Ott. Ther is no Ott in the HHFC directory, but he may have the name wrong.
Contact Norm Madsen at 850-322-6788 or carlove@comcast.net.
Thanks,

Norm Madsen
Tallahassee
1925 11A Runabout
HHFC Member
February 22, 2014
In memoriam: Al Kantner
Al Kantner, 78, of Vero Beach, FL passed away on Friday, January 24, 2014 at Sebastian River Medical Center. He was born in Peekskill, NY to Charles O. and Anna Mohr Kantner. Al moved to Vero Beach several years ago. He was a self- employed auto mechanic. He will be remembered for his love of restoring antique cars and for his love for dogs. He rescued many dogs and adopted them from the Humane Society. He was a member of Dogs for Life off-Leash Dog Park in Vero Beach.
Al is survived by 3 daughters: Sherry Zellner, Linda (Jim) Ferrara and Sue (Tim) Woods. He is also survived by his companion, Gloria Willer, 6 grandchildren and 2 great-grandchildren. Al was predeceased by his wife Barbara Marie Kantner in 2009.
February 20, 2014
In Memoriam: Garry Grethel
Garry was our bartender during the trek in 2012 and our greeter for breakfast in 2013. He had just come back to work before we arrived for the week. Garry put up a good fight and stayed positive through his illness.
Garry J. Grethel, 52 of Cicero, passed away Sunday quietly in his home after a courageous fight against pancreatic cancer surrounded by his family and friends. He was predeceased by his parents Leonard (2009) and Josephine (2006); brother David (1982) and brother-in-law Bernard Palumbo (2001).
Garry retired from the Syracuse Fire Department in 2008 after 21 years of service. He was recently employed at Cazenovia College for five years. He was popular and helpful to the entire college campus. He was always the "go to guy" for anyone who needed assistance with repairs or guidance. Garry was loved by everyone who met him. He will be greatly missed. Garry enjoyed his camp in Alexandria Bay where he fished, rode his scooter and cruised the St. Lawrence on his 4-seater Sea-Doo. He also enjoyed spending time with family and friends.
Garry is survived by his wife of almost 25 years, the former Kathleen Molanare; three daughters, Kimberley, Rebecca and Stephanie; sisters, Nanci Grethel-Palumbo of N. Syracuse, Melanie Piraino (Martin) of St Louis; brothers Ronald (Darlene) of Brewerton, Lenny of Syracuse , Alan (Richard Marx) of Canandaigua, several nieces, nephews, a great nephew and great nieces.
Funeral Services will be on Wednesday at 10AM in St. Margaret's Church, Mattydale where a Mass of Christian burial will be celebrated. Family and friends may call from 2-6PM on Tuesday at New Comer Funeral Home, 705 N. Main St., N. Syracuse.
In lieu of flowers, contributions can be made to the Griffith Family Foundation for pancreatic cancer in honor of Garry.
February 14, 2014
In Memoriam: Phyllis Kitchin
Highly individualistic, fiercely independent, a real New Englander and longtime Franklin Club supporter, Phyllis Kitchin, wife of Don, died February 8, 2014. Who can forget her big billed baseball cap or their arrival at the Trek with Don at the wheel and Phyllis riding in the back seat appreciating the passing parade offered by Rt. 20 and the college green in Cazenovia. Phyllis was also an inveterate birder maintaining a membership in the National Audubon Society and always partaking in the annual national bird count. Most importantly though, she was Don's lifetime partner and the driving force that preserved their independence on Beelzebub Rd. Phyllis was a very special person and will be missed.
Mark Sullivan
February 5, 2014
In memoriam: Dr. Norman Fizette lost his long battle with cancer and passed away on 22 January 2014 and was buried in Carthage, Missouri 28 January 2014. Several years ago he and the late Fred Sumner came to our home to see my Franklin. Shortly thereafter he joined the Franklin Club and purchased his '29 130. He traveled to several meets with Hazel and me and often while in NY attended our family reunions with us. Norm often mentioned how much he enjoyed the Franklin Club and the many people he had met. He had several Packards in the past but enjoyed the Franklins better. Farewell dear friend and God Bless!
Jim and Hazel Wade
January 31, 2014
Reach out to Don and Phyllis Kitchin
The winter has been hard for all of us but even more challenging for Don and Phyllis Kitchin since they are house bound. Don's knowledge about Franklins and his willingness to help anyone with a mechanical challenge is legendary. Coincidentally both celebrate their birthday in February (Don will be 95) and would love to hear from their extended Franklin family.
Don and Phyllis Kitchin
344 Beelzebub
South Windsor, CT 06074-2227
January 6, 2014
Update from Roy Nelson: After 2 1/2 months of hospitalization, Roy is now recuperating at a caregiver's home. His heart is back "online" now and doing well. Complications set in when clots from within the heart broke loose and floated around in the circulatory system, eventually lodging in the toes of the right foot. A bypass artery to the top of the foot didn't help, and an amputation was made below the knee. Unfortunately the stump got infected with M.R.S.A., a virus that is very resistant to almost all antibiotics. A debridement (from the word debris) was done to clean out the infected soft tissue. Fearing the virus went into the bones, a second amputation was made just above the knee. Fortunately, no new infection set in and the stump is healing well, in another month it will be ready for fitting of a prosthesis.