December 19, 2011
Check out Walt Gosden's beautiful '31 Derham-bodied Model 153 which is featured in the current issue of Hemmings Classic Car magazine, #89, February 2012.
September 17, 2011
A restored 1929 135 sedan and a parts car will be auctioned in Port Wing, WI on Sept. 24. With such a remote location and no other cars being offered, it might be a good opportunity for someone looking for a starter Franklin to bid on a solid car. More info and photos.
September 13, 2011
Spotted at the International Autojumble hosted Sept. 10th at Beaulieu, the National Motor Museum in the south of England — up for auction was a very well restored 1906 Type E 12hp. 2 seat runabout, Chassis/Frame No. E 2766, Eng. No. 2300. It sold for ¬£30.000 (in buyers premium), approximately $47.500. The purchaser was from Ireland.
September 5, 2011
A little Franklin history in your mailbox — an envelope (letter is missing) sent from the Franklin Motor Car Company in Newark, NJ, on June 8, 1920. Courtesy of Tom Velencei.
August 23, 2011
Round Australia Cannonball Run: Beginning August 6th, the first attempt to circumnavigate the Australian continent in an air cooled 1927 Franklin car. Read the daily digest for an update on locations and status.
August 4, 2011
Al Bennett III, 37 year old son of Alexander (Sandy) Bennett Jr. and Betty Bennett, passed away suddenly August 2, 2011. The funeral will be private.
June 19, 2011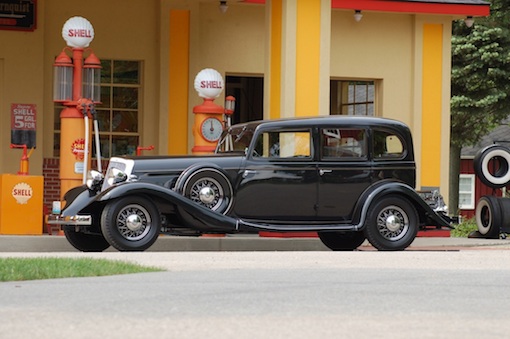 On Sunday, June 5, the 1932 Franklin Twelve Cylinder Sedan belonging to the Franklin Automobile Collection at Hickory Corners made its official show debut, appearing at the Classic Car Club of America "Experience" Councours de'Elegance on the grounds of the Gilmore Car Museum at Hickory Corners, Michigan.
A gift to the H.H. Franklin Club from the family of Alexander Marshall, the rare V/12 competed against Classics from around the Midwest and was awarded the Gilmore Award, hand picked from the entire field of cars by Bill Parfet, Chairman of the board of the Gilmore Car Museum and grandson of Donald Gilmore, founder of the museum.
June 17, 2011
Robert (Bob) Larrabee passed away in Spokane, Washington on May 8, 2011 at the age of 76. He was a member of the Franklin Club since the early 1970s. Bob and his wife, Renee', attended several of the Franklin Westreks including those held in the Pacific Northwest in 1977, 1988, 1993, and 2000. At each of these meets, he drove his immaculate 1933 17B 7-Passenger Sedan. He was also active in the Classic Car Club and drove a 1933 Packard in the 1984 Great American Race. We send our condolences to Renee' and the family.
June 10, 2011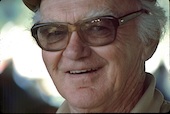 In Memoriam - Bob Feeley - May 24, 2011
It is with profound sadness that we note the passing of longtime Franklin Club member Robert J. Feeley. For many years, Bob was fixture at the annual Trek in Cazenovia, usually arriving in an Airman sedan he drove up from New Milford, Connecticut. He was also a perennial participant in the traditional sing-along held in the dining hall of the college with the late Don Winzer at the piano. He knew more old songs than most of us, and the accompanying obituary from both the Augusta, Georgia and New Milford, Connecticut newspapers indicate that he also was a talented saxophonist.
Serving on the HHFC Board of Directors from 1976 through 1978, Bob was also was the first club merchandise manager. Some of us have the Air Cooled News binders that were a product of his tenure in that job. His dad is reported to have worked in the advertising department of the HH Franklin Company, so there was a direct connection to Franklin history in his family.
Bob always had a friendly smile for everyone, salted more often than not with a bit of Irish wit and charm - in fact, he was often jokingly called "Irish", which always produced a big grin on his face. His obituary fills in many other aspects of Bob's life, but his presence will be remembered and missed by his many friends in the Franklin Club. May he rest in peace, along with so many other of our Franklin Club members who have gone before us.
Neil Sugermeyer
---
Martinez, Ga. - Robert Joseph Feeley, 92, passed away at home on May 24, 2011 after a long-term illness. Bob was born in Syracuse, NY to Robert S. Feeley and Marie E. Feeley, the oldest of five children. He attended Greenwich High School. Being part of a musical family, Bob developed a love of music, especially big band, and was a talented saxophonist.
He joined the army during World War II. During his service, Bob served transporting blinded solders home from Europe and rehabilitating them upon returning to the US. After completion of his service, Bob met and married Catherine Shea in 1946. The couple were married in Riverside, CT and subsequently lived in Baldwinsville, NY and Carmel, NY. They finally settled with their family of three daughters and one son in New Milford, CT.
Throughout his life, Bob was an active member of every community he joined and never seemed to meet a stranger. He loved to sing and took any opportunity to entertain those around him with his voice. As an American of Irish ancestry, Bob had a love of all things Irish, from the Irish oatmeal he ate for breakfast, to the Irish flag that flew in front of his home, to the cherished shillelagh he received as a recent Christmas gift, and was lucky enough to visit Ireland in 1996.
His love of the railroad prompted him to join the National Association of Railroad Passengers, and his affinity for antique cars led to membership in the Franklin Club of America. He was an active member of the Catholic Church and also a member of the Knights of Columbus Terence Cardinal Cook Council 8495. While living in New Milford, CT, Bob attended mass daily without fail (and never without doughnuts) at St. Francis Xavier Church and served as a Eucharistic minister. His enthusiasm and loyalty made him a beloved member of the church as well as the New Milford Senior Center.
He was sorely missed by all in New Milford, CT when, in 2005, he and Catherine moved to Georgia to escape the New England winters and join their children and grandchildren who had previously migrated south.
Bob is survived by his wife, Catherine, siblings Gordon Feeley, Margaret Merrit, and Joanne Feeley Whipple, his four children: Diane D'Amato of New Milford, CT; Robert and Laurie Feeley of Evans, GA; Kathl/een Dolan of Sharon, CT; and Julie and Lembit Paist of Martinez, GA, Ned Dolan of Kent, CT; seven grandchildren: Erin Dolan, Megan Dolan Mollica, Eric Paist, Diane Paist Newsome, Robert Paist, Rory Dolan, and Sean Feeley; five great grandchildren: Luke Mollica, Kendall Shea Newsome, Cole Mollica, Conner Paist and Tyler Newsome; and numerous nieces and nephews. Brother Edmund Feeley, son in law Thomas D'Amato, and granddaughter Moira Dolan predeceased him.
Funeral Mass will be held Friday, May 27, 2011 at 2:00 P.M. at St. Teresa of Avila Catholic Church with Fr. Gaspar Hegedus celebrant. Honorary pallbearers will be Knights of Columbus Terence Cardinal Cook Council 8495. In lieu of flowers, donations can be made to The LightHouse for the Blind: www.lighthouse-sf.org/donate The family will receive friends Thursday evening from 6:00 to 7:00 P.M. at Thomas Poteet & Son Funeral Directors, 214 Davis Rd., Augusta, GA 30907 (706) 364-8484. Please sign the guestbook at www.thomaspoteet.com Sign the guestbook at AugustaChronicle.com/obits.
Published in The Augusta Chronicle on May 26, 2011.
April 17, 2011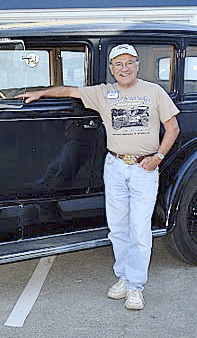 Stephen Allen Roake, Architect and Car Collector
June 26, 1938 - April 14, 2011
Stephen Allen Roake was born on June 26, 1938 in Pittsburgh, Pennsylvania to Wilber C. and Helen K. Roake. He passed away from complications of heart disease April 14, 2011. He is survived by his brother, Samuel C. Roake, cousins Adrienne Kernan of San Francisco, Thomas Kernan of Alameda Ca., Mrs. Jeanne Weseloh and husband William of Menlo Park Ca., Charles and Judith Fairweather of Winter Park, FL, George Rogers of California and many close friends in northern California. Steve and his family lived in Great Neck, NY, and he bought his first car, a Morgan, during his high school years. He graduated from Notre Dame University in 1960 with a Degree in Architecture, also serving in the Army National Guard , active and inactive, from 1961 through 1964. Steve loved to travel and on a European trip, acquired a 1950 Morgan +4 in England, and drove it throughout Europe. Later, he traveled in England, France, Italy, Morocco, and Turkey.
Steve practiced architecture in Manhattan for several years, then moved to San Francisco, where he worked for 4 years at Whistler-Patri Design and started his own architectural practice in a small storefront in Bernal Heights. He invested in San Francisco real estate in the mid-60's, and in 1973, moved his architectural offices to his building at 2260 Market Street. Steve left his mark in San Francisco, designing numerous Victorian remodels and award winning new residential complexes in the city. In 1979, he bought land in the Dry Creek region of Sonoma County. He used the property as a weekend retreat, first camping on the land and eventually, designed and built his dream home. In 1998, he moved to Sonoma County to live full time.
Steve was well known and liked for his casual sense of humor, diversity of interests and his zest for life. His interest in classic cars led him to collect a number of beautiful cars which he enjoyed driving. Steve was active in many car clubs, including the Antique Automobile Club of America, the Franklin Club, the Morgan Club, the Freewheelers, the Lincoln Owners Club, The Antique Studebaker Club, the Classic Car Club of America (CCCA) and the Nor-Cal Region of the CCCA. He served on the Board of Directors of both the CCCA and the Nor-Cal Region of the CCCA. Steve toured extensively with other car enthusiasts and he hosted many tours, designing the routes and setting up the logistics for participants. He was invited to show his 1931 Studebaker President Roadster at the prestigious Concours d'Elegance 2010 in Pebble Beach last August.
Steve was charming and talented and generous with his time and private philanthropy and enjoyed sharing his excellent culinary talents with his friends. He will be greatly missed by family and friends alike.
A memorial celebration of Steve's Life will be held on June 10, 2011, at Villa Chanticleer, 1248 N. Fitch Mountain Road, Healdsburg, CA 95448 at 2:00 P.M.
---
Long-time club member Steve Roake of Geyserville, California died unexpectedly on April 14 during surgery. Steve was a true car guy. He was not only well-known in the Franklin club, a marque which seemed to be his favorite Full Classic®, but in the Lincoln and Morgan clubs, as well. He was a regular participant at the Trek and Westrek and at CCCA CARavans, touring his cars all over North America. Steve also hosted and planned the 2007 Westrek. He also served as a longtime member of the CCCA Board of Directors. Steve was always a valuable resource for the club, giving generously of his time and resources to further the club's mission.
Steve was quiet, soft-spoken man who always had something valuable to add to our discussions. He was an accomplished architect, real estate developer and philanthropist and provided invaluable help when planning for the building of the Hickory Corners Museum structure.
Just about everyone who met Steve viewed him as a friend. His passing is a loss to the Club and to the Hobby. Steve regularly hosted car clubs at his Geyserville car garage. He planned and organized car tours for a number of car clubs to which he belonged.
April 14, 2011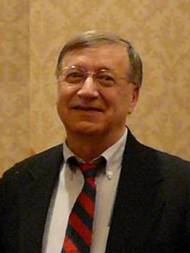 Cornelius (Neil) Loysen, October 29, 1936 - April 7, 2011
Craftsbury, VT
Neil passed away very peacefully on April 7, 2011 after a yearlong bout with brain cancer.
Born October 29, 1936 in Port Washington, NY, Neil grew up and attended school in Roslyn, NY and St. Johnsbury Academy in Vermont. He graduated from St. Lawrence University and subsequently had a long career with Met Life Corp. at their offices in New York City, Morristown, NJ and Greenwich, RI.
Neil had a passion for all things historic and especially automobilia. He was an avid automotive historian, collector and frequent contributor to antique car club journals. He was a member of the H.H. Franklin Car Club and former editor of their journal, .Air Cooled News.. He was also a member of the Classic Car Club of America, the Society of Automotive Historians, The Veteran Motor Car Club of America, and the Boston Area Toy Collectors Club.
Neil is survived by his brothers, Peter in Silver Spring, MD, Jon in Lawrenceville, NJ, David and his wife, Carol, in Stowe, VT and his sister-in-law Kay Loysen in Ocean View, DE along with many nieces and nephews.
Neil spent his last days at the Craftsbury Community Care Center in Vermont where he was welcomed in by a wonderful community of friends. At Neil's request, no services will be held and those wishing to express their remembrance may make a tax deductible contribution to the Craftsbury Community Care Center, 1784 East Craftsbury Road, Craftsbury, VT 05826
For info contact David Loysen at shawhill@stoweaccess.com.
April 10, 2011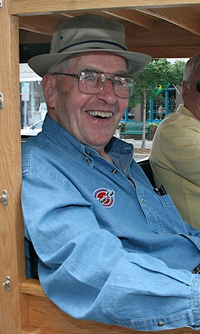 April 8, 2011 George E. Staley, 92, of Lincklaen Center, passed away Friday at his home. He was born in Nedrow and graduated fron DeRuyter Central School. He lived downstate for many years, where he established his own aviation repair company, CAMCO. During WWII, Mr. Staley was an aviation military consultant.
Retiring in 1988, Mr. Staley moved back to Linklaen and continued his lifelong hobby of collecting and restoring antique cars. In 1995 Mr. Staley was instrumental in the formation of the Northeast Classic Car Museum in Norwich. Today the museum has over 100 antique vehicles, many that he donated, and many varied exhibits that preserve that part of history for present and future generations. His latest project was the restoration of DeRuyter Town Hall, where he went to school in the 1930s. He and his sons have combined their talent, support and financial assistance to enlarge the library and the food pantry and to revamp the town offices for all residents to utilize and enjoy for many years to come.
He has accomplished so much in his life, but most of all he will be remembered for his dignity, grace, quiet nature, support, generosity, wisdom and all he did for others. He will be missed very much by his family, friends and all who knew him or knew of George Edward Staley. Our lives have been graced by him.
Surviving are sons Claude (Lynn) of Rye and James (Fausta) of Somers; son-in-law, Lawrence (Nancy) Loffredo of Lincklaen Center; grandchildren, Paul and Jill Staley, Nicole (Robert) Sheridan, Christopher Staley, Jason (Melanie) Loffredo, Kevin Loffredo and Lori (Rick) Arena; great-grandchildren William, Alexander and Dylan Sheridan, and Vincenzo and Salvatore Arena; nieces and nephews; and a dedicated "harem" of caregivers. He was predeceased by his wife, Genevieve, and daughter, Jeanne Loffreda.
Services will be 10 a.m. Tuesday at Smith Funeral Home, DeRuyter. Burial will be in Hillcrest Cemetery, DeRuyter. Calling hours will be 4 to 7 p.m. Monday at the funeral home. Contributions may be made to the DeRuyter Free Library, c/o Gerald Wood, DeRuyter, NY, or the Northeast Classic Car Museum, c/o Doreen Bates, Rexford St., Norwich, NY.
Published in Syracuse Post-Standard on April 10,2011
March 21, 2011
Hi everyone! Thank you all so much for your many calls, cards, flowers, gifts, good wishes and prayers. Praise the Lord, my progress has been steady and my heels are healing ahead of schedule! After 2 1/2 months, I took my first steps (with a walker) wearing big, clunky ski-boot-like casts. Now I'm in tennis shoes, still using a walker for stability and able to climb a full flight of stairs. Jeff has taken very good care of me and set up our family room like an efficiency apartment. It has served me well since coming home from rehab. Currently I have swelling and pain in my ankles, knees and heels as the nerves "wake up" and I practice walking. Usually, the pain is well managed with meds and exercise. We plan to attend the Midwest meet this spring. Meanwhile, I'll keep working to get back to a normal life. (I miss driving!) Thank you again, dear Franklin family, for your encouragement and support. You certainly lifted my spirits and aided my recovery.
Love, Joan (Hasslen)
March 13, 2011
Members Bill and Jan Charpier are sad to report that Jan's mother, Regina Haggerty of Orangevale, California, passed away at the age of 93 on March 5, 2011. Many of the Franklin Club's west coast members will remember Regina from several Westreks. She lived with Bill and Jan, and she participated in four Westreks with them starting in 2006 when she was 88. Last year at the age of 92, Regina attended the reception, ladies tea and banquet at the Rancho Cordova Westrek which was hosted by Bill and Jan. Even though she was often the oldest person in attendance, she was an enthusiastic participant and climbed in and out of Jan and Bill's 1928 sedan without a complaint.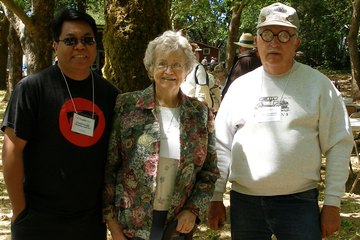 Frank Peredo, Regina Haggerty, and Jerry Houchens at Geyserville 2007
March 11, 2011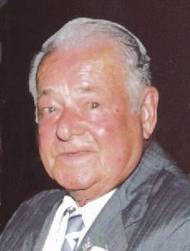 We've learned of the passing of Leo Kunan, the father of long time club member Peter Kunan who passed away a few years ago. Leo was a member of the club and was known as a very, very kind man who always has a smile on his face. Leo and Peter attended many Treks together.
Leo F. Kunan of Holbrook, March 11, 2011 at the age of 88. Beloved husband of Pauline F. (House) Kunan. Loving father of John F. Kunan of Holbrook, Paula L. Tavares and her husband Wayne of Plymouth and the late Peter C. Kunan. Dear grandfather of Lori Phinney of Carver, Amy Zeoli of Plymouth, Rachel Hackett and Thomas Kunan both of Holbrook and John D. Kunan of Holliston. Brother of the late Richard Kunan. Also survived by 4 great grandchildren.
Reposing at the Cartwright Funeral Home, 69 So. Franklin Street, (Rte 37), HOLBROOK. A Funeral Service will be held on Tuesday March 15, at 11:00 AM in the funeral home. Relatives and friends are respectfully invited to attend. Visiting hours Monday March 14, 4:00 - 8:00 PM. Burial in Blue Hill Cemetery, Braintree.
Leo was a life long resident of Holbrook. He graduated from Stockbridge School of Agriculture with an Associates Degree and was the former owner of Kunan's Greenhouses of Holbrook. Leo was a member of the Masonic Lodge, MARCOM and South Shore Antique Auto Clubs and a former Holbrook Rotarian. WWII Veteran US Marine Corp. Recipient of the Distinquished Flying Cross. For additional information, directions or to leave a sympathy message visit our website www.cartwrightfuneral.com.
February 23, 2011
We've learned of the passing of Miles Streett Amick earlier this month. This obituary is from The Cumberland Times-News Mon Feb 07, 2011.
Miles Streett Amick, 85, of LaVale, died Saturday, Feb. 5, 2011, at the Lions Center in Cumberland.
Miles was born Jan. 7, 1926, in Cumberland, and he was the son of the late Arthur Hammond Amick Jr. and Dorothy Streett Amick. He was preceded in death by sister, Dorothy Bohensky; and brother, Arthur H. Amick III.
He is survived by Carolyn Erickson Amick, his wife of 53 years, of LaVale; son, Richard E. Amick of Columbia; daughter, Ruth A. Howard and her husband Keith; twin grandsons, Benjamin and Daniel Howard of Piedmont, S.C.; and two nieces and three nephews.
He was a graduate of Fort Hill High School, class of 1944. Mr. Amick graduated from Washington & Jefferson College in Washington, Pa., and received his MBA from the Wharton School of the University of Pennsylvania in Philadelphia.
He was self-employed in a tax and bookkeeping service for many years. He was a charter member of Christ Lutheran Church, where he served on the Council and as treasurer. He was one of the founding presidents of the H. H. Franklin Motor Club and enjoyed a great interest in restoring antique Franklins with his father.
The family will receive friends at the Hafer Chapel of the Hills, 1302 National Highway, LaVale, on Tuesday, Feb. 8, from 7 to 9 p.m.
The funeral services will be conducted in the funeral home chapel on Wednesday, Feb. 9, at 2 p.m. with Pastor Charles A. Erzkus officiating.
Interment will follow in Rose Hill Cemetery, Cumberland.
Condolences may be sent to the family through www.haferfuneralservice.com.
January 19, 2011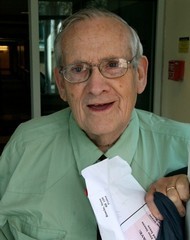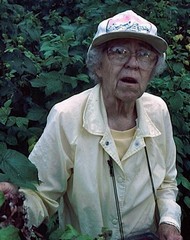 Eugene R. "Gene" Kosche, 82, and his wife Ruth S. Kosche, 92, residents of Route 7A, Shaftsbury, died Monday, January 17, 2011 as a result of a structure fire at their residence. Ruth was born in Pittsfield, on May 11, 1918, daughter of the late John F. and Hilda (Hornig) Schumacher. Gene was also born in Pittsfield on October 7, 1928, son of the late Albert A. and Madeline Vogel Kosche. They both received their education in the Pittsfield schools and were graduates of Pittsfield High School.
Gene was a veteran of the Korean Conflict where he served in the U.S. Army as a member of the Military Police. Gene was first employed as an apprentice machinist at May Engineering Company in Pittsfield. He later left to work at the Eaton Paper Company where he met Ruth and they were married at the Zion Lutheran Church in Pittsfield on May 11, 1958. Shortly thereafter Gene accepted a position at Bennington Brush Company where he worked for several years as Superintendent. After leaving Bennington Brush he accepted the position of Curator of Military and Mechanical Arts at the Bennington Museum until his retirement in 1992. Gene will be remembered by many for his articles that appeared in the Bennington Banner during his years at the museum.
Gene and Ruth were avid students of nature and were both long time members of the Vermont Institute of Natural Science (VINS), the Audubon Society and the World Wildlife Foundation. Devout members of the Shaftsbury United Methodist Church, Gene was a member of the Methodist Men's Group, served as lay leader and speaker, a Trustee and member of the Administrative Board and on the planning committees for the construction of the Michael Paulin Room and the restoration of the church's stained glass windows. Ruth was a member and treasurer of the United Methodist Women at the church, served as the church financial secretary, taught Sunday school and sang in the church choir.
Gene and Ruth shared many interests together including antique cars and coin collecting. They belonged to the H. H. Franklin Club, a group of Franklin car enthusiasts. They both enjoyed touring in their vintage "Franklin Olympic". Gene served as officer of the nation-wide club in the late 1970's. Ruth and Gene were members of the Green Mountain Car Club where Gene was a former president and also were long time members of the Battenkill Coin Club where Ruth was a past treasurer and Gene was past president.
Gene was a resource for many people on issues involving local, state and national history. He had been active in the Shaftsbury Historical Society for many years. He belonged to the Friends of Eagle Square, was an amateur astronomer, repaired antique clocks, volunteered at the Bennington Free Library and enjoyed antiques, especially tools, firearms and cars. He looked forward to his musket demonstrations at both the Peter Mattison Tavern and for the 5th grade class at the Shaftsbury Elementary School when they were studying life in colonial America.
Ruth enjoyed time spent in her raspberry patch making jams, jellies and selling them at the Farmers Market, her flower garden, both crossword and jigsaw puzzles, crocheting , sewing and bowling in her younger years.
Together they made many trips to the Manchester Music Festival to listen to classical music, plays at the Dorset Play House and events at the Southern Vermont Art Center.
Ruth and Gene are survived by their sons and daughters-in-law, Stephen E. and Jean M. Kosche and David A. and Lisa J. Kosche, all of Shaftsbury; their grandchildren, Vanessa (Howard) Amidon, Ashley and Elizabeth Kosche, their great-grandson Austin and several nieces, nephews and cousins. Ruth is also survived by a sister, Gladys Donohue of Texas and Gene is survived by a sister, Beverly Jarrett of Pittsfield. Gene was predeceased by a brother, Albert A. Kosche Jr.
FUNERAL NOTICE: Funeral services celebrating the lives of Ruth and Gene Kosche will be held from the Shaftsbury United Methodist Church on Saturday, January 22, 2011 at 11 a.m. with Rev. Matthew Bowles, pastor and Rev. Deborah Estey, former pastor, officiating. Friends may call at the Mahar & Son Funeral Home Friday from 3 to 7 p.m. Burial will take place in the family lot in Center Shaftsbury Cemetery. Should friends desire contributions in memory of Eugene and Ruth Kosche may be made to the Shaftsbury United Methodist Church, the Shaftsbury Fire Department, V.I.N.S. or the Bennington Museum through the office of the Mahar & Son Funeral Home, 628 Main Street, Bennington, VT 05201. Guest book condolences may be made at www.maharandsonfuneralhome.net
Published in Bennington Banner from January 18 to January 19, 2011
Dot and Arnie Christiansen (dotarnie@earthlink.net) are collecting remembrances of Gene and Ruth for their children. Please feel free to send them a note.
January 11, 2011
To all of our Franklin friends and "Family". I think it was May or early June that I sent a note to Dot and Arnie saying that it looks like none of the Milne clan will be at the Trek this year (2010) But, don't worry. "We're all fine and healthy." Should have never said that. June 11, 2010, Carole fell from a step stool and shattered a bone in her leg. After a week in the hospital and several weeks in a rehab. center, she came home and is now doing well. As for Dad (Don), Aug. 1, he was showing the '29 Franklin at a local farm picnic, but not feeling good. The next morning he drove to the ER and after some time, he was told that he was a few hours from total kidney failure. Taking care of that problem over a few weeks, another problem came up causing a great deal of blood loss. He required four units of blood and an operation. Both Carole and Dad are on a good road to recovery. Dad is already talking about getting the '29 out this Spring.
I'm not done yet. On Friday, Dec. 10, my wife, Roline, suffered another stroke. This time, it affected her speech and most of her memory of that weekend. We were shopping when I noticed that she was not acting herself. We went home and she slowly became disoriented. Soon, she wasn't sure who I was, who our daughter was or even who she was. Recognizing what was happening, I was able to get her to ER in time for them to use the "new" stroke medicine. It was about an hour and a half. What ever that medicine is, thank God, it works. Her speech returned quickly and is fine. She doesn't remember what happened and many details of that weekend are gone. However, her doctors felt that she could come home on Monday. That afternoon, I brought her home. She does walk with a walker, now, but, she is home and doing very well. I'm hoping we all are at the trek this year. That's all I'm saying. Please feel free to send Dad, Carole, and Roline a card. I know they would like it.
Aura Vincit, Dennie Milne
January 10, 2011
News from Frank Meredith, Columbia, South Carolina
On Saturday, November 27, 2010, I married a lovely young lady from Sumter, SC. She is now Laura (nee Turner) Meredith! After the reception we went on a honeymoon cruise to the Bahamas, We are now settled in the home that my late wife (Sis) and I had lived in since 1975. She had passed away in 2007, shortly before I found my 1929 4-door Model 135 Franklin.
As background, I retired in August 1975 after 30 years active duty with the Army. I had more than 33 years of happiness with my Sis till she passed away in 2007. She was me while I restored my 1928 Model A Ford and my 1922 Model T Ford. Later in 2007, Doug Hull helped me find my well-preserved Franklin. How Sis would have loved it!
I have enjoyed the 2008, 2009 and 2010 Treks, but I fear that Laura's health may not permit us to make the trip to Cazenovia in August 2011, much as I would like to introduce my new bride to my fellow members of the H. H. Franklin Club.
My best wishes to all in the club who have become close and caring friends.
Frank Meredith
2158 Shady Lane
Columbia, S.C. 29206
(h) 803-782-9492
(c) 803-429-1648
January 1, 2011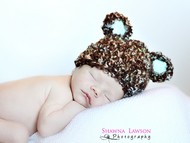 Club members Tamara and AJ Clark (daughter and son in law to members Lee and Junie Webb of Bakersfield, CA) are thrilled to announce the birth of the next generation of Franklin owners!
Liam Alexander Clark was born 11/18/2010 at 10:50am; at birth he weighed 7lb. 3oz. and was 21 inches long. Mommy and baby are doing great after the natural, drug free delivery and look forward to seeing everyone at the Santa Barbara WesTrek in June 2011!