Franklins in the News 2010
December 31, 2010
I have just received word of the passing of Duane O. Powers. He is the brother of Roy and uncle of Mary Powers Gosden, wife of Walter Gosden of Floral Park New York.
---
December 21, 2010
Christmas Greetings to all the members of the H H Franklin Club and a special thanks to Dottie and Arnie Christiansen for their many years of service to the club.
For members information: Doug Hull ( Hullco Garage) and I have just completed making molds for the fire walls of 29, 30, and 31s standard body and another for a 1931 - Walker body. In order to form the proper shapes from firewall material (Universal/Waffle Pattern Insul Sheet - B-5010-F31) available from Bob Drake or La Bonney-Baron. Anyone interested kindly contact Doug or myself - you are welcome to borrow same to make your own.
Of special interest is an article concerning the remake of a 1965 Chevy Sport Deluxe 6 cylinder Van at Hullco Garage by Doug and his partner Art Bastian found in the January issue of Hemmings Classic Car magazine. In the next issue there should appear another story about the restoration of a 1958 Cadillac "Red" convertible which is absolutely gorgeous!
Noteworthy as well is the fact that Doug has done the sheet metal restoration on several of the recent classic cars which have been winners at Pebble Beach - this year two of the winning automobiles featured sheet metal restored by Doug.
The owner of TEN Franklins Doug can be very proud of his accomplishments!!!
Cheers everyone - have a Happy, Healthy and a Franklin fun New Year.
Howie O.Gorman
Sparta, NJ
---
December 16, 2010
News from Joan Hasslen...
Thanksgiving weekend she was putting up lights in a tree. The ladder went one way and she went the other. She did NOT have a soft landing -- landing on both feet, breaking both heels. She was in the hospital for a couple days and is now in transitional care in Elk River. She won't be able to walk for three months. She is getting physical therapy and would love to hear from her Franklin friends. Cards can be sent to the address in the Franklin Club directory for Jeff and Joan Hasslen. The facility in which she is staying is just across the river from their home. (down the road a few miles, across the bridge, up the road...)
---
December 13, 2010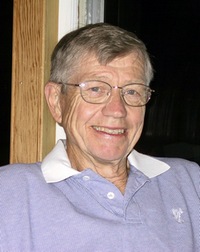 Ken Hagberg died from complications of leukemia today, December 13, at 11:30 AM. He died at home, cared for by his wife Anna, in a room that he had restored himself.
Let it be known to the membership that the last car Ken drove was his 1930 Franklin 145 sedan. Ken put 35,000 miles on that car in the 16 years that he owned it. The car never rode on a trailer except for the day in Freeport, Maine that the driveshaft key broke. He drove that car everywhere.
The car will remain in the family.
Funeral arrangements are incomplete.
David Hagberg
Kenneth Norman Hagberg of Princeton died peacefully at home with UMass Memorial Home Health and Hospice Care on December 13, 2010, at age 81.
He was the son of the late Martin R. and Lillian A. (Toivonen) Hagberg of North Worcester. Fifty-five years ago on October 22nd he married Anna Ottoson Johnson of Holden, and in 1960 they moved to Princeton. He leaves his wife and four children: Peter, wife Felicia, sons Luke and Brett of Fitchburg; David, wife Nancy, sons Neil and Andrew, of Sterling; Amy, husband R. Paul Barton, of Limerick, Maine; Ruth, husband Gary Blodgett, son Jared Kenneth, of Huntington, Vermont. He leaves his brother Paul M. and wife Martha Hagberg of Paxton; a sister Carolyn, husband Gary Setterlund, of Dennis. He also leaves two sisters-in-law, Arlene Johnson-Drawbridge, Janet Estey and a brother-in-law Albert B. Southwick, plus a legion of caring nieces, nephews and their families. He was predeceased by a sister-in-law Shirley J. Southwick and a brother-in-law Elmer J. Johnson, Jr. He also leaves his devoted dog, Lydia.
Ken graduated from the former Commerce High School in 1948, worked part time as a watchmaker.s assistant at Lahde Jewelers and later for the Telephone Company. In 1951 he was inducted into the Army and trained as a Teletype mechanic. He was also a member of the Army Security Agency, stationed for two years in the Philippines at Clark Air Force Base during the Korean War. Once home he worked part time for Bradford Cheney, Keeper of the Worcester City Clocks, and he also worked at State Mutual Life Assurance Co. Kenneth later operated a part time antique clock repair business in his home.
He attended the former Worcester Junior College and later transferred to Clark University where he earned a bachelor.s degree from the Evening College in 1961. For nine years he was the foreman of the Watch Clock Dept. at Simplex Time Recorder Company in Gardner. During this time he studied piano technology with registered piano technician and piano rebuilder Erroll Crowl in Athol. In 1969 he began his own piano business. His son David later joined him under the name K Hagberg and Son, and they tuned, repaired, rebuilt and moved pianos for many years. They were both registered technicians with the Piano Technicians Guild, and Kenneth was president of the Boston Chapter in 1977-78. He retired from piano work on December 31, 2009 with a forty year pin from the PTG. During these years Ken continued his favorite hobby of taking piano lessons with first Martha Ahlstrom and later Janeen Baker.
In 1961 he overhauled the silent Howard Tower Clock in the Goodnow Memorial Building in Princeton where for 48 years he weekly wound the clock and kept it in good repair. In April, 2009 he was honored by the selectmen of the Town of Princeton for his efforts, and the Trustees of Goodnow Memorial Library also honored him by placing a brass plaque listing his name and work by the spiral staircase leading to the clock. In 1954 Ken owned a 1929 Franklin that he and his brother brought to the first Franklin Trek in Syracuse, NY, a car that he sold to buy his Princeton home. In 1993 he replaced it with a restored 1930 Franklin. Some of Ken.s greatest joys were being a member of The H.H. Franklin Club, Inc. and driving his 1930 sedan to the annual week long Franklin Trek in Cazenovia, NY.
For the last ten years Ken and Anna have been members of WISE, Worcester Institute for Senior Education. Since 1987 they have been summer residents of Jonesport, Maine on the ocean.
The Family wishes to thank the many medical personnel for their compassionate care during his illness, especially his doctor, Dr. David Rosenfield and his oncologist and friend, Dr. Doreen Brettler. We also thank his regular home hospice angels, Camille Soucy and Lynne McCrann RN.
Relatives and Friends are invited to attend calling hours from 4 to 7 p.m. on Friday, December 17th, in the Miles Funeral Home, 1158 Main Street (Rte. 122A), Holden. The funeral service will be at his church, Trinity Lutheran Church, 73 Lancaster Street, Worcester at 11 a.m. on Saturday, December 18th. Burial will be private in Woodlawn Cemetery, Princeton. Memorial donations may be made in his name to the Trinity Lutheran Church Alter and Organ Fund, 73 Lancaster Street, Worcester, MA 01609; or to the Trustees of the Goodnow Memorial Building (for the Perpetual Care of the Howard Clock), 2 Town Hall Drive, Princeton, MA 01541.
Website & Guest book: www.milesfuneralhome.com
---
December 6, 2010
For long time members, to take note that John Tripier is currently hospitalized with pneumonia. At this point he cannot take phone calls, but a get well card or, a Christmas card with get well wishes is acceptable. Long time members may remember he filled in for a short time as the tech editor, and was always willing to give a helping hand at the trek. Cards may be sent to his home at the following,
John C Tripier
479 Farnum Rd
Media, PA 19063-1607
---
October 18, 2010
Club member Art Cazeault died about noon, Saturday, October 16, 2010.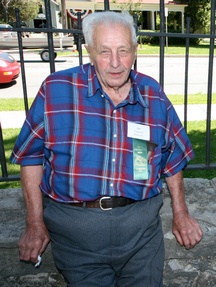 Memories of Arthur Cazeault, from his grandson Bill DiMarco
My Grandfather was born on December 3, 1920. He was number 13 of 14 children. His Mother, Regina (Laroque) Cazeault, and his Father, Hector Cazeault, had a dairy farm on great Rd in North Smithfield where he worked alongside his brothers and sisters.
He attended Mt. St. Charles Academy until the 8th grade when he was forced to leave school to get a job to help support the family. Arthur worked at various other farms in the area until he started to work for Gene Wright, of what is now Wrights Chicken Farm.
Arthur met Doris Josephine Scott, fell in love, and married on May 23, 1942. WWII was in full swing at that time and was drafted, but could not serve due to punctured ear drums. So instead, he worked at the ship yard, building ships for the war effort. As he always has done, he quickly moved through the ranks and became shipyard foreman very quickly.
His wife, Doris became pregnant with my Mom in October of 1943, and became very ill and had to remain in bed for 6 months during the pregnancy. Once my Grandfather found out about the pregnancy, he knew he had a great responsibility so he did what he knew how to best, worked and took a second job at a rubber factory.
Ellen Marie was born in July of 1944. He worked both these jobs until he was hired by Genser Manufacturing as a mechanic to repair all machinery. When he was hired, he knew nothing about the machinery for manufacturing Jewelry, but as was his gift, he taught himself, worked hard and soon became the foreman there as well.
In October of 1947, Doris became pregnant again and once again was forced to remain in bed for most of the 9 months. In July of 1948, his son, Arthur Raymond was born. More responsibility! So once again, he took on a second job.
Arthur left Genser to take a position with Oliver Barret Millwright. Once again, he didn't know much about conveyor belts and air compressors, but he worked hard and taught himself how. He stayed with Olly, as Arthur called him, for many years.
He then took a job with Franklin Supply Co. in Providence. He was hired to be an on the road, on call repairman to service air compressor that the company sold. Once again, he worked his way up the ladder to become foreman, and just about every customer insisted he be the one to come out for their service.
Through all of this, he also did side work in his favorite spot on earth, his garage.
My Mom married My Dad, William Nicholas DiMarco, in July of 1963. They had three children, My sisters, Keri in 64, Lisa in 65 and William Jr. in 66.
Arthur loved his growing family and always found time to spend with his grandchildren. Sadly, his wife he loved very much died after a long battle with illness in 1970. Sometime after, Arthur met Emelia Picard at a little convenience store she ran in the neighborhood. They were married shortly after and spent the next 30 years together. They built a home together in Millville on Center St. where they lived for most of those years.
True to his nature, Arthur was not satisfied working for someone else. At the ripe old age of 50, he and Millie started A&M Millwright Co. He built a large building on his property behind his home were he ran the business. Through his hard work, the business soon expanded to have 4 employees and 3 service trucks on the road. Arthur always offered 24 hour service to his customers, so he was often out working all night along with his normal 12 hour work day.
After a while, he soon needed an additional building to house his new showroom, offices, and additional service areas. He built this even larger building on the same property. Shortly after that, attached to this new building, he built HIS GARAGE. His heaven, his love.
At the age of 62, he sold his business, and I say this jokingly, he retired. As everyone who has known my grandfather knows, that was dirty word for him. What retirement really meant for my grandfather was he now had the time for one of his life's great passions, restoring antique cars. He restored 19 of them in all along with countless other cars he worked on for other folks. He restored everything from a 1927 Chevy Milk truck in an exact replica of the one from his father's farm, to a 1925 Studebaker. He restored Packard's and Willys Knights. But most of all he loved Air Cooled Franklins.
Just like every other challenge in his life, Arthur kept out living the doctor's predictions. He has been battling asbestoses lung for as long as I can remember. I remember my Mom telling me that Grandpa doesn't have too much longer to live over 30 years ago. Unfortunately, the illness had gotten more and more serious over the years and his health slowly declined, but he continued to work in his favorite spot, his garage, until just over a month ago. He finished his last Franklin restoration just three years ago.
His last attack was more than even he could handle, and he finally could fight no more. He died surrounded by his family and friends.
---
September 24, 2010
Ken Hagberg's condition has been steadily deteriorating since being diagnosed with leukemia in March and then being struck by a car in April. He has been sent home from the hospital for hospice care so he can be in familiar surroundings with his family.
He last drove his '30 Franklin in June so that he could get the annual inspection sticker. I rode along, and could tell driving was difficult for him. He was happy to have me drive the car into the inspection station and then drive the car back home. Since then I have been taking him for weekly rides in his Franklin as his condition permitted. He is now confined to his bed and sleeps much of the time. However, when he is awake he is still the same walking encyclopedia on all kinds of topics that he has always been. Although he can't have too many visitors, he enjoys getting cards.
Kenneth Hagberg
12 Radford Rd.
Princeton, MA. 01541
Ken is one of the few remaining HHFC members that attended the first Franklin Trek in Syracuse in 1954. He drove the '29 Franklin that now belongs to Dick Gaskill.
David Hagberg
---
September 22, 2010
Club member Arthur Cazeault recently moved into the Greenwood Care and Rehabilitation Center at 1139 Main Ave, Warwick, RI 02886. The general number for the Center is 401-739-6600 -- we'll update with a direct number once we have it.
Mark Sullivan paid Arthur a visit -- He is doing well, and would love to hear from his Franklin family who can write to him at that address.
For those that would like to visit, the facility has an open door policy with no set hours and, yes, he is still a very generous man of strong opinions, a loyal Franklin Club member that loves to have a good conversation.
---
July 12, 2010
Carl Fregonese, 88, of Ridgefield, NJ passed away Tuesday, July 6 at home surrounded by his family. Born in Oderso, Italy on September 12, 1921 to Angelo and Maria Fregonese, the family immigrated to the United States, arriving at Ellis Island in 1930. Carl was a veteran of WWII having served in New Caladonia. He was also an antique car enthusiast, belonging to the New Jersey Region Automobile Club for 50 years, the H.H. Franklin Club for 45 years and was a member of the Half Century Club. In addition to being an active member of the Ridgefield Senior Citizens, Carl had owned and operated Carl's Auto Repair at 465 Bergen Boulevard Palisades Park from 1951-1983. Carl is predeceased by his first wife, Angelina Fregonese and his brother George Fregonese. Survived by his loving wife of 41 years, Fay Fregonese of Ridgefield New Jersey, two sons and their spouses, Richard and Jeannie Fregonese of Pearl River, New York, David and Iori Fregonese of Tucson, AZ, his brothers Bruno Fregonese, Giulie Fregonese and wife Lina, his grandchildren Brian, Michael, Lisa, David and Steven Fregonese and great-granchildren Alyssa and Gina Fregonese. The family will be receiving friends Friday, July 9 between 1 and 6 PM at the Macagna Funeral Home 495 Anderson Avenue Cliffside Park. Funeral Services will be held Saturday, July 10 at St. Matthews Church Ridgefield NJ at 10am followed by an interment at Fairview Cemetery. Published in The Record and Herald News on July 8, 2010.
---
May 12, 2010
Update on Ken Hagberg: Two weeks ago Ken was walking out of the barbershop when he was struck by a (water cooled) car that was backing out of a parking space. It was a very close call- the back wheel stopped just before running over his arm. His rib cage was the next thing in the line of tire. Fortunately, the driver evidently heard him yell, and she pulled forward. By the time the driver got out of her car, Ken was back on his feet. He insisted that he was fine.
Since he is a leukemia patient, and since he is also on Coumadin for his other condition, polycythemia vera (blood that's too thick and clots in the wrong places, think risk of stroke and heart attack) he was not fine. The bangs and bruises from the event caused complications requiring hospitalization. The evaluations of his condition are not yet complete. He is at UMASS Hospital in Worcester.
---
May 11, 2010
The Zimmermans have let us know that Smith (Smitty) Weeks, a long-time member of the Club who was active in west coast activities, recently passed away.
---
March 20, 2010
In AACA's Antique Automobile we found these two pictures of Marty and Neil (Past President) Sugermeyer.
---
March 14, 2010
Here is some wonderful news:
Pat and Bob Harrison (Bob is the Franklin Automobile Collection at Hickory Corners Chairman) daughter Liz and husband Paul welcomed Sophia Grace Caruso into the family on Tuesday, March 2nd at 2:44 pm. She weighed in at 9 lb 3 oz, 21 3/4 inches long. Mother and baby and doing very well.
Grandpa Harrison holding his first Grandchild!

---
March 14, 2010
Randy Fusco, had an open heart, double by-pass last week, on the 4th. I just brought him home on the 11th and he is doing so much better at home. He had a few bad days in intensive care where he spent 4 1/2 days instead of 2 - then when he was moved to the step down unit, he also had a couple of very bad days. But now that he's home where he's able to get a full night's sleep and back into his daily routine with meals etc., he should bounce back in 4 to 6 weeks. This was an unexpected event as he had absolutely no symptoms relating to blockages. He went for a "simple" hernia exam to see if he needed surgery for that, then the pre-op tests were scheduled and the rest is history!
---
March 9, 2010
Ken Hagberg of 12 Radford Rd., Princeton, MA, was just diagnosed with acute leukemia. Chemotherapy begins tomorrow. I will update this as I get more news, and all we can do is hope for the best. - David

---
March 5, 2010
The memorial service for Bob Grimm will be held March 21st, 2010 at 2:30 at the Beverly Hills Country Club. The address is: 3084 Motor Avenue, Los Angeles, 90064. - Thank you, - Jim Crippen
---
Feb. 27, 2010
I'm listing this information because of all the e-mails, cards and calls we have received over the past year or so.
This will be the last update about Garnet Hantak - On Wed she did have her pacemaker put in, everything went as planed. She is now home resting and enjoying life with a pacemaker. Garnet will not have any artery operations, they could remove some of the blockage in her neck but, there is blockage be on her neck, in her brain that could not be removed because of a 75% likelihood of damage to the brain. Not removing the blockage, long term what this means is some lose of memory, which if you know her, you have seen in the past few years. Based on the doctors findings we will continue to plan for trips this summer and however if Garnet is unable to handle traveling we will remain in Tucson and enjoy all the local shows and happenings. We will follow her wishes and do the best for her now and in the future. Please understand, Garnet has NO problems talking on the phone nor writing notes nor picking on Frank. Garnet will always be an outstanding lady, right now she feels very good.
Thank you all for your prayers, good thoughts, wonderful cards and the many phone calls.
---
Feb. 22, 2010
Mother passed away at age 92 on February 17th. I'm sure that many "old timers" in the club will remember Sally and Ainslie Wyle attending the Treks and other functions during the 80's and early 90's. Although Dad was "a Packard man", they sure enjoyed the food, cars, Franklin folks, and the support received during the period that I was able to be more active and an officer in the club. She was a positive influence and a gracious lady until the end. She will be missed.
Ed Wyle
WebMaster: One of the wonderful honors of being an older club member is remembering great people like Sally and Ainslie Wyle and listing to stories of their son Ed when he was President of the club. Both Sally and Ainslie were dear friends , they will be missed by Garnet and myself.
---
Feb. 18, 2010
Note on Garnet, we have received many calls, cards and e-mails and would like to thank everyone in our Franklin family for that. It has helped Garnet keep her mind on the future. I think we have come to the end of tests and start on the road to better health. Monday (Feb 22) morning we have a meeting with what I've been calling Garnet's brain doctor to set up an operation on 6 arteries, two in her neck and 4 in her brain. All these arteries are blocked from 80% to 95% and need to be opened. Next week Wed (Feb 24) Garnet will have a pacemaker put in at 9 AM which will stop the one big problem she has been having, passing out at almost any time of the day. She will be in the hospital for 36 hours returning home on Thursday afternoon. (man we have come a long way with time we spend in the hospital)
All the doctors are telling me this should end all the health problems she has been having. It has been a long hard road for her, I can only pray this is the return to good health! With all the plans in place we are hoping May 12th everyone will see a new (a little older) Garnet with her great smile and mouth that won't stop running once again. Both Garnet and I thank everyone! Hope to see ya'all soon
Love our Franklin family
---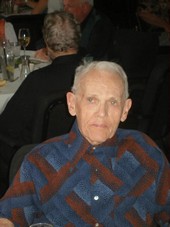 February 14, 2010
Long time member and dear friend Robert Grim passed away Friday, February 12th. He is survived by his wife Ellen, daughter Nancy, son Howard, and several grandchildren. He lived a full life with an indomitable spirit and love of Franklins. He will be missed by all, but his spirit lives on.
Friend, James Crippen
WebMaster: Bob Grim has a dear friend, his love of Franklin cars and Franklin history was outstanding. He and I sat for hours talking Franklin cars at both the Trek and Westrek over the years. His support of the club was always both with funds and advise was the best. Bob was the Franklin Spirit !!!! We will miss sitting under the tree in Caz talking Franklin history.
---
Jan. 16, 2010
News about Helen Bartlett
Things are a little confused here. I had to take Helen in to emergency Wednesday night after she had 2 black out attempts. They checked her for several hours, and she had another one. The emergency ward had closed at 8 p.m. but we were still there at midnight. They sent her by ambulance to a hospital. Yesterday they checked the electric functions of the heart, and determined she needed a pacemaker. After asking her permission, and then mine, they did it right then. She was doing quite well last night, and they said she might be able to come home this morning. I have been waiting for her call and she just did. She had a lot of pain during the night, and the incision swelled quite bad, so I guess she may have to stay another day. I am leaving now, to go up for the day. will keep you posted. Ron
WebMaster: If you have time today pick up a card and send it to Hellen's home address, I know it means a lot.
---

Jan. 9, 2010
Early this morning your web site WebMaster received word the Midwest Region Vice President Fred Sumner passed a way this morning. We have no other information at this time, please check back later.
Our friend, Fred Sumner, passed away on January 9, 2010 at 6:00 a.m. He fought his pancreatic cancer for over a year plus but never gave up his love for cars and to pursue new collections. He became a Franklin fan when I found a Franklin at an auction in Branson, MO and later we bought four more as a package deal. He really enjoyed his '29 series 130 sedan. Together we kept it running and took it to several Midwest Franklin meets throughout the years.
During my reign as President of the Midwest Region, Fred was the Vice President and continued under the present President, Ralph Gack. Fred always volunteered his help and greatly enjoyed all the Franklin meets he attended. He was also active in local car clubs as well as the Packard Car Club.
Fred and I often worked on our cars together and enjoyed parties and family gatherings and/or social events. At least once a week, we had lunch together and usually discussed the auto and its changes throughout the years.
Fred was a true friend and we shall all miss him. Our sympathy is extended to his wife, Daphne, and their family. He will be missed but not forgotten.
Jim and Hazel Wade
---
Dec. 5, 2009
WebMaster: Some good news from Garnet Hantak's doctors, they haven't found the complete problem yet but they have now controlled her passing out at any time of the day. With some new drugs she has gone over 30 days now without any black out one times. We are hoping as time goes on they will find the problem is and correct it. But for now we are very pleased! Garnet wants to thank everyone for the cards and best of all, all the prays.
---
October 28/29, 2009
WebMaster: I was told I must place something here about Garnet, my problem is I'm married to her and she requested I not put anything on the web. However, after a few phone calls and e-mails I must give you some information. Garnet has been undergoing tests for the past 6 months or so with all tests showing nothing pointing to a problem Well, this past Monday 10/26 early AM she looked like she was having a heart attack or a stroke. Our wonderful fire dept. came an after checking her out took her to the hospital where she has been for 3 days having still more tests run. The good thing, she didn't have a heart attack nor a stroke but right now they don't know what happened Monday morning. She came home this morning (Wed) and was told to get with our family doctor for still more testing! She looks good sounds like Garnet and wants to control things like the old Garnet.
Thank you all for your cards, prayers and well wishes, we are hoping to be part of the meets in 2010.
---
September 10, 2009
A Baby Buggie Tradition Continues
By Eric Franklin
In the August 21-22, 2004 issue of the Burbank Leader, Jackie Conley wrote a story called "A Baby Buggie Tradition" about my Father, Allan Franklin, and one very special antique car: a 1923 Franklin Demi-Sedan.
In 1976, the year I was born, my Father was looking through the classifieds for a Model T until he happened upon a car called a "Franklin." Thinking 'how cool it would be to own a car that shared the family name,' he purchased that car instead of the Model T.
This car, like my Father, proved to be the cornerstone of many special family memories; he drove my sister home from her wedding in it, he drove my nephew home from the hospital in it when he was born, he drove my wife and I home from our wedding in it, he drove my wife, myself and my 1st son home from the hospital in it when he was born as well.
These are only a few examples of the wonderful times shared by my family and this car.
The impetus for the article that Jackie wrote was when my Father drove my 1st son home from the hospital in 2004.
To paraphrase my Father's quote from the article, 'Mothers always get to help decorate baby rooms, host baby and bridal showers, etc. This car has helped me to be involved with important family milestones in a very special way.'
Flash forward to September of 2008 when my Father was diagnosed with cancer. It proved to be pancreatic cancer and he died October 13, almost one month to the day after they discovered the cancer and almost one month to the day before his 71st Birthday.
To say my family has been devastated would be a gross understatement. Anyone who knew my Father, knew that he had a heart and mind, more energetic than most 20 year olds. When the Dr. told him he had cancer, after she left the room, my Father sat up in his hospital bed, looked me, my mom, my sister and my wife square in the face and said, "Look, I plan on being here at least another 10 years. I just bought another Franklin (a '31 Salon) and I need 2 years to restore it and 8 years to drive it." Even facing the horror of all horrors, a life-threatening illness, he was positive, practical and upbeat - he didn't complain, he didn't cry and he continued to talk about the future.
One of the few solaces I have found, when I feel like I am the closest I can possibly to be to my Father, is when I'm with his old cars, the 1923 Franklin in particular. The car's smell - a combination of gas and oil, the revving hum of the gears shifting, the 'oo-gah' horn, the 'cat-call' whistle - if ever someone wanted to know what it felt like to be around my Dad, I would simply take them for a ride in this car.
I would always go with my Dad to antique car gatherings but I never drove any of his old cars. There was always a reason why we just never got around to it. I was busy, he was busy, etc. I remember vividly asking my Dad on Father's Day of '08,
"Dad, could you please show me how to drive the Franklin?"
"Yes," he said but for some reason or another we just didn't get around to it, once again.
A few short months later he got sick. After he had been admitted to the hospital, to try and keep his mind on the future and happy things, I continued to ask him,
"Dad, could you please show me how to drive the Franklin?"
"There's a car meet at Johnny Carson Park coming up in 2 weeks. I will show you how to drive it and we can ride together in the Franklin to that," he said.
I continued to try and keep his spirit positive, asking every few days,
"Dad, when's that car meet again? When can you show me how to drive the Franklin?"
As my Dad's illness aggressively progressed, eventually, my Father's answer to this question became,
"Eric, I don't think it's going to work out."
As life would have it, my wife Jennifer and I had our second son on March 26th. At the time of my Father's death in October, I still did not know how to drive the Franklin but was determined to learn so that my son could claim his birthright: a drive home from the hospital in the '23 Franklin.
With the help of my Father's long-time friend Ron Millman and many phone calls and emails back and forth with Lee Webb and Bob Amon of the H.H. Franklin Club, I learned how to drive and take care of the car and can happily report that my son, Lucas Allan Franklin, got to ride home from the hospital in the 1923 Franklin, with me in the driver's seat and one very special angel riding in the car with us.
I wrote about my Dad and his Franklin as well as a tattoo I had done on my leg for my Father's birthday last year.
---
October 29, 2009
The hospital felt she didn't have a stroke but the doctors this morning said she did! They called it a "Mini" stroke, now they have her on a drug for 30 days after which they will run a short test.
August 28, 2009
Garnet Hantak wants to send to so many friends, club members for all your letters, cards and phone calls. It is so overwellingI couldn't find the words to express my inter feelings. I hope next year I can express my feelings in person to so many of you. I have a wonderful group of doctors that are trying to take care of me, but you know me and control. Frank won't let me do anything...... I'll know more in another 60 days after still more tests. Again, I love you all, thank you so much. Garnet
---
July 30, 2009
WebMaster received the following information from a CA reporter about a group of east coast members:
The Guys just left for NY with no ac!! We will follow tomorrow morning if we don't get a call from them!! Anne

---
July 25, 2009
Samuel Clay Braverman was born at 3:57 pm on Tuesday, July 21, 2009. He weighed 7lbs, 6oz and was 20 ½'" long. Sam and Mom came home on Thursday, and all are doing well.
---
June 4, 2009
Good news from Bill Joline, he e-mailed me with the following:
I guess I'm gonna live...for a while anyway. All the tests, scans and pathology reports came back negative for cancer except for the chunk they took out. They wanted to do a brain scan but I was afraid that would come back negative too! Of course they have all kinds of restrictions on me right now. Can't drive, can't lift over 5lb, have to walk 4 times a day, etc., etc., etc. So right now the only way I can do anything to the Franklin is to grab a part as I pass by on my walks (that is if it doesn't weigh over 5lbs) and drop it off on my way back by!
WebMaster: Hope we get to see that beautiful Club Sedan soon!
---
May 23 2009
Just received word from Tim Miller that Walter Grove pass a way Sunday May 17th of cancer he was 74.
Walter H. Grove 74, of Coplay, formerly of Apalachin, New York, died Sunday, May 17, 2009 in St. Lukes Hospital, Allentown Campus. He was the husband of Jane C. (Lewis) Grove. The couple celebrated their 49th wedding anniversary in November 14. Born in Manasquan, New Jersey, on January 25, 1935, Walter was the son of the late Walter H. Jr. and Alice M. (Smock) Grove. He graduated from Rider University, class of 1963, with a bachelors degree in business administration. Walter retired from IBM, Endicott, N.Y., after 35 years of service. He also owned and operated Tioga Stainless, Apalachin. He was a member of Park Terrace Community United Methodist Church, Apalachin. An avid antique car enthusiast, Walter was a member of the Horseless Carriage Club of America, the Antique Automobile Club of America, the Veteran Motor Car Club of America, the Olde Tyme Car Club and PATC. He was a life member of Founders and Patriots. Survivors: Wife; sons, Steven L. Grove of Poway, California, Allen W. Grove and his wife, Amy Jacobson, of Alfred, New York; sister, Jeannette Leinbach of Winter Park, Florida; grandchildren, Nathan and Abby; nieces, nephew. Services: A memorial service will be held 11 a.m. Friday, May 22, 2009 in the Heintzelman Funeral Home Inc., 4906 Route 309, Schnecksville with Barry F. Jacobson, M.Div., officiating. Visitation period from 10-11 a.m. Friday in the funeral home. Private interment will be held in First Presbyterian Church, Pennington, N.J. Contributions: In lieu of flowers, memorial contributions may be made to the American Cancer Society and/or NOVA EMS, both in care of the funeral home, P.O. Box 196, Schnecksville, PA 18078-0196.
---
May 20, 2009
Bill Joline - I have received word the Bill will be operated on for cancer May 21 at Fox Chase Cancer Ctr. In Philadelphia. He wrote the following to me a few days ago: "Today I underwent more tests and they found something else so their setting up some more scans just to scare the hell out of me. I think their pissed off because I keep telling them I have no anxiety, depression, or anger over what's transpiring. Maybe I ought to make up some so they can feel like their really helping me!" If you have time drop him a card at his home or at the hospital. Frank Hantak
---
May 19, 2009
New Club Member in Conn…Owen Phillip Jacobsen has joined the H H Franklin Club as the newest transitional member. He was born on Sunday May 17th . His mother Elizabeth Sullivan Jacobsen and grandparents Mark and Carmen Sullivan are all doing well. Owen came to the club weighing 9 lbs and 6 oz and was 22 inches tall. His Grandfather, past president Mark Sullivan, has already submitted young Owen's membership and he is now officially the newest member of our group. Congratulations!
---
April 30, 2009
Arnie Christiansen is home after having neck artery cleaning surgery. He is sore but doing well. Arnie spoke with daughter, Susan, then had an extended conversation with grandson Max. Their chat included talking about the Roberts garden, then onto the Old Cars Weekly online article about the Hudson Hornet - one of the featured autos in their favorite movie "Cars". You can send Arnie an email at dotarnie@earthlink.net.
---
April 19, 2009
Kenneth Monteith
Ken was a long time club member from the east coast, he attend many Treks and was a big help to Mr. Frank Hall Gardner

MONTEITH, Kenneth Of Needham and Osterville, April 12, 2009. Beloved husband for 65 years of Gloria (Brand) Monteith. Father of Cheryl Mountain and Bruce Monteith and his wife Candida all of Needham. Brother of the late John Drummond Monteith. Grandfather of Christopher and Tyler Mountain and Kyle and Craig Monteith. Also survived by his faithful dog Suki. Visiting hours will be held in the Eaton Funeral Home 1351 Highland Ave NEEDHAM on Wednesday April 15 from 4-7 PM. A Memorial Service will be held at the Christ Episcopal Church, 1132 Highland Ave Needham on Thursday April 16 at 11:00 AM. Interment with Military Honors in the Christ Church Memorial Garden. In lieu of flowers donations in Ken's name may be made to the Christ Episcopal Church or to the Friends of the Needham Elderly 83 Pickering St, Needham MA 02492. Graduate of Brookline HS Class of 1941, US Navy World War II veteran, retired women's apparel Manufacturers Rep, longtime member of Christ Episcopal Church and member of Needham Retired Men's Glee Club. For directions, obit and guestbook www.eatonfunerahomes.com Eaton Funeral Home 781-444-0201
---
March 25, 2009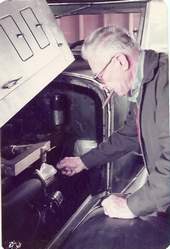 Cecil Shanklin 1918 - 2009
Long time member Cecil Shanklin, was born near Cedar Rapids, Iowa July 25, 1918 and passed away peacefully at home in Loomis, California January 25, 2009 at the age of 90. After a 20 year Navy career, retiring in 1958, Cecil worked in the defense missile industry and related fields. For the last decade before retirement in 1984 Cecil was in charge of all the emergency diesel generators and pumps in Sacramento County.
Cecil rescued his 1931 Franklin model 153 convertible coupe from the back of a wrecking yard in San Diego in 1952 while he was stationed there in the Navy. He had to clean up and reorganize the whole lot on week ends in order to safety remove the car. The Franklin was complete and in relatively good condition, he had it running in a few hours. The first engine overhaul was done with the car aboard ship (with the USN approval). Cecil has done considerable frame up restoration work on the car while residing in Loomis for the last 48 years and has participated in many Club events in the past.
Survived by his brother Don, daughter Lynn, son Errol and three grandchildren. Anyone interested in acquiring "Shanklin's Franklin" please contact Errol Shanklin at 408-264-0413
Don Shanklin

---
March 4, 2009
All are welcome! Friends and Family of Dick Moffatt will be celebrating his 90th Birthday on Sunday March 29 2pm-4pm at the rec center of the Green Valley RV Park in Green Valley, Arizona.
If you can attend, please RSVP to Dick at 520-404-4807 or email Melissa Ferrara at MMFJANE@aol.com
If you cannot attend, but would like to send a birthday card, please mail to:
19001 S. Richfield Ave.
Green Valley, Arizona 85614
---
February 26, 2009
I wanted to pass along news of the death of Bill Tuthill of Binghamton, New York. Bill died on Thursday February 26th at the age of 82 after battling a long illness. He joined the Franklin Club in the early 1970's after acquiring his original 1933 Olympic which he brought to the Trek every year since. Bill was also the Trek Treasurer for many years.
Bill was a true old car enthusiast who began collecting in the early 1950's. He owned an impressive variety of cars throughout his life including Packards, Cadillacs and Lincolns, but his favorite cars were Model T Fords and his Franklin Olympic. I was introduced to the Franklin Club by Bill and attended my first Trek with Bill in 1977 at the age of 16. Bill allowed me to frequently drive his Model T Fords and his 1925 11-A Touring all around our home town and then to the Trek several times. I even had a key to his garage. Ten years later I bought the 11-A from Bill as my first Franklin. That kind of encouragement and generosity extended to many young guys to get them involved with the old car hobby.
Bill was a soft-spoken, mild mannered gentleman who was always generous with his time for other people. He was a father figure to me when I needed such guidance in my life. He leaves his wife Nancy, three children Wes, Willy and Amy, as well as two grand children. He was and will be missed by all who knew him.
— Scott Dwyer
I am extremely saddened by the passing of Bill Tuthill. His Olympic was one of the first Franklins I ever drove at the Trek. I always asked him about that car, but it was still a big surprise when he called me in 2005 and offered the Olympic to me. I am sure every one in the club could see how happy I have been with Bill's car. Though I have had it now for 4 years it will always be "The Tuthill Car".
Dave Phillips
WebMaster: Bill was always a dear friend ready to help a new President, he did just that with me in the early 1990s. We will all miss him
---
January 24, 2009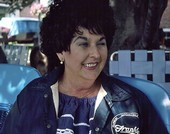 Just got a call from Bob Westfall saying that Barbara Kantner died about 9 am this morning (1-23-09). She was born in 1934 and had been a member since 1981. Apparently Barbara may have felt some kind of a premonition about how little time she had left because, despite ill health, she insisted on going to the 2008 Trek. On the way home from the Trek she had to stop off at a hospital because she was so ill.
As to the recent events, Al had gone to the store on Wednesday morning and was out about half an hour. When he returned, he found Barbara unconscious on the couch. She was rushed to the hospital where she eventually regained consciousness. She was able to converse with Frank and her daughters, who got there in time to see her. She was in pain but conscious. She died peacefully.
She is being cremated, and there was a memorial service today. We still don't know where or when. Kathy and Andy
Andy Wittenborn (This is all the information we have right now, if you want more call Bob. If we receive more it will be listed here - if a member wishes to do a write something about Barbara, please e-mail to me. )
---
January 19, 2009
Your WebMaster has received news that long time club member Henry Gray is in the hospital and has been for almost a month now. He has an operation on January 10th both will need still another one soon. Please keep him in your prayers and if you can send a card to his home, his address is in the directory.
---
December 26, 2008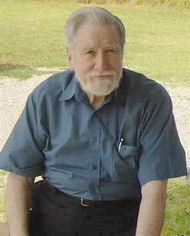 More on Dr. Barbee:
BARBEE - Richard Franklin, 77, retired Radiologist, passed away Sunday, December 21, 2008. Born December 2, 1931, to James Grover and Anna Laura Johnston Barbee as an adored only child in Bristow, OK. Always the exceptional student, he kept involved in many activities. Earning scholarships, he attended TU. While there he married Margaret Ann Roark, his wife of over 50 years, and started his family before graduating. While attending OU Medical School he published an article in the Journal of Ophthalmology. After graduation, he interned at Mercy Hospital in Oklahoma City. Afterwards he was promoted to serve as Medical officer in charge at Public Health Indian Hospital. Later receiving his certification in Radiology and Nuclear Medicine. He joined Tulsa Radiology Associates working there for over 30 years. He served on numerous medical societies, Kiwanis, clubs and boards over the years, keeping active in his church throughout his life. He diligently pursued many hobbies, antique cars, fountain pens, photography, rock collecting, gardening and many more, being a member of several clubs. A man of great intelligence and generous spirit with many interests will truly be missed by family and friends. Richard is survived by: his son, Rick Barbee of Tulsa, OK; daughter, Janet Hicks and husband, Dave of Bixby, OK; son, David Barbee and wife Michelo of Indianapolis, IN, daughter, Melanie Shirley and husband, George of California; daughter, Mary Elizabeth Barbee and husband, Ralph Winslow of Connecticut; daughter, Jennifer Bowers and husband, Rick of Glenpool, OK; 16 grand children; 2 great-grandchildren. Preceded in death by his parents; and wife, Margaret. In lieu of flowers, friends may contribute to the American Diabetes Foundation. Memorial service will be 2:00 P.M., Saturday, December 27, 2008, at Southminster Presbyterian Church, 3500 S. Peoria. Moore's Southlawn 663-2233 share memories at www.moorefuneral.com Richard Franklin Barbee
---
December 23/24, 2008
Your web master just received this sad news, we will check to see if we can find more: With sad news I bear.. Dr Richard Franklin Barbee passed away Sunday Dec 21, 2008 - Richard Franklin Barbee, 77, doctor, died Sunday. Services pending. Moore's Southlawn, Tulsa - - found in today's Tulsa paper (Dec 24, 2008) Barbee, Richard Franklin, 77, retired radiologist, died Sunday. Memorial service 2 p.m. Saturday ( Dec 27, 2008), South Minster Presbyterian Church. Moore's Southlawn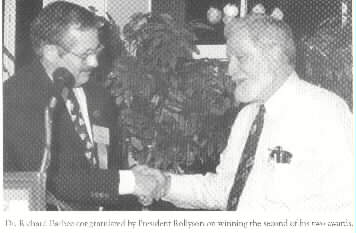 Dr. Richard Franklin Barbee on the right
---
November 24, 2008
Betty Klineburger from Issaquah, Washington passed away on November 10, 2008 at the age of 84. She and her husband, Gene have been active in the Franklin Club for more than 45 years with attendance at many Westreks and Treks. Betty enjoyed wearing vintage clothing when touring and had a variety of interests in addition to the antique car hobby. We extend our sympathy to Gene and the Klineburger family.
---
November 14, 2008
Up date as requested by many, first thank you to everyone that called, wrote and e-mailed, Garnet wants to express her love for all. She still has a few more doctors appointments before they tell her what has to be done. She is taking it easy for now, thank you all
---
October 19, 2008
Many club members have asked about Garnet Hantak who had a heath problem on Sat at Hershey Meet, after spending a day in Hershey hospital, they found she had a problem with two vanes in her neck.She is feeling much better now and should be back home in Tucson on October 23 or 24, she wants to thank everyone who help in closing up the space at Hershey and for all the prayers sent her way. She has stated "There is no family like the wonderful Franklin family"
---
October 14, 2008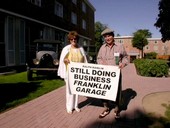 It is with deep sorrow that I learned today that Allan Franklin, a long time member of the club, has passed away. He died very quickly after being diagnosed recently with Pancreatic Cancer. Allan was a previous editor of the Air Cooled News and attended many treks and Westreks. He owned a 1923 Demi Sedan and recently purchased a 1931 Salon Special. He will be sorely missed by his many friends.
Services will be held Friday, October 17, 2008, at 10:30 AM as follows:
Friday, October 17, 2008
10:30 AM
Mt. Sinai Memorial Park
6150 Mt. Sinai Drive
Simi Valley, CA 93063
Our thoughts are with his wife, Elaine, and the entire family.
Lee Webb
---
This is from Bill Charpier
Jack H. Morris, 77, of Medford, Ore., passed away Tuesday, Oct. 7, 2008, at his home. Arrangments by Rogue Val ley Funeral Alternatives. (541) 770-6505.Jack Morris, 77, passed away20Oct. 7, 2008, at his home. He was born in Spokane, Wash., to John Edward Morris and Mabel Carolina (Sim) Morris. Jack spent his early years in Omak, Wash., where he graduated from Omak High. He is survived by his wife of 56 years, the former Juanita Ruth Carpenter. In the 1970s, Jack built and flew in an experimental airplane. He enjoyed taking friends and family for rides in it over the Rogue Valley. Jack taught Industrial Education at South Medford High. When he retired, he assembled a 1914 Model T using both original and new parts. Jack and Juanita drove the "Model T" in several parades and Sunday drives. Prior to his death, Jack was restoring a rare 1928 Franklin 12B Sedan.
In addition to restoring old cars, Jack was a member of a variety of associations, The State of Jefferson Antique Car Club, Rogue Valley Old Timers Car Club, Retired Educators, and a life member of the National Rifle Association.
Along with his wife, Jack is survived by his son, Timothy Morris, of Portland, Ore.; daughters, Ann Wylam (Jay) of Salem, Ore., and Janet Sheets, of Portland, Ore.; six grandchildren, Holly Wylam Klein (Lawrence) of Seattle, Wash., Benjamin Wylam, of San Jose, Calif., Dr. Dustin Wylam (Eteri), of Bonaire, Ga., Emmett Wylam and Jason Sheets of Salem, Ore., Erin Sheets of Portland, Ore., and two great-grandsons.
Jack was preceded in death by his sister, Lela Jean Morris. Per Jack's request there will be no services.
---
Ocbober 3, 2008
It is with sadness that I inform you that George Peckover died on September 23, 2008. His obituary in today's Toronto Globe and Mail is below. George was a Director Emeritus; Past President of the Pierce-Arrow Society between 1966-1969. He was presented with his PAS 50 Year Gold Pin this past spring.
His wife Mary past away March 1, 2008. They had been married 67 years.
George was one of the "Founding Father's" of the Society. Mary and George attended most of our annual meets up until about ten years ago when health issues prohibited them from coming. George was not only a Pierce-Arrow enthusiast but was very much involved with the Franklin Club over the years.
PECKOVER, George Horace
Peacefully, on Tuesday, September 23, 2008, at the age of 94, surrounded by family members, George will be greatly missed by his remaining family and friends. Loving husband for 66 years of Mary Gertrude (deceased March 1, 2008). Dear brother of Lionel (Sybil), of Kingston. Dear father of Ann (George), Bob (Norma), Gord (Janet), and Bruce (Ruth). Much loved grandfather of Brent (Erin), Julie (Tom), David, Geoffrey, Caroline, Donald, and Mary and great-grandfather of Emily, James, Abigail and Ethan. A memorial service will be held on a date yet to be determined. In lieu of flowers, donations to the Alzheimer Society would be appreciated.
---
September, 28, 2008
"It is wonderful to have some wonderful news about a Franklin Club members children:
Our daughter Liz was married to Paul Caruso in our garden here in RI on September 6th. Earlier in the day we headed to a picture site in the Franklins with Tony Adams driving the 1932 Club Sedan and a friend driving the 1932 Coupe. Both cars were included in many of the wedding pictures at the request of Liz who said " I am sure these cars have seen rain before , it won't hurt them!" We got 5 1/2" of rain that day.
Bob and Pat Harrison.
---
May 19, 2008
We received the following information about Beth Marshall:

At the Midwest Region Meet in Rock Island on Saturday morning (May 17th), Beth Marshall suffered a fainting spell, she fell backward over a low brick wall and struck her head on the ground, resulting in two fractures to her neck vertebra. She was taken by ambulance to a local hospital and airlifted to St. Francis Hospital in Peoria, IL where surgeons repaired the damage. She is currently in intensive care. It is not known how long she will be in the hospital. She is doing fine - her characteristic good spirits and sense of humor intact. Here is a link to the hospital and a very slick way to send a short note: Click here: OSF Saint Francis Medical Center E-card
---
May 2, 2008
Adrian West - A party, not a memorial service. He wanted his friends to enjoy. There will be friends, food, talk, reminiscing and plenty of parking. Please RSVP to Catherine by June 20th - Phone OK 802-888-5111 or snail mail to PO Box (do not send to house address)
WHEN: Sat. June 28, 2008 2:00 PM - 6:00 PM
WHERE: At his house. 62 South Street, Morrisville, VT
MAIL: Catherine Hutchins
PO BOX 725
Morrisville, VT 05661-0725
---
April 6, 2008
To all our Franklin friends,
Our son David passed away yesterday, April 5th, at his home with his whole family with him...He has been ill with cancer since September, David was 53 and our oldest son. He was an exceptional man, always thinking of everyone else, even in his sickness, worrying about us and his wife and two kids...He leaves his wife, Denise, son David Jr (22) and daughter Laura (20)...brothers Jim and Dan (Karen), sisters Cathy (Andre) and Janet, (Eric)...
He was a carpenter by trade and could fix anything...well respected by his co-workers, and a very all round great guy..
We send our many thanks to all our Franklin friends for all their support, notes, cards, e mails and calls during the last several months. Special thanks to the Midwest Region friends.! Our love to all of you---John and Mary Rose Hufnagel Lockport NY
WebMaster: Our prays and hearts are with you and your wonderful family.
---
April 2, 2008
About a year ago we gave you sad news of Jere Verdone, too often we bring you sad news here but this time a few wonderful words from Jere's wife:

Frank, I just want to take a moment to say Thank You, to all the Club members that have taken the time to send Jere get well cards during his recent bout with Cancer. Thank you!! All doctors feel he is on the road to recovery and he is back doing what he loves----making car parts.
Marge Verdone
WebMaster: Real cowboy is back on his horse (or is that the camel on the grill of his Franklin) if you ever met Jere you would understand this.....
---
February 23, 2008
Longtime Franklin Club member Dorothy Roberts of Pittsfield, ME, died peacefully on Thursday, February 21, 2008. She attended many Treks over the years as well as traveling to Midwest Region meets and the Westrek several times. She loved the Trek and its people and looked forward to going every year. She would always have her suitcase packed in June for the annual event.
Please, no sadness or cards. Because of Alzheimer's Disease, she happily didn't know where she was for several years and she didn't suffer in the end.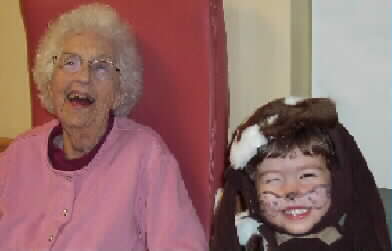 Dorothy and Max in 2005
If anyone would like to make a donation in memory of Dorothy, a choice would be:
Creative Arts for Kids
25 Woburn Street
Reading, MA 01867
Dorothy's grandson, Max, has taken violin lessons there for almost 2 years.
Visit their website at www.CreativeArtsForKids.org.
---
January 23, 2008
Armand Crescenzi — 9-29-1925 to 1-18-2008
A Memorial Service is going to be held Saturday, January 26th at 11 am at the Irvington Presbyterian Church in Irvington, New York.

If you get off at the first exit after the toll booth on the Tappan Zee Bridge and turn left on Route 9 (going south), the church is about 2 miles down on the right hand side.

Go to http://www.irvingtonpresbychurch.org/ for further directions.

A celebration of life luncheon will follow.

The obit will be in Wednesday and Thursday in the Gannett News. The website is www.lohud.com. If you go all the way to the bottom of the webpage, obituaries can be selected.

There will be a legacy page, so you can write something if you want to.

Contributions can be made to:
Phelps Hospice
701 North Broadway
Sleepy Hollow, New York
CRESCENZI, ARMAND January 23, 2008
Armand (Chris) Crescenzi M.D., 82 of Pocantico Hills passed away on January 18th, 2008. He was born in New York to Joseph and Grace (DiBennetto) Crescenzi and was raised in The Bronx and Marlboro, New York. He attended Manhattan College and SUNY Downstate Medical School. He served in the Marines during WWII. He began his career in research doing comparative studies in animals and man. He was a Thoracic and Vascular surgeon in Westchester. He had many interests besides medicine. He loved his family, gardening, old cars, dancing and his volunteer work at Rosary Hill. He will be missed by all who knew him. He is survived by his wife, Margaret Brown, his daughters Caroline, Susan and Debra, many in-laws, nieces, nephews, cousins and friends. He is pre-deceased by his wives Caroline Lydecker,MD, and Katherine Louise Friedmann, MD and his brothers Adolph, Benito and Gene. There will be a memorial service Saturday, January 26th at 11 AM at the Presbyterian Church in Irvington, NY. In lieu of flowers donations may be made to Phelps Hospice or a charity of your choice. Arrangements are being handled by Beecher Funeral Home, Pleasantville. To submit online condolences please visit www.beecherfh.com.
---
January 22/23, 2008
Nancy Barker
The Franklin family is very important to us and I really appreciate their support.
The celebration of life service will be held here at OceanView on Thursday February 7th at 2 PM.
Address is:
Hilltop Lodge at Oceanview
20 Blueberry Lane
Falmouth, Maine 04205
Donations in Nancy's memory may be made to:
Maine Parkinson Society
5 Bucknam Road Suite # 1
Falmouth, Maine 04105
Word has reach your WebMaster,
One of our and the Franklin Club's dearest of friend has last her battle, Nancy Barker died this morning (January 22, 2008) Nancy and Carl were a team that we all wish we could have been like, holding hands as they walked down the green at the Trek or Carl taking Nancy out for a loving walk at Hershey. We all love you our dear sweet Nancy, we know now you are free from all the pain you have had. Our prays will be with you.
Frank Hantak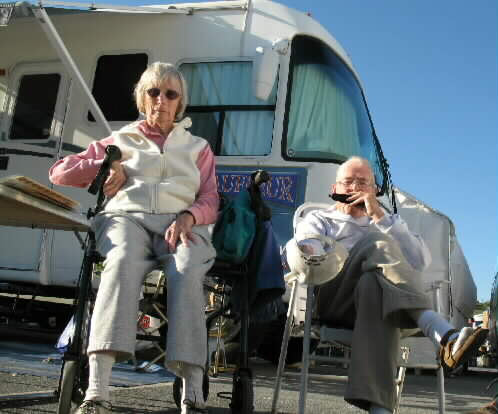 ---
January 18, 2008
Bob Westfall just called me and said that Armand Crescenzi died last night.
Andy Wittenborn
January 16, 2008

More bad news. Dr Armand Crescenzi is gravely ill with cancer that has spread from his prostate. Bob Westfall called me last night with the news. I tried to see him today but he was under heavy medication. Bob had a short visit (5 min.) which Armand enjoyed. People can call ( 914 769- 4747) and speak with Margaret who can relay a message to him. I'm going to try and see him on Thursday.
Andy Wittenborn
---
January 4, 2008
We just received word that Arthur Staley, brother of George Staley, passed a way earlier this week service will be January 5, 2008. I wish I had more but at this time that is all we have. Art was a long time member of the Franklin Club, my first meeting with him was in Michigan when he was looking at a few Franklins for George. (He did purchase the Franklins)
Services for Adrian will be at 11 AM on Monday, January 7, 2008 at the Puffer Methodist Church in Morrisville, VT
---
January 3, 2008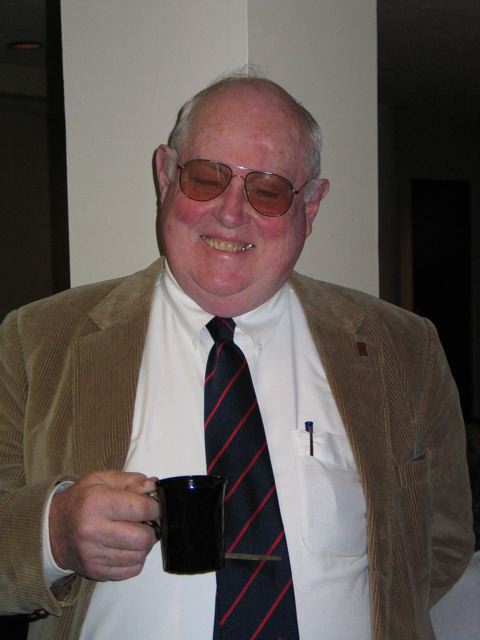 This is not a good way to start the new year, last night we last a dear friend Adrian West, after about 10 months of spending time in the hospital and weekly visits he last his battle. Adrian was one of my close friends, he gave a lot to the Franklin Club and many other clubs and groups all over the world. We spent hours sitting under the tree in Caz talking about the cars, the history and just life. At Hershey he always found the time to stop sit and talk again plus all the phone calls and notes all year long. I'll miss him picking on me, giving me a hard time but being the gentleman he really waste Franklin Club has some of the best people in the world and Adrian topped the list. We last a man with the real Franklin Spirit.
I hope to have more in the next few days, your WebMaster Frank Hantak
---
November 15, 2007
If you receive Hemmings Classic Car check out page 70 to 73, a wonderful story written by David LaChance from Classic Car about club member George Staley. If you never knew why George has so many Franklins, read the story. Hemmings Classic Car, February 2008.
WebMaster's notes: We wish we could print most of these stories but most if not all are copyrighted, therefor we cannot.
---
November 12, 2007
If you receive "AutoWeek you already know what I'm about to say, in November 12th issue you will find a very interesting story on page 31 of a young man named David Phillips. If you have been to the Trek in Cazenovia, N.Y. David is the guy walking or sitting at night playing the "Bag Pipes" (is the one word or 2?) The story is about David's new (in 2005) Franklin and taking it home. It is a must read for those of you who don't like to drive your Franklin very far. The story also give a little information about Franklin and history of David's Olympic. (Find a copy of AutoWeek, November 12, 2007, we think you will enjoy the read)
---
October 27, 2007
A note from Tom Rasmussen: I don't know if this is HHFC news, or not, but many of us know Beth and Allan and purchase from their business.
A link to their website with a bit of new of their fire damage: http://www.restorationstuff.com/
tom
---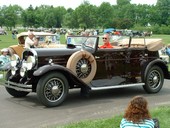 October 23, 2007
Your webmaster has been informed a dear friend and long time club member Alex Marshall passed away last night - Friday nigh, a request has been made from Beth Marshall In lieu of flowers, memorial contributions appreciated to Central Methodist University, 411 Central Methodist Square, Fayette, MO 65248 or Epworth Children & Family Services, 110 North Elm Avenue, St. Louis, MO 63119.

---
October 3, 2007
Daphne Sumner, Franklin member from Millstadt, IL has returned home from the hospital, she will have months of work to regain full control of her arm and leg. It would be wonderful if you could send a note or call her.
---
Sept. 1, 2007
Harold M. Sharon, longtime Glastonbury resident, died Saturday (August 25, 2007) four days before his 76th birthday. He is survived by his 100th year old mother, Rachel (Maynard) Sharon; sister Eleanor Rogers; wife Joanna (Little) Sharon; and their children Melanie, Richard, and Diana. He will be missed by his grandchildren Maddie, Ben, Anna, and Julie. He spent his career as an engineer at Pratt & Whitney, and Turbo Power and Marine, divisions of United Technologies. He had many interests, especially antique cars. He wrote for several hobby publications about the mechanics of very early cars. Many people phoned him for advice on "how to keep'em running," and no one ever saw him pass a fellow antique auto driver in distress without stopping to offer advice, tools and assistance. When he was very sick a call for advice always brightened him up. He was a great father, a great friend, and a great husband. He met his wife Jo in 1950. They celebrated their 53rd anniversary last Valentine's Day. He never wanted a traditional burial; he said the dead shouldn't crowd out the living. He didn't want a funeral, but he always told us when I die I want this epitaph in the newspaper "Having been in heaven since 1950, I have now gone to earth." He loved life, and he joked with a dear friend just days before his death "don't cry for me, I've already had more fun in my life than you'll ever have in yours. Memorial donations may be made to VNA Hospice, ATTN Memorial Gifts, 103 Woodland Street, Hartford, CT 06105. The family is extremely grateful to these warm and caring folks for keeping him comfortable during his last days.
WebMaster: Harold was the club member with the only Franklin truck and has been a club member for a very long time.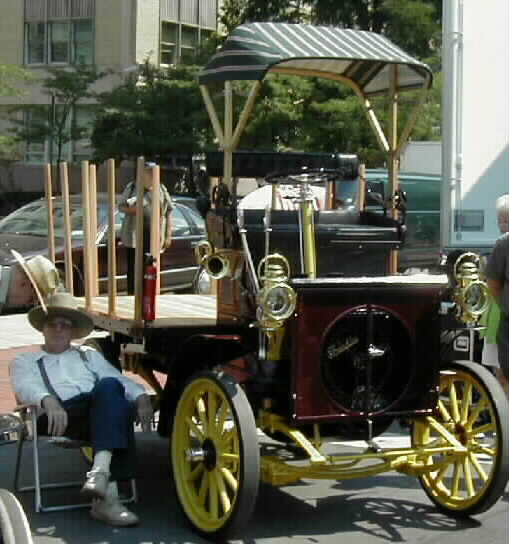 Harold seated next to his beloved Franklin truck in 2002
---
August 29, 2007
The WebMaser recieved the following informatio, at this time this is all we know.
Daphne & Fred Sumner, Franklin members from Millstadt, IL, were in a bad automobile accident last Friday (August 24, 2007)on their way to Fayetteville, AR to a wedding. Fred came through it OK with only bruises and a few cuts, but Daphne was airlifted by helicopter to a Fayetteville, AR hospiptal where she is still in ICU with abrasions to the face and ear, broken collar bone, broken ribs and a cracked pelvic bone. Apparently their car hydroplaned and went into the other lane where they were hit by a truck.
---
July 20, 2007
We just heard via Peter Ziegler, who is currently in Africa, that Joe Hafner passed away yesterday. Joe was one of the West Coast most active members for many years. He participated in many of the early Westreks and was always a great source of knowledge and help on our technical challenges. He will be missed.
Chet Zimmerman
The Funeral will be SATURDAY, JULY 21 AT 11 AM IN MT. SHASTA, CA
LOCATION IS MT. SHASTA CHAPEL AND MEMORIAL PARK
Lee Webb
---
July 1, 2007
The Franklin Club web site always brings us very interesting people, here is one great guy we have been e-mailing with:
The picture shows my Father, Chief Warrent S. Berkowich U.S.N, my sister Miriam, and me with the Franklin. I was 2 to 3 years old at the time, that is me sitting on the running board. My Dad knew Mr. Franklin and I can remember driving up to New York for my Dad to take the car to the where they were made. I think it was Syracuse, New York. You maybe interested in knowing that when Dad traded this car for the Olympic Franklin, I cried and carried on and made his life miserable. I said to him, "All my friends family get new cars every year, and you will be driving this one when I am twenty one", and he was. My Father's last Franklin was the Olympic Model which he drove until 1955. Michael Brooks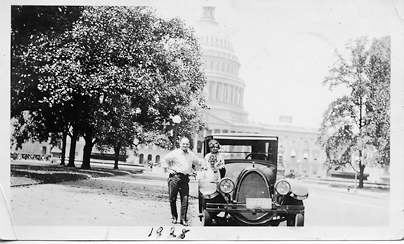 This picture was taken in Washington, DC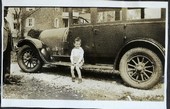 ---
June 14, 2007
Below is a picture of new club member James D. Rogers, I (your webmaster) watch the restoration of this beautiful Franklin for many years. We helped to ID all the holes on the fire wall, ID parts that the restorer had no idea what they were. Best of all this Franklin has an interesting history of which part was in Japan for WW2. Your webmaster feels this Franklin is one of the best.
We are looking for information on the Franklin below, it is said to be a 1911. If you have any information please e-mail the Franklin Club's webmaster.
---
May 21, 2007
Owen Franklin Hoyt
Owen Franklin Hoyt Born in Darien, CT, in 1933, Owen attended the University of Connecticut and served in the U.S. Army from 1953 - 55 on active duty in Germany. He has made his home in San Francisco since the 1960s. A man of many interests and passions, Owen loved old movies, travel, but above all, old cars. Owen had an encyclopedic knowledge of classic and antique automobiles and was an officer of the Milestone Motor Co. of San Francisco. But it was people who mattered most to Owen; he has been legendary in his generosity to his friends, who all feel a great void with his loss. He died of a stroke in Sedona, Arizona, during a car caravan. He is survived by his brother John T. Hoyt, Jr. of Randolph, VT; and cousins, Mrs. Parry Grogan and Dr. David M. Reed of New Canaan, CT, Chip Reed of Fairfield, CT, Charles W. Haines, Jr. of Fort Worth, TX, and Elizabeth Studebaker of Dawsonville, GA. A memorial gathering for family and fiends will be held later. Published in the San Francisco Chronicle from 5/20/2007 - 5/21/2007
---
May 19, 2007
Nancy and I are at the IL Region AACA Spring Tour at Moline, IL.. Last night, we received a phone call from Laverne Smazik, on our answering machine, stating that Adolph Gerst passed away on Tues.. Either the wake or the funeral is to be on Sun, I'm not sure which one.
Lee Nelson
(WebMaster: Adolph was a long time member on the Franklin Club and the Midwest Region, he and his family put on many Midwest Franklin meets in Iowa over the years. Adolph also always felt the 1930 Franklin he owned was once driven or owned by Lindbergh. A few years ago he had it repainted to the color he felt would on the Franklin when Lindbergh drove it)
---
May 17, 2007
We just received a note from Jack Marcheski informing us that his wife Lillie passed away on April 21, 2007. Jack and Lillie were Westrek regulars for many years touring in their 1923 10-B Demi Sedan.
Chet
---
May 16, 2007
Club member Jere Verdone is very sick in the hospital, his doctors same he will make it but it is going to take a very long time. For those of you who don't know Jere, he has been a leader in the field of stainless castings. Jere has help many Franklin members with parts they couldn't find and he manufactured them in his basement at home. If you attend Hershey, Jere has been there for many many years with hundreds of Franklin parts. Please, if you have time send him a card I am sure he would love hearing from Franklin members. Jere Verdone, 31 Stricklerstown Loop Rd., Newnamstown, PA 17073plus he is in the Franklin directory.
---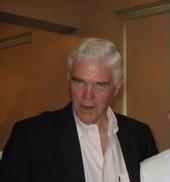 May 9, 2007
Frank, fyi, very sad.
mark
Owen died this afternoon. After consulting with three or four doctors, there was an absolute concensus that the situation was hopeless, so his brother and cousin authorized discontinuing life support.
I expect a obituary will be forthcoming, and I will keep you posted.
Steve R.
---
May 3, 2007
Word just came into the WebMaster's desk, this is all we know right now. If you have more information please let us know:

Owen Hoyt had a stroke while on the Classic Car Caravan in Arizona. Steve Roake told me he had a very serious stroke at dinner and is in a Flagstaff hospital in intensive care.
From member Kidd - He had a "brain bleed" and a shunt was installed. The last word we had on Saturday May 5th was that they were working to get his blood pressure down. It happened in Sedona and he was taken to the Flagstaff hospital. His brother was flying out from Vermont and his friends on the Caravan were not allowed access after about Tuesday. May 7, 2007
---
April 8, 2007
Word has just reached the webmasters desk of the passing of the oldest Midwest Region member Louise Nelson. One month from today she would have been 101 years young. We hope to have more information soon.
---
March 8, 2007
Web Master,
A tribute to Jerry Gray- A man who was interested in everything and everybody! The first time I met Jerry was at the Trek in the shared bathroom in Farber Hall one early morning while getting ready for the events of the day. I noticed that he was listening intently while I was describing to others one of my favorite summer pastimes- inner - tubing down one of the prettiest central Pennsylvania rivers in a steep sided heavily wooded valley with unusually warm and crystal clear water, watching the river bottom pass by and studying the beauty of the diverse aquatic life readily visible. By the time I was describing the beauty of the coloring of the large crayfish with their orange pin striped blueish white dotted bumps on their exoskeletons, I was losing the interest of the others (and they were probably doubting my sanity!) but Jerry wanted to know more, and he seemed to understand my quest in maximising what I call " The simple Pleasures of Life". He was interested in everything and everybody!
At another time He and I were talking about his Franklin when a group of children happened by. He immediately focused his attention on them and started an entertaining and educational spiel about early motoring vs. modern. Followed by a demonstration of hand crank starting and ,of course - rides for the kids. They were all enthralled. He was interested in everything and everybody!
He and his wife Chris enjoyed the bagpipe music that fellow friend and piper Dave Phillips and I would play.
I have found in my piping experience that often times people with an engineering mind are often attracted to it. Such was the case for Jerry.
At the 2006 Trek Jerry requested for Dave and I to play for him. After a while I had exhausted my repertoire and I mindlessly started playing "Lord Lovat's Lament" a funeral march. I could barely finish the tune as I realized my stupidity at playing a funeral march for a terminally ill man. When I was finished, and nearly in tears, he said, "Gosh that was pretty" and the burden of my blunder was immediately lifted! He also tried to share his pleasure with the tune to others who were passing by. He was interested in everything and everybody!
By the end of the last Trek he arranged with me to handle the major repairs needed on his Franklin. I am very honored that he entrusted his beloved car to my care. The project is currently underway and every time I work on it I think of him and his lovely family.
Alexander "Mac" Dufton
---
February 15, 2007
Franklin WebMaster, Jerry was one of the very best friends I've had in the Franklin Club, he would call, write we would talk often on what was going on and how he felt about it. After I took over as Treasuser of the Midwest Region we started to publishing the directory every year. He was the only member to write back after recieving it telling me what he felt. Years ago we would sit in our motor home in Hershey, just talking about his life and mine, I'll miss that, I'll miss his beautful notes every year, I'll miss his smiling face, God I'll miss him so much. A friend for life a real freind in life, Jerry I love you. Your friend Frank, see you soon
---
February 14, 2007
Andre forwarded me the sad news about Jerry. My fondest memories will always be the year when I was playing the pipes on the green and Jerry and Chris came up in the barrel hood and Jerry yells, "We want the piper!" So off we went , right down to the park and back up Albany St. with me serenading Cazenovia in the back seat! I told Jerry that I had never played pipes in the back seat of a touring car before, but later, Mac Dufton joined us and we had a rolling duet! Jerry was a big fan of the pipes, at the 2006 Trek he kept Mac and I busy playing our various tunes. That I shall miss. Dave Phillips
"I cannot express enough the fun times at Franklin meets and other events that I have had with the Gray family and while we have not been in touch for some time," I feel very much for their loss."
JMM
John M. Mereness
---
Dear Franklin Club Members:
I have received word of the passing of long-time H.H. Franklin Club member Gerard (Jerry) P. Gray. Jerry, 66, passed away at his home in Rochester Hills, Michigan, on Monday, February 12, 2007, after a lengthy and courageous struggle with Pulmonary Fibrosis.
Jerry, his wife Christine, and their three children attended numerous Treks, the most recent being 2006. It took a heroic effort on Jerry's part to participate in this, his final Trek, as he was on oxygen at the time.
Jerry and his family also were active in the Midwest Region of the H.H. Franklin Club. In the late 1990s, when Jerry and Chris were in Germany, their son and two daughters organized a Midwest Region meet, held in Rochester, Michigan. All who attended agreed that it was a great success! Jerry and the other members of his family also were active in bicycling, riding classic "high wheelers" at numerous car meets, particularly those held at Greenfield Village, Michigan.
Jerry owned two Franklin cars. The first was a 1929 Series 135; the second a 1909 Model G touring which he was restoring at the time of his death.
My wife Sue and I have lost a fine friend in Jerry, as has the Club lost a loyal Franklinite. He will be very much missed.
Sinclair Powell
---
February 13, 2007
Joy and sadness go with belonging to families which we talk about last night. I am at the same time sad but with a feeling of peace. I don't know why (must be our conversation) but I just woke up early thinking about what our last words were at the Trek. How strange. After a beautiful evening of listening to David and Max playing the bagpipe where Jerry was making his music requests, Jerry before leaving said to me; "Dominus vobis cum". To which he automatically drew the learned Latin answer from my youth; "Et cum spiritu tuo". Thank you Jerry for sharing precious moments of your life with us last summer, with all your presence and spirit. You are still with us. Please David, play it again... for Jerry and his large extended family.
@
February 12, 2007
Dear Friends,
Thanks so much to all of you that have been a source of comfort to us in this difficult time. We still welcome shared memories to this email. Please see information below and forward to other friends that who need to know.
Gerard (Jerry) Paul Gray, 66, passed away peacefully at his Rochester Hills home on Monday, February 12 after a protracted struggle with Pulmonary Fibrosis.
A funeral mass will be celebrated at St. Joseph Catholic Church, 1828 Jay St., Detroit on Thursday, February 15, 2007 at 11 AM with an instate of 10:30 AM. The family will receive friends Wednesday 2-9 PM with a 7 PM Rosary at the Potere-Modetz Funeral Home, 339 Walnut Blvd., Rochester. Inurnment Guardian Angel Cemetery.
Suggested memorials to St. Joseph Catholic Church, Detroit or the National Jewish Medical Center, Denver, Colorado. Online guestbook www.modetzfuneralhomes.com
Funeral Home Information:
Potere-Modetz (funeral home) big white building
339 Walnut Boulevard Rochester, MI 48307
Phone: 248-651-8137 Fax: 248-651-5017

---
February 11, 2007
Jerry Gray Update
We hope this letter finds everyone healthy and ready to tackle the New Year. Thank you for all the cards, letters & prayers. Last spring, Jerry was able to get his weight up to 130 lbs., and get around by himself again with the help of oxygen and medications. In April, he even managed with sheer will power to make a hoist to lift his liquid oxygen tank and concentrator into his son Glen's van. His plan was to drive himself to the Florida airplane builder's open air convention. To Christine's great relief, a good friend, John Greenstreet, realized that Jerry had exhausted himself building the hoist, and offered to drive him to Florida. Jerry enjoyed the week with the plane builders and product designers.
In June, Jerry and his entourage of his children and their spouses, fiancés and our granddaughter had a grand time showing some of our classic bikes at Greenfield Village-Motor Muster. We were able to enjoy a few of the summer events at the Pontiac Yacht club, but unfortunately we could see Jerry was getting weaker.
By July, the medications Jerry had been taking had become more burdensome than helpful. He was having such severe stomach pain, loss of taste, and weight loss, that he decided to quit all medication.
In August we went to the Franklin Old Car Meet in Cazenovia, NY., with Glen, his girlfriend Trang, and our granddaughter Alexis. Jerry enjoyed the chance to be with his Franklin buddies, talk cars, decide who he would entrust the rebuilding of the '09's engine & to watch Alexis play with her new friends and wiz around in various antique cars. Unfortunately, he was getting so weak he was forced to spend most of every other day in bed.
We had decided before we left for the trek that it was time for Jerry to enter in home hospice care. We always said it was better to get into hospice sooner rather than later and take advantage of all the wonderful support Hospice gives. Jerry entered in-home hospice on September 12, 2006.
With the aid of a wheelchair, oxygen and medications to relieve the anxiety of oxygen starvation, we were able to take Jerry to the Antique Car and Bike show at Greenfield Village. Christine managed not to run anyone over and not dump Jerry out of the wheelchair. Ok, so we had a few close calls, but Jerry still had a wonderful time.
Though the rest of October and November Jerry managed to attend weekly Mass and an occasional social event,but by December 8th, it was very difficult for him to get ready to go to Mass. As we were getting his coat on him, he said he did not know if he would live to come back home but he wanted to go to Mass one more time. That was his last outing.
Jerry often tells the hospice workers how blessed we are with wonderful friends and family. A neighbor brings him communion many days. Jerry is grateful to the priest who comes to hear his confession and give him spiritual guidance. Jerry feels very close to God and ready for the journey to his heavenly home.
The very latest situation is that Jerry is no longer able to get out of bed. He is still in good spirits. Jerry enjoys having company. It would help if people came in groups for short visits. This way Jerry enjoys the conversation without having to do much talking himself. Please call Christine @ 248-652-4897 to arrange a time, but feel free to postpone your visit if you're feeling under the weather yourself.
If we do not have your email address, and you would like to be updated on Jerry's condition by email, please send your address to grayfamily@hotmail.com. If you are interested in his condition Ideopathic Pulmonary Fibrosis, please let us know and we will send you our Dec 2006 update, which explained the disease.
If you have any memories of Jerry you would like to share with our family, we would love to have them for our Granddaughter Alexis, and any grandchildren we may be blessed with in the future.
Please keep us in your prayers and be assured that you are in ours.
In Christ, Jerry & Christine
---
January 28, 2007
Just an update on Loretta. She is making a rapid recovery I believe she will be returning home in the next two or three days.I hope all is well with you folks.
---
January 3, 2007
Your web master just received word that Loretta Fusco will under go open heart surgery on January 24th, please make a note and send her a card than. Surgery will be at Passavant Hospital in Pittsburgh. We will try and keep you informed after the surgery.
---
January 2, 2007
Henry E. Krusen, 85, of Allentown, peacefully passed away Wednesday, December 20 in his home. He was the husband of the late Betty Krusen and enjoyed 59 years of marriage with a full life of family, friends, hobbies, travel and robust health and energy. Hank was born and lived in the Philadelphia area for most of his life. He worked for Bell of Pennsylvania in various capacities from a lineman to management until retirement. He was a Bronze Star decorated Army veteran in the European theater of World War II. He was a long time member of the Antique Automobile Club of American. He owned several antique cars and served in various capacities in local and national antique car clubs. In the A.A.C.A., he was a class judge in the early 70s, vice president of national class judging, 74-81; A.A.C.A. National Board Director, 75-81 and National A.A.C.A. president in 1978. He was considered an innovative leader during his various tenures at A.A.C.A. In retirement, he remained an active worker for various local and national events.
Survivors: Daughter, Virginia Krusen-Phelan of Allentown; son, Henry E. Krusen Jr. of Prairie Village, Kan.; three grandchildren, Devon Phelan, Dain Phelan and Lindsey Krusen.
Services: The family will hold a gathering for those who have been touched by Hank's life in the spring.
Contributions: May be made in Hank's memory to the A.A.C.A. Library, National Headquarters, 501 W. Governor Road, P.O. Box 417, Hershey, PA 17003-0417.
---
December 15, 2007
Those of us that were at the last trek, remember Gerry Gray was on oxygen at that time. Since that time, his health has declined rapidly. At this time, he is relegated to being bed ridden, with help coming from hospice. Gerry can no longer accept telephone calls, being to much of a drain on his energy; however, in lieu of calls, kindly send a Christmas card with a message. This would be appreciated, without the loss of energy. his home address is:
Gerald P. Gray
755 Baylor rd.
Rochester Hills, Mi. 48309 2512


---
Message from Jerry White in N.J.
December 3, 2006
Information crossed the desk of your WebMaster of a wonderful happening in Hershey, PA at the AACA Museum. Our Past President and now Membership Chairman has his beautiful 1904 Franklin on display in the AACA Museum. If you are ever close, you should spot by, the museum has something for everyone. Below are a few pictures of the display, please note the "BANNER".

---
November 3, 2006
Ron Andrew is recovering quite well from a recent surgery for colon
cancer. If you'd like to send a card, his home address is:
Ron Andrew
6004 Oak Point Drive
Middleboro, MA 02346-5538
---
November 2, 2006
Very sad news about Peter Kunan,
KUNAN, of Holbrook, November 2, 2006, Peter C. Kunan. Beloved son of Leo and Pauline (House) Kunan of Holbrook. Devoted brother of Paula Tavares and her husband Wayne of Plymouth and John Kunan of Holbrook. Dear Uncle of Lori Phinney and Amy Zeoli both of Plymouth, Rachel Kunan, Thomas Kunan and John Kunan all of Holbrook. Great uncle of Andrew, Nicholas and Ava Zeoli. Reposing at the Cartwright Funeral Home, 69 So. Franklin St.,(Rte 37) Holbrook. A Funeral Service will be held on Monday at 10:30 AM in the Funeral Home. Relatives and friends are respectfully invited to attend. Visiting hours Sunday 4:00 - 8:00 PM. Burial in Blue Hill Cemetery, Braintree. Peter passed away at his home in of Holbrook Nov. 2nd, at the age of 52. He was a lifelong resident of Holbrook and graduate of Holbrook High School Class of 72. Peter was an excellent Grower for his families business, Kunan's Greenhouse of Holbrook. He owned and restored Brass Era Pre( WWI Pre-1916) Antique Cars. Avid Antique Auto Buff, he owned a 1905 Franklin and 1928 Franklin 1910 Buick. Past president and Secretary of Franklin Air Cooled Auto Club and Member of South Shore Auto Club. Peter was a man who most enjoyed being with his family.
From his Franklin family, he will be missed, we send our love.
If you would like to sign an online guestbook for Peter Kunan's
family, go to: http://www.legacy.com/SouthOfBoston-Enterprise/GB/GuestbookView.aspx?
PersonID=19810222
---
I just went online and am very sorry to hear about Peter. June, Rob, and I only knew Peter for about 6 or 7 years, a much shorter time than many members of the club. What I remember about Peter was his upbeat attitude and his very pleasant personality. Peter was always willing to give people rides in the car he brought to the trek. I remember the first year I was at the Trek, a newcomer. I had met Peter at a Westrek the year before, and he sort of took me under his wing. He had his 1905 at the trek that year, and when he took me out for a run along the lake, I remember him saying to me to turn my baseball cap around. I didn't fully understand until he accelerated in the '05. I would have lost my had if he hadn't told me to turn it around! That car really went fast for one built in 1905. We must have been doing 40-45.
We will miss Peter very much. He was a quality individual and a great asset to the club. Our thoughts are with his family.
June, Lee, and Rob Webb
---
October 11, 2006
At Hershey this year club member Carl Barker made a purchase of a 1959 Old, beautiful car. He asked a few friends (?) to drive it home for him, which they agreed to do after taking it to the motel. We received the pictures below from a friend, please note what is on top of Carl's new car which had just been repainted.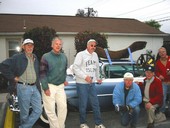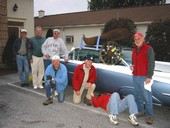 ---
October 1, 2006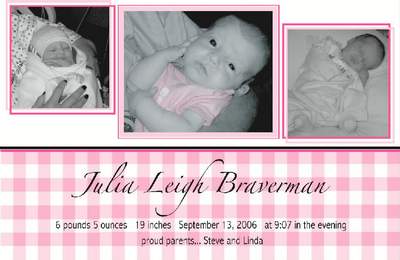 ---
August 31, 2006
After about a 2 week stay, Peter Kunan should be home from the hospital now. He has had a tough year and I'm sure would love to hear from his Franklin friends. Please mail notes and cards to:
Peter Kunan
515 Plymouth Street
Holbrook, MA 02343
I am not sure he will be checking e-mail as his right arm still hasn't healed from the break he had a couple of months ago.
Susan Roberts
---
July 30, 2006
Long-time Franklin Club member Bill Gewand passed away at the age of 95 on July 30, 2006 after a short illness. We will miss him.
Hospice of Lancaster County, 685 Good Drive, P.O. Box 4125, Lancaster, PA 17604-4125.
Bill Gerald, a personnel friend and long time Franklin Club member, the life of all parties at the Trek every year, has left us. How can we forget Bill at 92 riding on the back of a Harley all over Caz, smiling and having the time of his life. At dinner on Friday nights when it was asked for members to stand, than be seated as the years of member grew. Who was the only one standing at the end, Bill Gewand. For some many years that I cannot remember he drove his Franklin from Buffalo, NY to Caz. Leaving the Franklin on the green always with the biggest smile on his face. Bill, we all will miss your smile, the star in your eye and the kind word you gave anyone walking past you. We will love you forever!
Frank Hantak, WebMaster
---
June 2006
Information on Lee Webb
Hello to everyone out there. For those who are unaware of what is going on, Lee is scheduled for colon cancer surgery on Friday at about 1pm. Colon cancer near the appendix was discovered a week ago, and Lee wants it out ASAP. There will be chemo afterwards, but he is positive about the outcome.
Tamara says she will email everyone on this list and keep them updated on what is going on and how I am doing.
If you want information regarding Lee's surgery, the best thing to do is to contact Tamara via her email or perhaps call June as she will have Lee's cell phone. The surgery is scheduled for about 1 pm (the surgeon is usually late!) on Friday. Lee will be in the hospital about 4-5 days, barring any difficulties, and he should be even more out of it than he normally is for at least 24-48 hours so it may be best to wait for Tamara's email. Tamara and June can give you detail through email or by phone 661 833 1440 home, or 661 599 1670 Lee's cell which Junie will have. Tamara's cell phone is 661 599 1771.
Thanks to everyone who called and who is thinking of me.
June 17
First, Lee is fine. The surgery went well. It began about 3pm today (Friday) and we got word that he was out and fine at about 5:00pm. He was in recovery for 2 hours, and we got to see him at 7pm. He looked VERY GOOD..... but he said he felt like "Death Warmed Over". The doctor informed us that they took out about 2 feet of his colon, which showed no visible signs that the cancer had broken out of the outer wall. (Time will tell when the tissue is tested sometime next week to check for microscopic growths in other areas around the site) While he was in there, they took out his appendix and fixed a small hurnea he had. They felt about for other signs of other growths and found nothing of note, except a small non cancerous growth on his liver, which was left alone, clearly a cyst.
Tamara let him know that his color was great and it looked like to her that he had been on the beach in Mexico for a week! He really did have lots of great color in his face and was moving around much more spryly than Junie or Tamara ever would have expected considering the large incision (we are guessing about 2 inches below the belly button all the way up to the sternum). Lee has said he wants pictures! We got many calls asking if they could visit right away, but Lee was very groggy and wanted to rest a bit more before visitors came. We are unsure how long his recovery will be, but are guessing about 5-6 days in the hospital with a 6 week total turnaround.
---
May 14, 2006
Peter fell at home last weekend and broke his upper right arm. His arm is only in a sling and the doctors are letting it heal on its own. A physical therapist is coming in to work with his fingers and such. He is at Brigham and Women's Hospital in Boston and is finally on solid food. He doesn't know how long he'll be there. His spirits seem to be good but his voice is a little worse for the wear.
I'm sure he would appreciate cards as I'm not sure how often he is checking his e-mail. His home address is:
Peter Kunan
515 Plymouth Street
Holbrook, MA 02343-1940
---
April 3, 2006
Donald P. Winzer, 67, of Macungie, died March 30, 2006. He was the widower of Judith A. (Rau) Winzer. For more than 30 years, Donald served as the director of music for Cathedral of St. Catharine of Siena, Allentown. Most recently, he was the organist and choir director for St. Peters Lutheran Church, Allentown. In his long career as a musician, he was the director of church choirs and many area and regional German choruses including the Lehigh Saengerbund and Mack Truck choruses. His passion for music was also coupled with a passion for cars. He was a long time member of the Franklin Club and other area car clubs. He was also a member of Upper Milford Fire Company. Survivors: Son, Donald P. Winzer Jr. and his wife, Lani; daughters, the Rev. Donna, wife of the Rev. Brad Brown, Dr. Jane Winzer and Suzanne Kompass; grandchildren, Don, Luke, Justin and Nathan; sister, Ethel Devarics; brothers, George and his wife, Jane Winzer and Elmer Winzer. Services: 1 p.m. Thursday, April 6, 2006 in Grace Lutheran Church, 28 W. Main Street, Macungie. Former choral members are welcomed to join in song during the services. Viewing from 10 a.m. to 1 p.m. in the church. Interment in Emmaus Moravian Cemetery. Contributions: May be made to Grace Lutheran Church, 28 W. Main Street, Macungie, PA 18062.
Published in the Morning Call on 4/2/2006.
---
March 26, 2006
John Tschopp passed away at 4:15 this Sat. afternoon. Roy had to work today, so after he returned home, Nancy and I picked him up. We got to the hospital, and found John's room. The door was closed, so I knocked. there was no answer, so we all waked in. The light was off, and John's head was turned to the left, away from the door. I called out his name a couple of times, but received no response. Nancy noticed that the heart monitor was on, but had only a blank screen. we left the room, and asked at the nearby nurse's station if the family was about, as earlier today, John' daughter in-law had told me that someone was with John 24 hours. The station nurse called the nurse responsible for John's room over, and she informed us that the family had left. When we voiced surprise at their leaving, she further stated that they had all left after John had died at 4:15 P.M.. We had arrived at the room at approximately 5:05 P.M.. From the hospital, we proceeded to John's house in Carillon. We weren't sure if we should stop by, but did. It proved to be the right thing to do. The family was very happy to see us, and were a little dismayed to know that an hour after passing, John was still lying in the bed and no one had even pulled the sheet over his face. There will be a three hour visitation at a Plainfield funeral home, on either Monday or Tuesday afternoon. Then, John will be taken to Lafayette, IN, for burial in the family plot.
On the way home, we discussed John's history in the Franklin Club, and decided that he got involved in the Midwest Region about 1962.
Roy, my mother, and I have known him for over forty years. If memory serves me correctly, he and Maxine ceased to be regular Midwest Region Meet attendees sometime in the 1980s. I believe their last Franklin Meet was when Roy left after the Sat. tour, drove down to Barrington, and brought them up to the Sat. evening banquet at the last Rockford Meet.
Lee Nelson
---
November 16, 2005
I wish I had words of wisdom to share on the passing of my friend George Boyer. Although I wasn't privileged to know him until later in our lives, I liked and admired him as we all did. His combination of devotion mixed with skillful humor was unique, as most of us know very well. I'm afraid we won't see his like ever again.
Tony Adams
---
Dr. George S. Boyer, 89, of Allentown, died Nov. 15 in Lehigh Valley Hospital, Salisbury Township. He was the husband of Betty M. (Deibert) Boyer. They celebrated their 60th wedding anniversary in September. Born in Allentown, he was a son of the late Frank S. and Caroline G. (Belzner) Boyer. He was an innovator in many respects as a surgeon and was among the first in the area to perform outpatient surgery. He was in private practice for more than 50 years in Allentown and was head of the Allentown Hospital outpatient clinic, dealing with peripheral-vascular disease. He graduated from Allentown High School in 1933, Muhlenberg College in 1937, Temple University Medical School in 1941 and University of Pennsylvania Graduate School of Medicine in 1956. He served his internship at Allentown Hospital in 1942. He served on the Firemans Civil Service Board, was past president of the Rotary Club in Allentown and was on the board of directors of Good< Shepherd Home. He was a long standing member of the H H Franklin Club. He< served as Lehigh County Coroner from 1949 to 1951. As an Army Air Corps veteran of World War II, he served 29 months as a flight surgeon with the 316th Troop Carrier Group, which fought with the First Airborne Army in Europe and Africa. He was awarded four Presidential Citations and nine combat stars. Survivors: Wife; daughters, Susan E. Kretz of Sarasota, Fla., Wendy J., wife of Louis Seier of Londonderry, Vt., Nanette G., wife of Henry Nevis of Montecito, Calif.; brother, Dr. Frank of Naples, Fla.; grandchildren, Samantha, Andrew, Kasey. Services: private. Arrangements, Trexler Funeral Home Inc., 1625 Highland St., Allentown.
www.trexlerfuneralhome.com. Contributions: In lieu of flowers, to Drs. Frank and George Boyer Scholarship Fund, Muhlenberg College c/o the funeral home 18102.
Published in the Morning Call on 11/16/2005.
---
Sept. 8, 2005
Frank I spoke with Mrs Clark Round of Pearl River ,La yesterday.They live close to New Orleans.They weathered the storm out at home ,because by the time they got there home and barn secured,the main highway was closed.So Clark,his wife ,a daughter and a grand daughter hunkered down and weathered the storm.There home and property were beat up quite badly,trees down everywhere ,but no injurys.Clark is a long time member,and It sure is good to hear that he and his family are OK! MIKE WEST
---
June 16, 2005
Genevieve D. Staley
June 14, 2005 Genevieve D. Staley, 85, of DeRuyter, passed away peacefully Tuesday at Cortland Memorial Hospital, surrounded by her immediate family members. She was born April 3, 1920, in Deposit, and had lived with her< husband and family on Long Island, Armonk, and Stamford, Conn., then retired with her husband George to their native roots in DeRuyter. Mrs. Staley was a graduate of DeRuyter High School and State University at Albany with a degree in teaching. She taught English for several years before raising her children. Genevieve was an avid reader, educator, and nurturing mother and< wife. She was a distinctive woman of her time. Surviving: husband, George;< sons, Claude (Lynn) of Rye and James (Fausta) of Katonah; son-in-law, Lawrence Loffredo of DeRuyter; sisters, Virginia Cook, Nancy, Judy and Peggy Sawyer; brothers, Don, Sam and David Sawyer; seven grandchildren. She was predeceased by her daughter, Jeanne Loffredo. Services: Friday at noon at Smith Funeral Home, DeRuyter. Burial, Hillcrest Cemetery, DeRuyter. Calling< hours Thursday from 4 to 7 p.m. at the funeral home. Contributions: DeRuyter Public Library.
Published in the Syracuse Post Standard on 6/16/2005.
---
June 1, 2005
From Andre and a wonderful Franklin:
The Marathon is an annual event for 30 years in Ottawa and a beautiful Franklin Day! Lois and I had my friend Carl and his wife Claudette and their daughter Caroline who respectively finished 12 out of 90 women in the walking marathon and 5 out of 52 in the women running half marathon! Ho... and yes! The horn works loud and clear!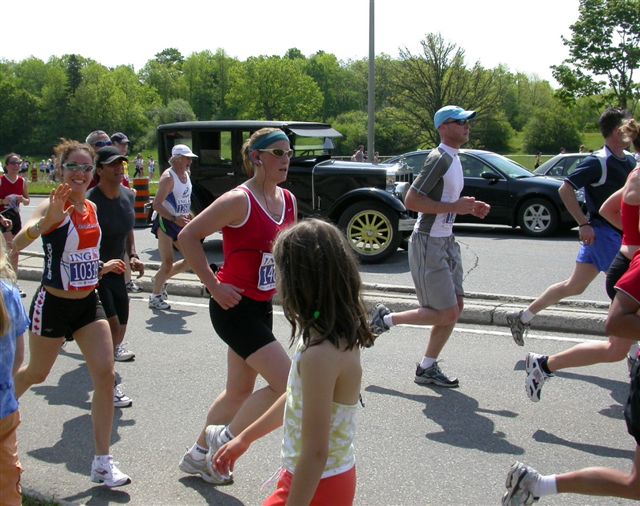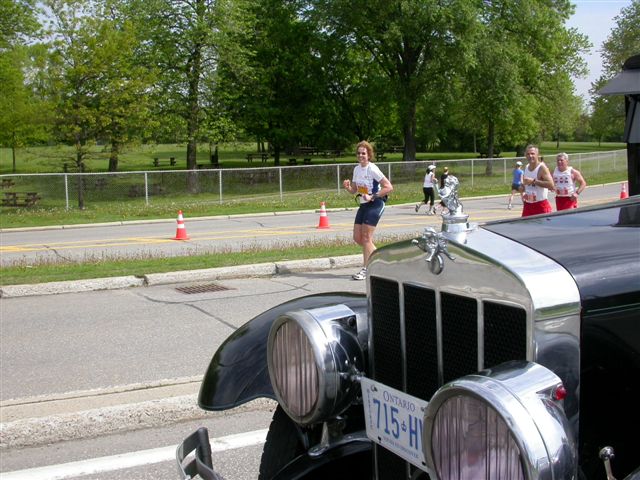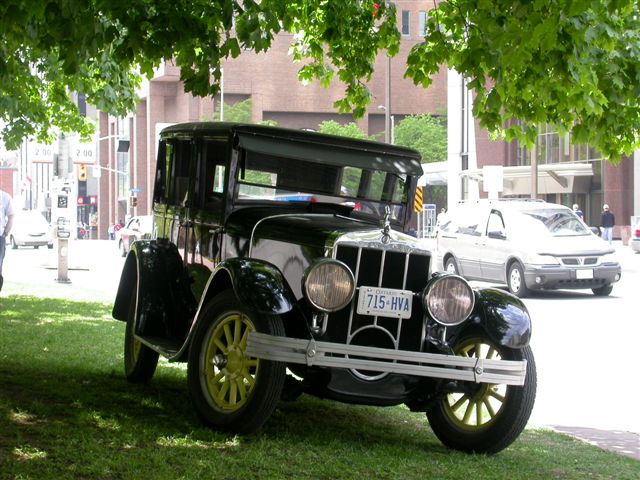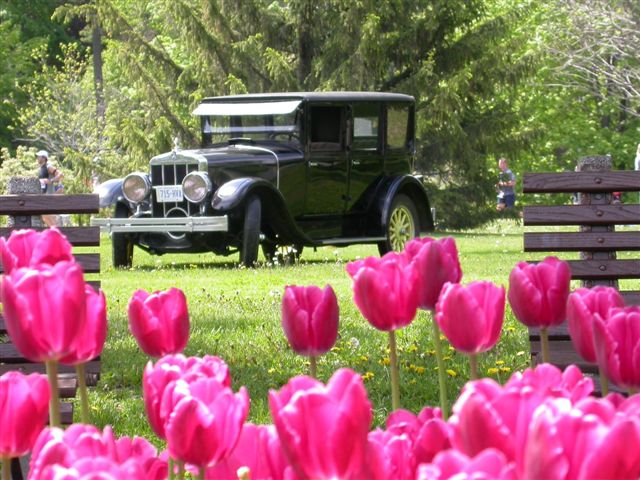 ---
May 30, 2005
I will not say where or who owns this but this is a new find, never been in the Franklin Club or listed. This is a 1928 12-A Limo, never restored, never touched.

---
November 7, 2004
It is not often we can find a group of Franklin members having dinner the Friday before a Board meeting. But thinks to a Board member we can now see what they do Friday nights.

---
April 21, 2005
I am sorry to report that Fenton Meredith passed away at 6:00 this morning. He had been in failing health for some time.
Many of us around the Club today may not know that Fenton was a founding Club member and served as a director, board advisor and Vice president during the early, formative years of the Club. He also researched and wrote historical articles about the early developments of the Franklin engines and the Renault Hood period. His research and articles remain the definitive source for such information.
Services will be in Youngstown Ohio on Saturday at 11:00 AM with calling hours preceding the service.
I will pass on any more information as it comes. I know Rollie Kemp is in Youngstown. I will try to reach him for more info.
tom
The charity for donations is:
St. James Meeting House Restoration Project
c/o Boardman Park
375 Boardman-Poland Rd.
Boardman, OH 44512
....unless the Franklin Club has a memorial fund that anyone would prefer to make contributions to.
Rollie sent a beautiful arrangement from the Franklin Club.
---
April 15, 2005
I have been informed the Franklin family lost a very dear friend on Sunday, John Hasslen, Jr. As al of you know John was Mr. Franklin with all the parts he manufactured over the years, he was a dear friend who attend most Franklin meets from the west coast to the east coast. At Caz in August, you knew where to find John, just walk in the parts department and look to the left and John was there with all his Franklin parts. John has the Franklin Spirit, he would help anyone any time of the day or night. We, his family, will miss him but he will he in our hearts for ever!
Jeff gave me information on visitation but as he was giving it to me all I could think about was John and all the good time we had together. So please, if you want information call Jeff, Sara or Tom R., they have all the information for you. However, everything will take place on Wed., so there isn't much time. Jeff, Joan, Eric and the Hasslen family will be in our prays.
Sorry it took so long to get back to you, it's been a long couple of days. The family has chosen the following organizations for those who wish to send a memorial. http://www.pioneerpark.org/ and http://www.diabetes.org/ John was very active with Pioneer Park - a lifetime member and former board member. We had a nice day today - beautiful spring weather and a very impressive tour through the Minnesota countryside with Franklins and other antiques and John leading the way.
A sad day for sure, but beautiful as well.
tom
NOTES from other Franklin family members:
Really sad about John passing. He was a wonderful individual. I will never forget Rob driving the 1910 at the 2002 Westrek in Westlake Village with John and Bob Grim in the back. Rob was chauffeuring 2 old gentlemen, one who could not hear and one who could not see. What a comedy it was to think about them trying to give Rob directions as to which way to go! Bob could not see where he was going, but was really enjoying himself. John couldn't hear and was enjoying himself as well.

You are correct. We will all miss him.
I don't know if you had heard that Bill King also died about 2 weeks ago. We went to his funeral in Glendale last Saturday. Bill owned the 1910 that John and Bob were driving in at the 2002 Westrek. I saw Bob Grim at Bill's funeral and had a nice talk with him.
I don't think Bill ever went to a Trek, but he did attend a number of Westreks. He owned a 27 Touring, a 10C touring, and a 10C 4-door sedan in addition to the 1910 we bought from him about 5 years ago. All were really nice Franklins.
He too will be missed. I have sent a note to Pierre about Bill's passing, as well as some information on St. James Davis, who was the individual nearly killed by the Chimpanzees near Bakersfield.
Lee Webb
---
April 7, 2005
Tony Adams
I case you haven't heard yet. Just received word from Tony's son Steven that the surgery went well. Tony is fine and will be in the ICU recovery room for the rest of today, should be in a room tomorrow. He'll be in for about a week.
If anyone wants to send a card, or wait and call in a few days when he's a bit more "with it".
Yale New Haven Hospital
20 York St.
New Haven, CT. 06510-3202
203-688-4242
Since he opted for the abdominal path for the surgery, don't pick a card that's too funny!
Paul Fitz
---
March 16, 2005
To read the complete story go to: http://www.abc.net.au/sydney/stories/s1320474.htm
Lamb baked in parcels of Baking Paper (Arni Sto Harti)
Thursday, 10 March 2005
Presenter: Richard Glover
David Rundle gets his first meal out of the oven.

Chef David Rundle proud of his work.

David shows wife Diane how it's done.

David & Diane Rundle enjoy fine dining.

This is the recipe we chose for David Rundle's first adventure in cooking. We figured it was half way between construction and cooking, and therefore was a beaut way to kick off a new career as a master chef. As one of our callers explained, the recipe dates from centuries ago when Greek brigands would hide from the Turks in the mountains. They cooked the sealed parcels underneath the earth so that the smoke and steam did not give away their location.
Ingredients
Cooking string (not nylon)
Roll of Baking paper
1.5 kilos of lamb cut into 8cm cubes
200 g of spuds, peeled and cubed (Don't forget to add them as David did)
4 spring onions, chopped into lengths (Don't be like David: remember to cut off the roots, and to peel off the coarse outer layer.)
200 g shelled peas (Don't let them get on the floor as David did)
3 tomatoes, chopped
½ tablespoon of dried oregano, Greek-style if possible
Salt and pepper
100 ml of white wine
1 tablespoon of olive oil
150 g of kasseri, kefalotiri or, if you can't get the Greek stuff, a lump of parmesan. Cut it into 6 pieces.
Method
Preheat oven to 180°C. Combine the lamb, spuds, spring onions, peas and tommies in a large bowl.
Tear off the baking paper into 30cm squares - six of them - then pile all the ingredients in six stacks, each at the centre of a sheet.
Sprinkle with the herb and seasonings, then drizzle with the wine and oil, then pop the cheese on top of each pile.
Gather the sides of the paper up, twist the top and tie with string. Place your six parcels in a lightly oiled baking tray, and add a tiny puddle of water.
Bake for one and a half hours.
Serve still tied up, opening each parcel in front of the person so they are enveloped in the lovely steam when you snip it open.

Sascha on her dad David
in Real Media format
David talks to Richard (part one)
in Real Media format
David talks to Richard (part two)
in Real Media format
---

February 5, 2006
Dear Franklin Club,
It is with so much sadness that I have to inform you of Mark's death on Feb.2,2005. He had a life long love of the Franklin automobile and as you may know, he donated many Franklin parts to Tom Hubbbard and also Harrah's collection.
His father was a tri-state dealer in the twenties and thirties and he worked at the Franklin factory when he attended Syracuse University. It was through his father that he became so interested in the Franklin.
I will give you his name and address again so that you can take the proper measures to remove him from you rosters.
Sincerely,
Elizabeth Williams
Mark C. Williams
3663 Solano Avenue Apt. #137
Napa, Ca. 94558
---
January 29, 2005
Bill Gewand fell and broke his hip on December 28th. Following surgery and a stay in the rehabilitation center, he is now at home continuing his recovery. Notes from his many Franklin Club friends would be welcome. His address is listed in the Club Roster.
---
January 5, 2005
Thought this might be a good thing to post on the club web site, as Liz and Chris are still in Sri Lanka. They were directly unaffected by the tsunami, but have been undoubtedly busy since the disaster however. Senate Majority Leader Frist was supposed to be headed to Sri Lanka today to see what
the situation is, and since Chris is a foreign service officer at the embassy in Colombo, will probably get involved in his visit.

Neil & Marty Sugermeyer
Hi folks -

At Mom's suggestion just thought I'd drop everyone a line and let you all know that we are in fact OK. Actually it's a bit weird because none of the main areas of Colombo itself were really hit, so where we live looks nothing like it does on the news. We are however busy as hell trying to locate Americans, get them places to stay, new passports and tickets home, and so forth. There are still a few hundred missing (who knew there were Americans here besides us?), and I think 8 dead. People keep coming in from the rest of the country in various levels of injury and loss, and we're trying to help however we can. Most of the embassy has volunteered guest rooms for stranded Americans and crews that will be coming in shortly. We have some people coming to our house shortly who were in Tangalla (basically the bottom of the teardrop), having breakfast by the beach when WHOOSH. The husband has some scrapes on his face and the wife has this huge scrape across her knee and some damage, but not broken. We asked if they wanted anything in particular from the store, and they said 'a hairbrush'. Other than that they're happy with whatever. I can only imagine the shock of one day enjoying your beach resort, the next day being swept away by a tidal wave and swimming for your life and then trying to figure out where to go once the wreckage has been revealed, and then the next day you've been to the embassy (a place most tourists never see), had dinner with the doctor who cared for your injuries and his wife, and then staying in a nice american style house complete with Christmas tree and bunnies. Well, I've gotta run get things situated, but take care and if you're wondering what you can do, check out www.usaid.gov, click on the flood pic there, and there should be a section on "what can i do to help" - cash donations are best; supplies from outside the country are difficult to coordinate. We'll keep you posted -

Liz & Chris

"why can't we live someplace that doesn't blow up, wash away, or catch on fire?"
---
December 9, 2004
Heads up - if you are selling something on line, the Franklin web site or others be careful of this SCAM! This is a scam as the only good check will be yours, so don't do it. Below are e-mails received by a club mmber selling items on the web site.
Sent: Tuesday, December 07, 2004 6:01 PM
Subject: 1934 Franklin S19A
Hello,
My name is Dom Albert,I am interested to buy your 1934 Franklin S19A ,that you advertised.I want you to give me your last offering price,hope to read from you today.

Thanks
Date: Wed, 8 Dec 2004 08:49:10 -0500
Hi Dom,
Where are you located?

I have parted out a lot of small items from this car such as all door and window crank handles, most of dash instruments, hood front or grill, steering column, all lights, and all wheels.
What is left is the body shell, fenders, front end, 1/2 chassis and engine transmission.
I would need to get $1,600. for what is left.

Bob
Sent: Wednesday, December 08, 2004 5:07 PM
Subject: payment and pick up

Thanks for your response,I have spoken to my client and he has instructed me to inform you that payment will get to you in a cashier check of $4,600 which is a refund payment of a cancelled order earlier made by my client.so you are required to deduct cost of the door and window crank handles i.e $1,600 when payment gets to you and refund balance $3,000 to my Agent via western union money transfer for him to be able to offset shipping charges. Since I reside in Fulham,London.
After payment has reached you and balance sent back to him,our agent will come and pick up receipt of sale and take it to the airport for delivery down to my country,while receipt, papers and other necessary documents will be sent to you via fedex courier to my customer. My client could send the check to you through fedex courier immediately. Please forward your full name! s, address and phone number. Also i am locat from london

Thanks
Dom
---
November 22, 2004
Milton Smazik, Milt is one of the guys that many years ago helped your webmaster with questions he had on the restoration he was doing on his 1931 Club Sedan. Milt was President of the Midwest region for many many years, if you would please send him a card at home, he should be back home 11/23/04. I know it will help him recover only again from his hospital stay. Please also pass the word to others that are not on line, thank you (WebMaster - Frank Hantak)
I just talked to Laverne Smazik tonight. Milt fell off of a step ladder while cleaning out his house gutters two weeks ago. He's in the hospital, with a cracked vertebrae and head injuries. Because of the pregnizozone that he had been taking, his bones are soft.
Instead of operating on his back, the Dr.s injected glue into the broken vertebrae. He is presently in a full body cast with a cranial halo. Fortunately, because he didn't undergo an operation, he won't have to endure the cast for the normal six to eight weeks.
Prognosis for a full recovery is good.
Lee Nelson
---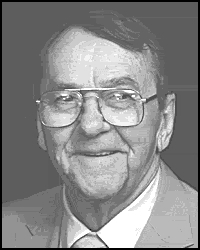 November 9, 2004
Robert Koch Jr., 81, who lived all of his life in the 12th ward on the south side of Allentown, died October 5, 2004 in St. Lukes Hospital, Allentown Campus. He was the husband of the late Violet M. (Martucci) Koch. He was the companion of Evelyn Caciolo. He was the owner of Kochs Exxon, Lehigh Street, Allentown, for many years until retiring. Born on June 4, 1923 in Allentown, he was a son of the late Robert N. and Anna Catherine (Seip) Koch. He served in the Marine Corps in the Marshall Islands with the 4th Marine Division. He was a World War II disabled veteran and has been awarded two Purple Heart medals for his service to his country. He was a member of American Legion Post 576, Allentown and the Veterans of Foreign Wars. He was a member of Mountainville Lions Club and held the Tail Twister position for more than 50 years. He was a member of the South Allentown Optimist Club. He was a 32nd degree mason at Jordan Lodge 673. He served as 12th ward constable and a democratic committeeman for many years. He was a member of Grace United Church of Christ, Allentown. Survivors: Companion, Evelyn Caciolo of Allentown; son, Robert N. Koch II of Orefield; daughters, Mary Ann, wife of Charles J. Groeller of Orefield, Carol Jean Adams of Macungie, and Wendy J. Cole of Northampton; sister, Grace Hackman of Coopersburg; eight grandchildren, six great-grandchildren. He was preceded in death by a grandson, James L. Lafferty III, sisters, Dorothy Schaffer, Frances Slifer, Pearl Dragotta and Regina Koch, and a brother, Arthur Koch. Services: will be held at 10:30 a.m. Friday, October 8, J.S. Burkholder Funeral Home, 16th and Hamilton streets, Allentown. Calling hours will be held from 9:30-10:30 a.m. Friday, October 8 in the funeral home. Contributions: May be made to the American Diabetes Association, P.O. Box 2680 North Canton, Ohio 44720.
Published in the Morning Call from 10/6/2004 - 10/7/2004.

---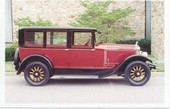 November 7, 2004
Over the years we have seen David Phillips walking around the campus green playing his bagpipes, but have you ever seen his Franklin? I think I saw it a long time ago but I can't remember what it looked like. Check out his beautiful Franklin.
---
November 1, 2004
Just put the touring to bed for the winter. But not before a tour of the pumpkins. Note these leaves blocking the fan intake...not good for a Franklin!
WebMaster: What a nice way to but a Franklin a way for the winter, but knowing Andre, it will be on the road this winter!

---
Sept. 22, 2004
John E. Kallstrom September 14, 1917 - August 26, 2004
John was born and reared in Portland, OR. As a boy, he worked with his father in cabinet making. He then went out on his own and became a custom builder, constructing homes in the exclusive West Hills area of Portland.
After this he began replacing wood in old cars and this led to total restorations of classic cars, completing one or two nearly every year during the decades of the 80's and 90's. He is well known for his restoration of the "Wong" Pursuit owned by Cliff and Julie Stranburg, and an Oldsmobile Pie Wagon which was purchased by the Oldsmobile people to put in their museum for their 100th anniversary. John's first love was always Franklins; he owned a 1931 Sedan and a 1911 Torpedo Phaeton. He was the leader of the "fearless foursome", a group of members who drove their Franklins to nearly all of the Westreks. John was especially happy with the huge turnout at the 1993 Westrek which he and Evelyn hosted in Beaverton, OR. The last Westrek he attended was in Leavenworth, WA in 2000. He was a sought after judge at car events because of his knowledge of not only Franklins, but early brass cars as well. John was a member of the H. H Franklin Club, the Historic Automobile Club of Oregon, and the Horseless Carriage Club of Portland. He is survived by his wife Evelyn, son Phil, daughter Marilyn and grandsons Scott and Adam. The information came from Evelyn and Cliff Stranburg. Thank you............Helen
---
August 20, 2004
Thanks goes to Bouvard Hosticka
The September 2004 issue of Scientific American has the following note taken from its September 1904 issue. This appears in their '50, 100,& 150 Years Ago' feature. This might be worthy of posting on the web site.
SPEED DEMONS- "The previous record for an automobile running under its own power overland from San Francisco to New York was beaten by Messrs. L. L. Whitman and C. S. Carris in a 10-horsepower, four-cylinder, air-cooled Franklin runabout, upon which they had made the 4,500 miles in 33 days without any serious mishaps. That this particular make of air-cooled motor car could so successfully break all records for a long transcontinental trip over roads, trails, mountains and across trackless wastes of alkali and sage brush, was something that came as a surprise to all automobilists"
This is the very car that made the transcontinental trip in the Franklin Museum today.
---
August 19, 2004
Janet Hufnagel, daughter of John and Mary Rose Hufnagel, and Eric Blackstone recently were married in Glen Ellyn, Ill. on July 17th. Janet has attended many treks with her parents.
She is currently attending grad school , University of Washington at Seattle, working toward a masters degree in Ergonomics, Industrial Health. Her husband is also attending Univ of Wa. for his Ph. D. and also is seeking an M B A.
He is a molecular biologist.
---
July 27, 2004
"Big Lou" Rendemonti, 76 lost a 15 rounder on July 23, 2004. He was dealt a serious blow early in the fight when in 1981 he was diagnosed with lung cancer, and had half of his lungs removed. Went through all the chemical therapy. In November 2002 he was dealt a crushing blow when he was diagnosed with lung cancer again. He decided to give it the fight of his life and because of serious emphysema and only 1/2 of lungs, surgery was not an option. Heavy chemical therapy and radiation were selected. Advice was that some chose not to do anything, quality of life they said. Lou never skipped a beat. He fought each round valiantly, taking punishing blow after blow, getting knocked down over and over again, only to get up each time and returning to the fight. In the summer of 2003 the pet scans revealed that the lung problem had been reduced, but not before the insidious disease had spread throughout. Now lung, spine, brain, and liver. No problem, back to the gym. Stay in shape. He suffered a stroke on Easter Sunday which rendered him completely unable to walk. In the corner the coaches said throw in the towel, but Lou wouldn't have it, he returned to the mat, fighting ever more valiantly. Intense radiation followed on the 5 brain tumors. He got his legs back and returned to exercise. The steroids necessary to reduce the swelling in the brain caused by the tumors, robbed him of his muscle strength, and his ability to walk and to be independent became reduced to the point that his legs were useless. Not the end for Lou. On Monday, July 5, 2004, he all but lost his ability to walk. On Tuesday, July 21, bedridden, he told the hospice nurses that he had to concentrate on his legs to build them up to get back to the gym. He wouldn't allow the fight to be called. After serious coaching from his daughter late in the evening of July 22, 2004, he finally took a knock out punch that ended the fight early in the morning of July 23, 2004.

Toughest man I ever met, lover of Franklins, man bigger than life, son of immigrants, not formally educated, leader of men, business man, friend, teacher, father, politically incorrect. Advocate, formidable foe, Consiglieri... Dad; my "idea" sparring partner. My brother said he was a combination of Archie Bunker, Tony Soprano, Sanford, Vito Corleone. He lives in me. Tuesdays at the Trek will never be the same.
All this sadly reported to you.
John Rendemonti
---
July 12, 2004
Mid June 2004, John Hasslen had a stroke. As the Rehab Doc says, if there is such a thing as "good" strokes and "bad" strokes, Dad had a "good" one. The most significant challenge is that his left vision field in each eye is affected. This, of course, is a safety concern - especially for mobility, but it also impacts the ease of his communication. If people approach him from the left, he won't see/hear them until they get to the middle of his vision field. Though, I've seen improvements in this in the past couple of weeks, there is no way of knowing when or how much will come back. Our brains are pretty amazing and delicate things. The docs don't really know that much about how they work or heal!

The doc also said that Dad was the youngest 86 year old he'd ever met!
He'll soon be "busting out" of rehab (where he's been getting three hours of therapy every day) and heading home. Dad would love to hear from his Franklin friends. His address is in the membership directory.
Sara Hasslen
---
June 15, 2004
Anne Kemp Russell
Here's pics of our latest addition. He was born at 2:35am today (6/15), weighed 6 lbs 14 oz, and is 21 inches long. Anne was in labor for roughly 7 hours but it went much quicker than when Samantha was born. Everyone is doing well - just very tired tonight.

Dan
---
April 23, 2004
We have recieved word that Helen Schuman passed away on April 9, 2005. Helen and Anson Chaired a Trek in the past few years. I for one will miss her sitting under the tree with all the guys
Frank Hantak
---
March 26, 2004
Frank,

A friend sent the attached to me a few weeks ago. It's a VMCCA tribute to Frank Gardner who had been a member for 65 years. Tag here
Note that there is a typo in the first paragraph where it talks about Frank's reminiscences "concluding 1903." It should say "concluding 2003."
FrankWemple
---
March 25, 2004
I am sorry to say that Frank Hale Gardner passed away Tues. March 23 while in a coma after suffering from a recent stroke. Services will be held on Sat. April 3, 2004 at 1 pm at the Trinity Church in Boston, Mass. Cards may be sent to his wife, Weezie, at their home at 141 Prince St. West Newton, Mass. 02465. I have not received information yet regarding directives for donations. Frank went peacefully. He will be missed by many. I was fortunate to have him as a friend.

Melissa
---
March 24, 2004
We are sad to report a long time club member passed away on Sunday March 21, 2004, Dick Olson of St. Louis, MO was laid to rest today March 24, 2004. Dick and his family attended many of the Midwest Meets over the years. He will be missed by many of us.
---
Feb. 29, 2004
Peter Kunan was released from Brigham and Women's Hospital on Friday, February 27. He's doing quite well and to talk with him you'd never know anything had happened. I'm sure he would appreciate cards, e-mail (crossengine@aol.com) and phone calls (781-767-1449).
---
Feb. 24, 2004
There will be a prayer Service for Elaine Baldwin Moffatt on Wed. Feb. 25 from 4-6 PM
at the Stevens & Finnerty Funeral Home in Great Barrington, Mass. It is open to the public to pay their respects to the family.
---
Feb. 23, 2004
Peter Kunan, who does Membership Services for the Franklin Club, was admitted to Brigham and Woman's Hospital on Wednesday, February 18 after suffering a stroke. His speech has been affected and is coming back. News on his condition will be updated regularly.
If you'd like to send a card, please address it to his home:
Peter Kunan
515 Plymouth Street
Holbrook, MA 02343-1940
---
Feb. 21, 2004
The Franklin Club and Franklin Foundation lost a very dear friend.
Elaine Baldwin Moffatt, 81 years old, passed away after dinner with her family on Sunday February 15, 2004. She and Dick spent winters in Green Valley, Arizona. She was an active participant in the Franklin Foundation, and the H. H. Franklin Club, having attended 35 consecutive Treks. In lieu of flowers, donations may be sent to: The Congregational Church, West Stockbridge, Mass. 01266 or The Franklin Foundation, 1405 East Kleindale Road, Tucson, AZ 85719.
---
Dec. 5, 2003
Peter Kunan is once again at Brigham and Women's Hospital in Boston with more little nagging problems. I'm sure he'd love to hear from people - don't know how long he'll be there or if they'll change his room.
A card to the house would be nice - he's listed in the Register/Roster. Please pass this note along to anyone else you think would like to know.
Susan
---
Nov. 18, 2003
Everyone has been asking, your WebMaster is doing great after having his right knee replaced on Nov. 4th. I'm home and walking after only 2 weeks, it is going to be wonderful to be able to walk without pain. The best part, in an other month I will again be able to drive my Franklins after 2 years. Thanks to everyone for there good wishes.
Frank Hantak
---
Clarabell Viola (Chatterton) Nash
(Chatterton) Nash October 15, 2003 Clarabell Viola (Chatterton) Nash, 88, of Wratten Rd., Hubbardsville, passed away peacefully at home on Wednesday, October 15, 2003. She was born on June 20, 1915, in Chili, NY, one of 11 children of Frank and Lillian Petersen Chatterton. She studied teaching at SUNY Oswego, and taught for over 30 years in New York public schools, initially near Oswego, and later in the area around Hamilton and Cazenovia. On August 21, 1942, Clarabell was united in marriage to Charles W. Nash in Sherburne, NY, and they lived for many years in Cazenovia and Waterville, NY. Together, they were ardent collectors and restorers of antique automobiles. They were members of several antique auto clubs and participated in many auto shows in New York State and the northeastern U.S. She was predeceased by her husband on March 8, 1999, and by nine of her brothers and sisters. Surviving are: her sister Ruth Trainor of Avon Park, FL; her brother Wilbur Chatterton of Sandy Creek, NY; and many nieces and nephews. Funeral services will be held at 2 p.m. Saturday, October 18, 2003, from the Burgess & Tedesco Funeral Home, 31 Cedar St., Morrisville, NY, with burial in the Hillside Cemetery, Georgetown. Friends are invited to call at the funeral home on Saturday from 1 to 2 p.m.
Published in the Syracuse Post Standard on 10/17/2003.
I must add, she was a very dear friend and the first Franklin Club member I talked with in 1968. Clarabell was the Franklin Club's Office Manager for many many years, she retired in 1991 as I was serving as President of the Club.
Frank Hantak
For us "oldtimers", Clarabell was the foundation of HHFC operations for many years as Office Manager. Before I accepted the President position, I made sure that Clarabell would continue in that position for two more years. Her reports at Board meetings were always short - "everything is OK". It was OK because she and her husband, Charlie, made sure that it was with many hours of devoted effort on behalf of HHFC. She and Charlie were honored one year at the TREK with the Club's Service Award. I was lucky enough to be one of the members to be able to recognize them for their devoted service.
Clarabell was a gracious lady in all her dealings with prospective, new, and long time members. You might paraphrase the H. H. Franklin's sign - "It can be done." with She got the job done. I, along with many others, will miss Clarabell. Her quiet contribution to building the Club we know today will not be forgotten.
Ed Wyle
---
October 2, 2003
I just wanted to let you know that Dave Phillips had surgery last Monday and is home recovering. He is doing well and the doctor told him not to play bagpipes for four to six weeks. The neighbors asked the doctor to extend that time, we are enjoying the peace and quiet. See You at Hershey, Mark Straitz
---
October 2003
If you were at Hershey this year you saw a Franklin to top all Franklins, below is a 1911 Franklin race car.
---
September 28, 2003
L. GARDNER MERRILL
1903-2003
It is with a great sense of personal loss that I post this notice of the death of our much loved member, L. Gardner Merrill. Gardner died early in the morning, Sunday September 28, 2003. He had just celebrated his 100th birthday on September 8th with a wonderful birthday party held at our local church where over 400 people stopped by to pay their respects. On Saturday, September 6th, he was the keynote speaker at the AACA Eastern Regional Tour banquet held in Portland, Maine. He was designated the Grand Marshall of that tour, and participated in a number of the week's activities. So, you see, (as you would expect of Gardner !) he lived life to the fullest to the very end.
Gardner was born September 8, 1903 in Cumberland, Maine. At the time of his death, he lived in Falmouth Maine , a town just two miles from where he was born. But, this is not to say that Gardner never got anywhere! A chronicle of his life would certainly be a "best seller".
He enjoyed a life long love affair with the automobile. His first recollection of this interest was riding in his grandfather's 1906 One Cylinder Cadillac. He clearly remembered the many hours he spent haunting car repair shops to learn as much as possible about this new fangled thing called an automobile. He was driving long before he was of legal age to drive, which means he had been driving automobiles for over 85 years.
He remembered with great pride that when he drove his father's American Underslung to high school, the only other car there was a model T Ford belonging to the school's sub master! The first car that Gardner owned was a late teens Series 9 Franklin touring car.
In 1969, this writer drove a series 9 Franklin touring car into Gardner's front yard and that was the beginning of a long and wonderful friendship. In 1925, Gardner and his mother and father drove their brand new 1925 Franklin from Maine to California.
Gardner owned two 1931 Series 15 Franklins—a four door sedan and a beautiful padded top coupe. Both of these cars have been seen many times at the Trek and other Franklin gatherings. You can see that his first love, Franklin, stayed with him through all these years. Gardner has been a great source of inspiration, help, and information to Franklin owners all over the country.
We will miss him.
Carl Barker
---
Septrmber 20, 2003
From: Margaret Barbee barbeem@familynet.net
Subject: RE: progress report??

He is getting better slowly. It might be awhile before he can go to lunch
or breakfast with the guys. His appetite is minimal, but, improving. He
gets up and wanders around the house a bit now.Doc Barbee, 4930 E. 105th St, Tulsa, OK 74137-6020
---
September 11, 2003
Franklin Club President Brendan Hogan has been in the hospital with pneumonia. No other information is available. Send cards to:
Brendan Hogan
91 Morris Turnpike
Randolph, NJ 07869-2942
---
September 9, 2003
They let Doc Barbee came home last Tuesday. None can figure out why. The surgeon said that he did not release him, but, another Dr. did. He is finally getting better. If they had kept him until Friday or today, it would have mad a heck of a lot more sense. He has no appetite, very little strength or energy and trouble walking.Doc Barbee, 4930 E. 105th St, Tulsa, OK 74137-6020
---
August 25, 2003
Just a note, Doc Barbee underwent emergency exploratory surgery yesterday afternoon...they found his stomach was upside down , twisted and swollen... looks like he will be ok, but will be in St Johns Hospital for about 10 days.
He admitted afterward his stomach had been hurting for about a month. drs said he was lucky he didn't lose stomach.
Doc is in St Johns, rm 1058 I believe, but wouldn't advise any calls, he is very weak, will be there 10 days..send cards to home...4930 E. 105th St, Tulsa, OK 74137-6020
---
July 31, 2003
Ed Smith died this afternoon (Wednesday, 7-30) after a brief period of rapidly declining health. Ed is probably best remembered as the auctioneer at the Saturday afternoon auctions on the college green at the Trek. He attended the Treks regularly up until a few years ago, mostly in his Series 145 Convertible Coupe.
---
July 27, 2003

I just received word that long time club member Ken Johnson passed away today. Kenny has been in a nursing home in Texas for many months now, battling several illnesses.
For those lucky enough to have know his generosity, talent, wit, and good humor he will surely be missed.
Paul Fitz.
---
July 5, 2003
We want all our Franklin friends to know how much we have appreciated your support and concern this last few months.
Yesterday, Nancy underwent a "partial restoration". The hip replacement she had four years ago had failed and was replaced with a new one. There were no NOS parts available but the reproduction of the original was excellent and we expect her to be back "on the road" very soon.
We have sold our home and moved into a cottage at a retirement community only 3 miles from our former home. We like it very much. I miss my shop, but have made arrangements with friends to be able to continue to pursue my antique car hobby on a somewhat reduced basis.
Our telephone and email are the same. The new address is:
Carl and Nancy Barker
17 Blueberry lane # C 21
Falmouth, ME. 04105
---
June 5, 2003
Dick Moffatt is out of the hospital and feeling great, if you would like to send him a card please do so but send it to his home (address in the club's directory). He had a triple by-pass, I talked with him on the phone and he does sound great.
---
June 1, 2003
Frank,

Early evening, I spoke with Elaine and later with M.
They had Dick up for a walk twice today. He is tied from not getting enough sleep and still quite groggy from the anesthesia. They are talking about he and Elaine going home this coming Monday. More than likely to their house in West Stockbridge.
Allfanow
Paul Fitz
Frank,
Just to let you know.
Yesterday at Albany Medical (not sure that is the real name), Dick Moffatt had triple by pass and some arterial surgery on one leg. He is doing fine. Elaine is staying with M in Saratoga Springs and M is getting her back and forth for visiting hours. Plan is... Dick will be in for seven days (if he doesn't sneak out first). Yet to be determined, but he may then stay at M's with Elaine until they both can handle being home in Stockbridge.
Paul Fitz
---
May 26, 2003
Long time Franklin member, Judith A. Winzer, 63, of Macungie, died May 21 in Lehigh Valley Hospital, Salisbury Township. She was married to Donald P. Winzer for 38 years last June. She was a school teacher for Salisbury School District for 35 years before retiring in 1994. She was a graduate of Muhlenberg College and earned a master's degree from Temple University. Born in Allentown, she was a daughter of the late Richard R. Sr. and Frieda (Wolle) Rau. She was a member of Grace Lutheran Church, Macungie. She was a member of Lehigh Saengerbund, Cathedral of St. Catharine of Siena choir and St. Peter's Lutheran Church German and English choirs, both of Allentown, and a former member of Macungie Volunteer Ambulance Corps. Survivors: Husband; son, Donald P. II of New Tripoli; daughters, Rev. Donna Winzer Brown of Milwaukee, Wis., Jane Ann of Stone Mountain, Ga.; brother, Richard R. II of Old Zionsville; three grandchildren. Services: 2 p.m. Tuesday, Grace Lutheran Church, Macungie. Call 7-8:30 p.m. Monday, Horace W. Schantz Funeral Home, 250 Main St., Emmaus, and 1-2 p.m. Tuesday in the church. Contributions: Grace Lutheran Church or St. Peter's Evangelical Lutheran Church building fund, Allentown.
Published in the Morning Call on 5/24/2003.

---
I regret to inform you of the death of my cousin and HHFC member Keith Russell on May 24th at Kamloops, British Columbia. He owned two series 19 Franklins, one purchased at the A. K. Miller auction in Vermont, and he attended two Cazenovia TREKs with wife Dorothy in recent years. Keith had been doing well for almost six years with a transplanted heart when he died at age 60. Dorothy Russell's address is: Box 688, Barriere, BC, V0E 1E0, Canada.
Wes Mattie
---
May 9, 2003
In todays world when all you hear on the news is how young people are doing anything and everything to hurt them self and others, here is a bright spot. Jeff and Joan Hasslen have a son named Eric, if you have ever been to a Trek you could have seen him driving around in a model of an older Franklin that his Grandfather built. Eric has been in the Boy Scouts forever and has attained many honors. However, within the past few months he has become an Eagle Scout which only 4% of youth who join Scouting earn. Eric is one of the fineness young men I have ever met, I know we all wish him well, when you see him at this years Trek please feel free to tell him what you think of his ranking in the Boy Scouts.
---
May 4, 2003
Herb Martin - Yes he had the lung surgery last october, he and Cathy have been down in Yuma for some months. About two weeks ago the cancer specialist found four tumors in his brain, two in front and two in the back of the head. He has been going through chemotheropy, and things were going fairly good until he got so weak and sick that Cathy had to call 911, that was Monday and he died Wednesday. That is about all I know.
Harold
---
April 16, 2003
Your webmaster has returned with a NOS left knee, thank you for all the e-mails.......... Everyones kinds word make the hopsital stay much easier than what it would have been. It will take a week or so to get everything back up to date and to get my body working at the speed I love again, so please just hang on for a week.
---
April 3, 2003
Frank Hantak, the Club's webmaster will be entering the hospital for a total right knee replacement on April 11th, 2003. He will be in the hospital for 5 to 6 days, you can e-mail him tagging here - TMC : E-mail a Patient Please feel free to do so we know he would love to hear from you.
---
February 7, 2003
A phone call from Joe Hafner alerted us to the passing of Rich Alford of El Centro, CA. Rich had been very active in Westreks and other old car activities. He will be remembered by fellow members for his generosity and willingness to help others with their restoration projects. Chet & Marlene
---
January 28, 2003
On Jan. 18, 2003 Milton W. Asher Sr. passed away after a long illness, dad was the son of Earl Asher a former Franklin dealer.
Thank you,
Milt Asher Jr.
---
December 29, 2002
Frank,
I regret to inform you that Millie Cazault's death notice is in today's paper. Millie died on Dec 27, 2002. Funereal will be at 8:30 am from the Keene-Brown Funeral Home, 445 Greenville Rd., North Smithfield, RI. A funeral mass will be at 10 am in St. Augustine's church in Milville, MA. Burial will be at St. Ann's Cemetery in Cranston, RI. Visiting hours will be held Monday 2-4 and 7-9 pm.
Bob
---
December 21, 2002
Frank <spoke with art cazault yesterday and he said Milly is in a nursing home, she is very ill , I dont have any more more info MIKE WEST- I dont have any other info but maybe ask the gang to drop Art a note, he would appreciate it, he was quite taken by the whole thing MIKE - Arthur Cazeault, P.O. Box 5, Millville, MA 01550-2340
---
November 18, 2002

I thought you might want to list in the Club Member's News Section about Jack Brady and his 1931 Franklin Oxford Sedan being featured in a segment on Franklins on ESPN2. It is to be aired for the lst time on Thursday, November 21st at 6pm EST.
I am sure it will be rerun several times after that date.
Randy Still
rstillcars@aol.com
---
November 15, 2002
Carol Utter
Hi All, Today was the day. Roger and I went to the Neuro Eye Dr. for a further eye exam.
Guess what????!!!!!!
My eye sight has returned to normal. The left eye is 20/20 and the right eye just a bit off because of the droopy eye lid. He assures me that all is well and that it will take awhile, many months for the nerves to regenerate in the forehead in order to help make the eye brow return to normal and thus correct the droopy eye.
If this does not happen he told me that he knows many "Plastics Men" that would be happy to help.
The Dr. was totally amazed at my miracle recovery. He confided in us today that he thought that the sight would probably not return at this level. He actually jumped up and down in the office. I was not surprised because I know how many prayers and wonderful thoughts were coming my way. My wonderful family and friends and especially my PPIO family all had an intricate part in this miracle. Roger and our children, John, Robert, Kim and Kathie and of course Jenna Rose were at my side all the time. Kim took the week off from work and believe me Roger and I did not have to move a muscle. She cooked, cleaned and was at our beckon call. I know that she wrote to many of you and kept you posted.
I asked the Dr. if I could get my paint brushes out and start painting. He said "Go at it".
I still have lots of swelling in the facial area and on the side of the face where the jaw was cut. Thank heavens I have longer hair. Not a problem, just pull the hair towards the face.
I am so blessed and we are so relieved.
We have had a long day today with more than an hours of tests to check the vision. Roger is passed out in his favorite chair and I am flying high.
I don't have to see the Neuro Surgeon until next April and the same with the Neuro Eye Doctor of course with follow up MRI's every six months.
Thank you all once again for all of your prayers and support. This was definately a challenging event for us.
The Doctors at the Hospital have asked me to come and talk to patients pre-op and post -op about my surgery. I know that this will be helpful. They might not have such wonderful friends and family. Thank you all once again.
With Love, Roger and Carol
---
October 4, 2002
Frank -
I just got a copy of the Nov. issue of Cars & Parts. There's a feature article on the Deauville, a nice little report on the Syracuse Centennial celebration as well as a report on the Gilmore/CCCA show with a great photo of Nippert's Speedster.
Pass the word
tom
Dr Boyer
He has had surgery and is in rehab at the Lehigh Valley Hospital Allentown.
---
Sept. 25, 2002
Tuesday, September 24
Carol Utter is home and doing exceptionally well after having a brain tumor removed on Friday, September 13. She's up and about and has even been out walking! Her family is staying with her during the recovery period.
Send e-mail along to:
CChinaU@aol.com
Mail cards to:
Carol Utter
4111 Putnam Road
Cazenovia, NY 13035
---
July 4, 2002
Susan and David Roberts welcome Max
Here's pic taken when we were coming home from the hospital.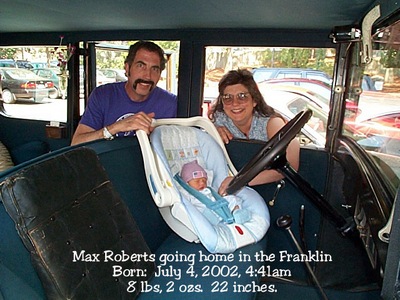 ---
June 2, 2002
1928 Charles Lindbergh Franklin
Dear Sirs: Hello, my name is Bob Bailey, Vice-Chairman of the Saratoga Automobile Museum in Saratoga Springs, N.Y. , web-site www.Saratoga Automobile Museum.org.
The Henry Ford Museum in Dearborn has recently loaned our museum the 1928 Franklin given to Charles Lindbergh by the Franklin factory after his Trans-Atlantic flight. Lindbergh, subsequently gave the car to Henry Ford in 1940. We are in the process of putting together an exhibition on the vehicle, in part to celebrate the 75th anniversary of Lindbergh's flight.
Can you advise us if you have or know where we might secure any information, photos, film footage etc. of Lindbergh and the Franklin car? We have a copy of Lindbergh's diary (War Time Journals, which talks extensively about the Franklin).
Any help would be greatly appreciated.
Best regards,
Bob Bailey
Dear Mr. Bailey,
Frank Hantak forwarded your e-mail to me. Unfortunately, I do not think I can be of much help but will try. I assume you know what the Henry Ford Museum has. I do not.
I do know Lindbergh was loaned other Franklins from 1930 onwards and I've seen film relating to the Lindbergh kidnapping case where he arrived at the NJ courthouse in a 1932-34 Franklin Twelve (V-12). I've read his War Time Journals but it was a long time ago. My guess is he used his 1928 as his daily car only from 1928-1930. I do not recall ever seeing film of him and his 1928 but of course some may exist.
Our Franklin club library may have some pictures but probably nothing unusual. Our current librarian does not have email so I've included our most recent past librarian (Pete Kunan) in this email.
I recall reading a statement his 1928 was his first car. Previously he had a motorcycle.
My only other ideas are contacting some other museums, especially regarding photographed and filmed activities of his from 1928-1930. You can probably find contact names and numbers faster than I so I just give some ideas:
Lindbergh museum somewhere in Minnesota
National Archives and Records Administration, College Park, Maryland
National Air and Space Museum, Washington, DC.
Hope this helps, good luck, and sorry I could not be more helpful.
Best Regards,
Roy Canfield
Supervisor Technical Publications
Champion Air
8009 34th Ave South, Suite 500
Bloomington MN 55425-1674
Tel: 1-952-814-8779
Fax: 1-952-814-8977
2nd Fax: 1-952-814-8718
Email: Roy.Canfield@championair.com
Hello Bob,
My name is Peter Kunan and I'm the former librarian of the Franklin Club. Roy Canfield sent me a copy of his reply to your inquiry about photos, film, etc. relating to Charles Lindbergh and his Franklins.
As I recall, there was none of either one in the library while I was its custodian. However, there were some newspaper clippings of Lindbergh's visit to Syracuse. Probably more immediate to your request was an interesting relic in the form of upholstery samples from the car the Franklin Co. gave Lindbergh after his flight. There was no other description pinpointing which car it may have been, but I feel it was from the 1928 Sport Sedan in the Henry Ford Museum. There are two pieces, one is a striped broadcloth, dark gray in color, and the other is a light blue broadcloth. I personally would be interested in knowing if these match what is in the car at present.
Roy mentioned the Lindbergh Museum in Little Falls, Minnesota. I lived in Minnesota for a number of years and was able to visit this museum built on the site of his boyhood home. Naturally, I kept an extra eye open for items relating to Franklin, but do not remember any. In fact, I happened to bring the upholstery samples and showed them to the staff, but none seemed to recall any other Franklin items in their museum. That was nearly fifteen years ago, however, so it may be well worth another try on your part.
Sorry I couldn't be of more help, but hope this sheds a little light on your search.
Peter Kunan
---
---
June 1, 2000
By: Scott Dwyer
I had the distinct pleasure of attending the AACA Reliability Tour in Frederick, Maryland. This tour is for 1915 and earlier cars and is similar to the Gas and Brass tours.
John Rendemonti brought his magnificent 1912 Model D Torpedo-Phaeton. This was the car previously owned by Stan Wilkinson, a long-time Franklin Club member and professional restorer. The car was without a doubt the center of attention on the tour. It is very infrequent that Franklins are seen on tours like this, let alone one of the big models. John and I spread the gospel of Franklin to the multitudes with great success. I preached Franklin history and together with John expounded the magnificent engineering attributes of the true faith.
The car ran flawlessly. Fast, powerful, smooth, sleek.... It was impressive to all and bested by none. I even got to drive the car for a day --- an experience I never dreamed I would do, having known that car for over twenty years and never even ridden in it.
It was an immensely proud feeling to be "the Franklin man".
---
Reported: Dick Pratt
I thought you might like this picture for the web. It was taken on 5/21/00 at the bonnie eagle car show in Buxton Maine. There were 2300 cars at the show and about 45 in our class. Gardner took 2cnd place with his coupe and I took 3thd with my 29 model 130.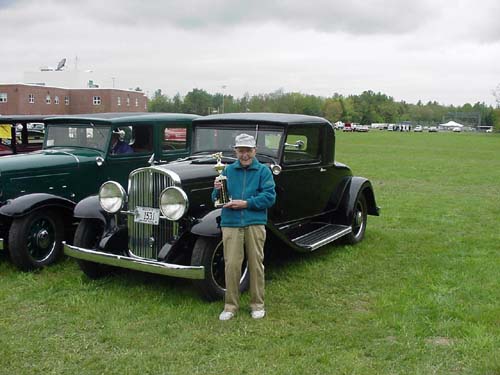 ---
From Gordon Howard
AUTOWEEK for 2/28/00, page 16, article on Northeast Classic Car Museum,
about 1/3 is about Franklins and pretty accurate.
---
Midwest Region Meet held May 13. 14 and 15, 1999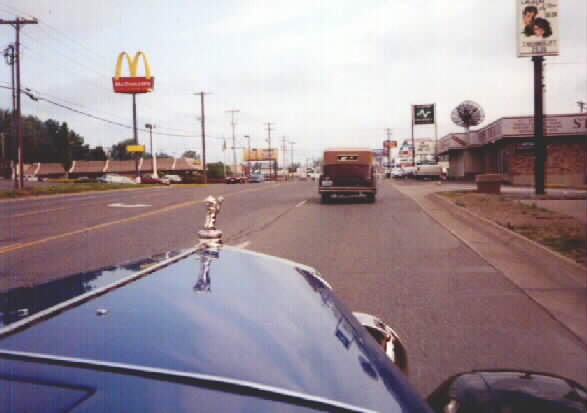 Leaving KC, Mo one morning, looking out from the Pykiet's beautiful 1926 11-A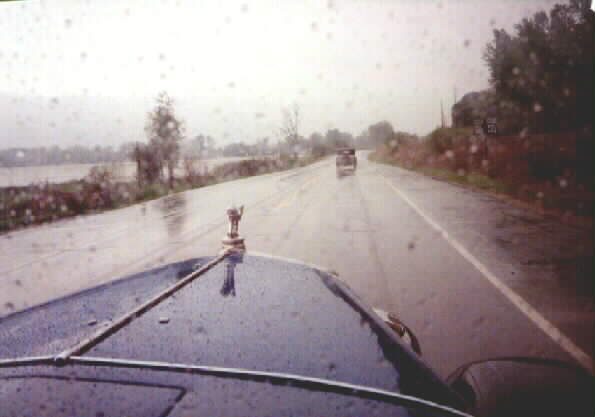 30 minutes later the sky upon up with gallons of rain.

Visitors from the east - Susan Roberts, Franklin Club President and David Roberts

Mr. and Mrs Pringle came up from Georgetown, TX

Fannie's Restaurant dinner Sat. night
---
Web Site Reporter:
June 11, 1999
A wedding of Franklin's and their owners.....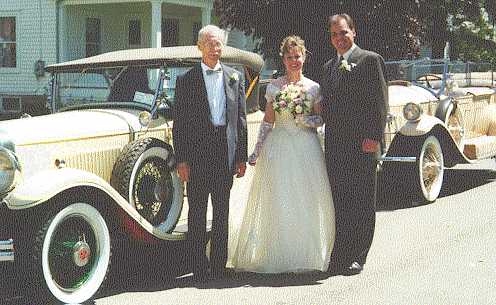 Roland Kemp - Now Mrs. Anne Russell and Dan Russell
The Franklin family wishes them the very best.
But where are the Franklins?
WebMaster
---
May 28, 1999
Here is an e-mail from a son (Bernard Helman) of a Franklin owner (P. Helman) in Belgium
On behalf of my father, who can't unfortunately speak English, I am sending you a picture of the Franklin 1911
G Touring, picture taken while doing a rally in France. The car left Reims (where French Champagne is made) to Southern France for a trip of 1200 kms ( +/- 460 miles). The people on this picture are not my parents. You can already publish this picture if wanted. My father will make in a near future a new one so the whole car is visible.
We will also write to Mr Hanson (the owner for many years) to get a few more informations about the car's history and we will tell him what the car accomplished since 1987.
1911 G Touring owned by Mr. P. Helman in Belgium
---
March 9, 1999
I am sad to report the loss of long time member Charlie Nash. Charlie and Clarabell Nash have been mainstays of HHFC for many years. I can not count the trips they made between Waterville and Cazenovia to conduct Club business when Clarabell was Office Manager. The Nash's received the Franklin Service award and Charlie was a confidant while I was President dispensing his wisdom when I needed a detached opinion... and would ask. Their 1929 Deluxe Sedan has not been on the green for several years but Charlie and Clarabell would be present at some time during each Trek to quietly renew their many friendships.
Charlie worked for the Town of Cazenovia for many years and collected a number of distinctive cars of the 20s and 30s. Some of us will remember tours to the Nash's and the fun times had there.
Charlie will be missed, his knowledge of area, people, and cars will no longer be shared. I will personally miss those quiet times sharing a bench on the green, at car shows, and the visits to Waterville to check on his latest project. Our sincere sympathy to Clarabell and Charlie's brother.
Arrangements are being handled by Barker/Burgess Funeral Home in Morrisville, NY. Visitation will be Tuesday from 7:00 pm till 9:00 pm and services will be Wednesday at 11:00 am.
Ed Wyle